The age of telemedicine in India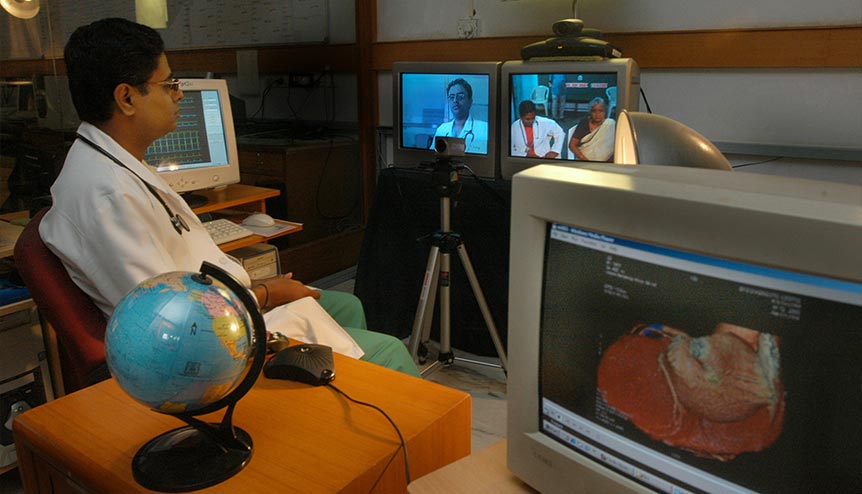 The telemedicine sector is experiencing a surge in demand brought on by Covid-19 but benefits for this means that the transition to eHealth will continue post-pandemic.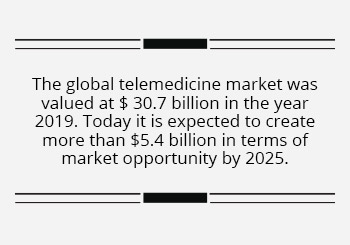 In 1997, when the Danish pop group, Aqua, released their hit single about a patient calling a certain "Dr Jones" to diagnose her symptoms over a call, there was little indication that nearly two decades later, telemedicine would become a common practice around the world. After all, healthcare in the 90's and even until recently, was based on good old-fashioned queuing in waiting rooms until the doctor called your name; and diagnosis very much involved stethoscopes and personal interaction.
Enter 2020 – the year of the coronavirus pandemic. A crisis that has upended the very concept of people to people interaction. A new and surreal normal has emerged – one where people are afraid to go to hospitals or clinics for health and safety reasons. Or where Health Ministers call for a move towards 'Zoom Medicine.' 2020, it appears, is the year the world goes full-tilt into the digital. And healthcare is no exception.
Have you read: Can healthcare be the new buzzword after IT in India?
Why should you invest in Indian health-tech now?
Covid-19 is a wake-up call for a change in approach to healthcare
Matt Hancock has hailed a new era of "Zoom medicine" in which patients consult their doctor by video link or phone rather than face-to-face https://t.co/PufXPxqtWs

— The Times (@thetimes) July 30, 2020
Why the world is going tele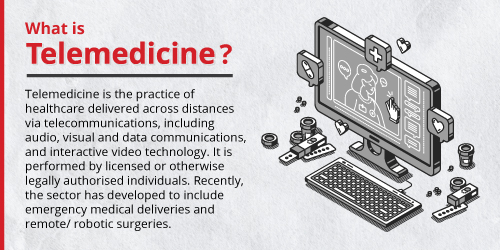 The coronavirus pandemic saw the healthcare sector inundated with cases. Apart from the large influx of affected patients, the panic around the pandemic meant that clinics and surgeries across the globe saw a surge in patient queries. Telemedicine was already on the rise with apps such as Livi (UK) Teladoc (US), Practo (India), WhiteCoat (Singapore) and Doctoroo (Australia), however, the Covid-19 crisis and the ensuing panic saw a huge spike in users. The global telemedicine market size stood at USD 34.28 billion in 2018. Today it is projected to reach USD 185.66 billion by 2026, exhibiting a CAGR of 23.5% in the forecast period.
Telemedicine in India
India's first tryst with telemedicine came after a visit by then US President Bill Clinton. India's Apollo hospitals was commissioned to set up a Very Small Aperture Terminal (VSAT) hospital. In 2000, the Apollo Telemedicine Networking Foundation set up the world's first VSAT enabled village hospital in Aragonda, a remote village in Andhra Pradesh in India. The hospital helped with handling emergency cases in the village and surrounding rural and remote areas with the help of medical expertise from the telemedicine speciality centres. Today the foundation has over 115 centres including 9 overseas centres.
Potential and applications
The sheer size of India's 1.3 billion demographic means that the applications for telemedicine are immense. The WHO estimates that India has a doctor-patient ratio of 0.85 which means barely one physician per one thousand people. In comparison, the European Union has around four physicians per one thousand people. The current coronavirus crisis has only emphasised this gap. If India is to address this problem, it has to look to technology and innovation for a solution. Telemedicine ticks both boxes, not to mention the economic benefits. A 2019 report by McKinsey Global Institute, 'Digital India: Technology to transform a connected nation', states that India can save up to $10 billion by 2025 if telemedicine services could replace 30 to 40 per cent of in-person consultations.
The current applications of telemedicine have proved extremely valuable in managing medical emergencies or addressing healthcare concerns at mass gatherings or remote locations.
ISRO's Telemedicine Pilot Project which began in 2001 applied satellite technology to connect remote and rural medical college hospitals and mobile units to major speciality hospitals in cities and towns. According to the stats on their website, today ISRO's Telemedicine network covers about 384 hospitals with 60 speciality hospitals connected to 306 remote/rural/district/medical college hospitals and 18 Mobile telemedicine units.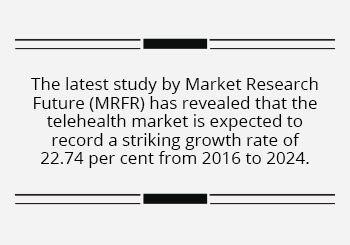 Since its inception in 2001, India's telemedicine sector has grown by leaps and bounds. The latest study by Market Research Future (MRFR) has revealed that the telehealth market is expected to record a striking growth rate of 22.74 per cent from 2016 to 2024. By 2024, the market is anticipated to touch $ 16,173.8 million
In 2014, based on the brainwave of one of its scientist, Dr Anurag Agrawal, the Institute of Genomics and Integrative Biology (IGIB) partnered with Narayana Health (NH), an Indian multi-speciality hospital chain and Hewlett-Packard, to install more than 40 'eHealth' centres fashioned out of cargo shipping containers in various parts of India. Today, these containers are used by Narayana Health for electronic medical records (EMR), biometric patient identification and integrated diagnostic devices – all part of their patient outreach in rural India.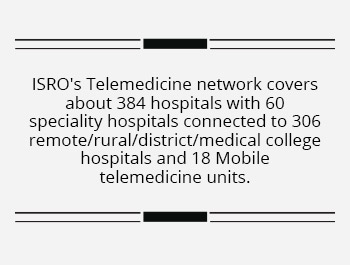 During Maha Kumbha Melas, the use of telemedicine allowed the thousands of pilgrims visiting the festival to avail of vital healthcare as well ensured zero casualties during these mass gatherings. A great example of this is the Digital Impact Square (DISQ) an initiative by Tata Consultancy Services (TCS) Foundation which collaborated with various industry partners and MIT Media Lab's Camera Culture to set up digital corridors in the Ujjain Kumbh Mela in 2016 for telemedicine.
In Tehri, Uttarakhand the establishment of telemedicine centres and a telemedicine system called "Hello Doctor-555" supports over 60,000 people living in rural settlements spread across 4,080 km, many of them in mountainous areas which are difficult to access.
In addition, India's Ministry of External Affairs has been instrumental in sharing India's healthcare expertise. The Pan-African e-network Project, for example, is a fibre-optic network set up by India across 47 countries in Africa to provide satellite connectivity, telemedicine and tele-education.
The SAARC (South Asian Association for Regional Co-operation) Telemedicine Network is another example.
Related Stories: Sending COVID-19 medicines to Africa part of Modi's strategic outreach effort
Advances in technology provide an effective tool for improving pharma access
Opportunities and Hurdles
According to industry stats, and a report by online portal Practo, online consultation for healthcare has increased by 500 per cent between March 1 to May 31, 2020.
Practo also recorded about 80 per cent, first-time telemedicine users, along with 67 per cent drop in in-person visits. About 44 per cent of the users were from non-metro cities.
However, in order for this sector to meet the rising demand and expand its outreach certain hurdles will need to be addressed.
1. Infrastructure
Telemedicine like all digital services depends heavily on connectivity and strong digital infrastructure. From physical infrastructure like underground and undersea fibre optic cables to ensure connectivity to adoption of technology such as Ai, deep learning and data management technology, digital infrastructure plays a pivotal role in the success of telemedicine.
2. Digital literacy
Awareness and digital literacy play a crucial role in the application of telemedicine, particularly in rural areas. It is important that government and private eHealth companies run digital literacy workshops so that potential patients know how to use the apps and/or technology during video or audio consultations.
3. Training medical staff
Training also extends to medical staff when it comes to correctly diagnosing illnesses virtually. Training should also extend to using medical tech correctly for digital consultations to ensure patient safety and accurate treatment.
4. Data privacy
A crucial aspect of digital interactions is the storage and use of data as well as how it is protected and shared. Here India still has some way to go in laying out concrete and strong data protection and privacy framework, though concrete steps are being taken by the government.
5. Regulations and framework
Set guidelines of acceptable practices and procedures is pivotal in ensuring quality telemedicine and eHealth services. Previously, telemedicine operations in India were governed by several statutory guidelines, however, with the rise in demand for these services and the onset of the coronavirus means that the government of India had to re-examine the existing guidelines. In May 2020, the Indian government launched guidelines for telemedicine that outlined procedure, reimbursement, quality of service and certain privacy issues. However, in time as the sector evolves these will need to be assessed and updated regularly.