The Abraham Accord between Israel and the UAE is a boon for India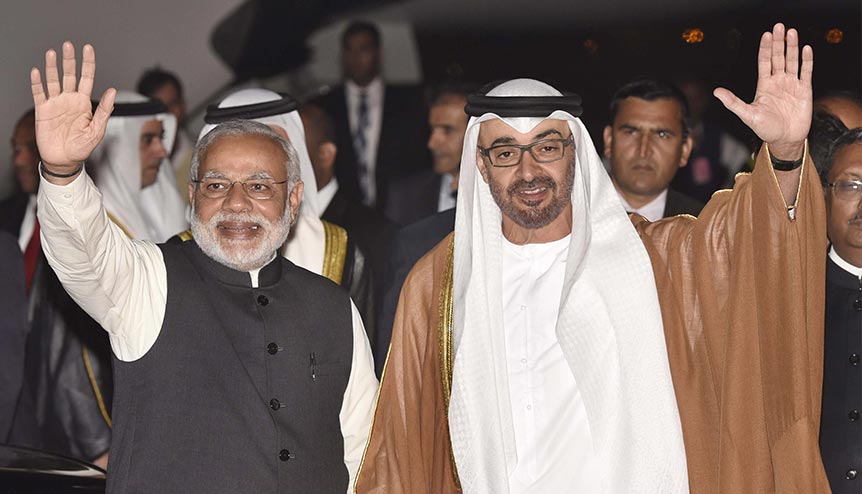 Many supported the Palestinian cause while resorting to underhand deals with Tel Aviv. India has shown the clarity which is a key component of its bi-lateral ties with Israel and Palestine and New Delhi will benefit from the newly established bonds between the UAE and Israel.
Israel and the United Arab Emirates may be thousands of miles away from New Delhi but the true import of the UAE-Israel normalization of ties will have a direct bearing on India's outreach into West Asia and the entire Middle East.
Have you read?
Massive room for growth in Indo-Israeli trade
Israel has emerged as a hub for deep-tech start-ups
How India's oil sector pulled all stops to counter Covid-19 impact
The power of optics
The peace deal between the two nations who refused to acknowledge each other's existence – by way of optics only – is good news for the Narendra Modi government. It throws up a couple of important observations – that while most of the world supported the Palestinian cause (albeit in name only) it resorted to underhand deals with Tel Aviv. India has shown the efficacy and the clarity that are key components in its bi-lateral ties with Israel and Palestine.
Please see our statement on full normalisation of relations between UAE and Israel.https://t.co/Qt8QvzaZ26 pic.twitter.com/2VFqNFEV8Z

— Anurag Srivastava (@MEAIndia) August 14, 2020

The Narendra Modi government displayed the art of fine balance with both states. Modi showed that actions speak louder than words by becoming the first Indian prime minister to visit Israel in 2017. But not before announcing that New Delhi was adopting a de-hyphenation policy between Israel and Palestine.
Modi's touchdown in Tel Aviv wasn't just a random visit – months before that the Indian prime minister visited Palestinian president Mahmoud Abbas. In doing so, India showed that one could maintain solid bi-lateral and diplomatic ties with Israel while not losing sight of the Palestinian cause. This only underlined India's profile as a conscientious global leader accountable for its actions and preserving friendships among nations.
In short, India stood for peace.
Balanced foreign policy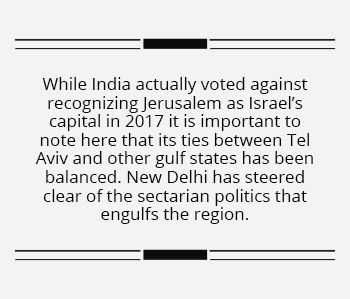 While India actually voted against recognising Jerusalem as Israel's capital in 2017 it is important to note here that its ties between Tel Aviv and other gulf states has been balanced. New Delhi has steered clear of the sectarian politics that engulfs the region.
The recently signed Abraham Accord signed between Tel Aviv and the UAE will ensure that India gains. It is a global validation of its brilliant diplomacy. The peace deal actually benefits the Indian diaspora in the region given that in excess of 7 million Indians work across the GCC. As Israel and the UAE work out a path to enhance bi-lateral trade the spill over could be a benefit for India especially as the two countries will be looking to build on the sectors of investment, tourism, direct flights, security, telecommunications, tech, energy, healthcare, culture and the environment.
New Delhi will play a much bigger in the regional security and stability in the GCC, given its closeness to Abu Dhabi and Tel Aviv, and also be able to look beyond its issues with Iran which, currently, has developed its own set of challenges and started aligning with China even though the benefits of this could not be long-lasting given Beijing's preferred method of doing business which is to ensure that its allies fall into a debt trap.
India's ties in the Gulf dates back to more than 5,000 years. It was primarily based on trading between ancient civilisations and, till the early 1960s, the Indian rupee was the official currency in Kuwait, Bahrain, Qatar, Oman and the Trucial States (now the UAE).
Areas of cooperation keep growing
Today these connections have become more diverse and the Indian influence is quite marked. Historic ties have been replaced with collaborations that are focused on 'energy, expatriates and the economy'. There is reliable data to support this observation and the numbers keep on growing in the field of trade, economic cooperation and remittances from a huge Indian expatriate community that is spread across the region.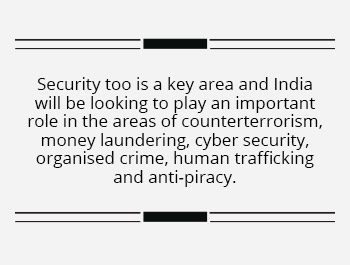 Security too is a key area and India will be looking to play an important role in the newly established ties between Israel and the UAE. The strategic partnership between the two nations also spills into the areas of counterterrorism, money laundering, cyber security, organised crime, human trafficking and anti-piracy.
Clearly New Delhi has and will further solidify its presence in an area which is considered by many to be an ''extended neighbourhood'. The ground realities are changing across the Middle East and in such disruptive where countries are jockeying for supremacy through means fair or foul one thing is for certain: there is no substitute for clarity of thought and action. The government of Narendra Modi has displayed ample evidence of these qualities by also being non-descriptive, non-intrusive and non-judgemental of its partners.