Tata Motors celebrates new baby Range Rover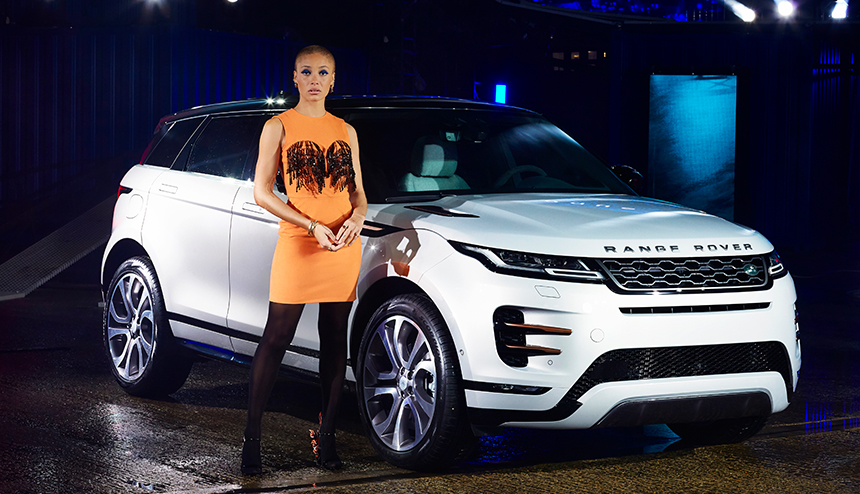 Tata Motors owned Jaguar Land Rover (JLR) unveiled its new compact luxury SUV to hit the roads in 2019, designed, engineered and made in Britain, as a sign of its commitment to the UK car industry.
The new Range Rover Evoque, which had its world debut in London recently, comes with a £1-billion investment to support its production line in the UK. The new model, dubbed a "baby" Range Rover, has been described as a technology revolution by JLR. It is priced from around $41,000 and will hit the roads from next year.
"Our commitment to UK production remains firm and the new Evoque benefits from a £1 billion investment. With this, we are introducing new technology and Range Rover refinement into the luxury compact SUV segment that the original model created," said JLR CEO Dr Ralf Speth.
"The Range Rover Evoque has been a fundamental driver in Jaguar Land Rover's global success. Since it first rolled off the Halewood production line, we have exported 80 per cent of all we have made," he said.
Order books for the new Range Rover Evoque opened this week, with first deliveries to customers in UK, Europe and US beginning in the first months of 2019.
Over £4-billion worth of contracts have been placed with UK companies to support production of the new Evoque, which JLR said was a testament to its continued confidence in the competitiveness of UK suppliers.
Investment plans
The company's £1-billion investment in the new Evoque covers research, development, design, advanced technology engineering and manufacturing.
The company said the new Evoque joins the Range Rover family with a choice of petrol, diesel and hybrid electric engines, enabled by an all-new Premium Transverse Architecture. From 2020, every new Jaguar and Land Rover will have the option of electrification and, in a first for the compact luxury SUV segment, the Range Rover Evoque will be electrified with a 48 Volt mild hybrid system from launch. It will also be available with a line-up of efficient four-cylinder diesel and petrol engines and, 12 months later, a three-cylinder plug-in hybrid engine.
"The new model's compact footprint, at just 4.37-meters-long, will make the new Range Rover Evoque the go-to luxury city SUV," JLR said.
"An entirely new architecture delivers Range Rover refinement, with agile on-road handling and world class off-road capability," it noted.
Promising history
The original Evoque is celebrated as JLR's greatest sales success stories. With over 217 international accolades since it was launched, it is also the most awarded Land Rover.
With its resulting new body style, vehicle architecture, emissions reduction technologies including hybrid-electric, and design features such as deploying door handles, the latest Range Rover is a sophisticated evolution of the original, the Tata Group company said.
"Enhancements to develop state-of-the-art flexible manufacturing for the new Evoque at Halewood, Merseyside, comprise a new stamping line and hybrid-electric assembly technology, alongside significant extensions and upgrades to existing facilities. Production overseas will meet local market demand for the latest addition to the Range Rover line-up," JLR said.
The new Evoque launches with innovations such as ClearSight Ground View and ClearSight Rear View.
Low-carbon future
The news of the new model came as JLR emerged among three new research and development projects to have won the backing of the UK government's £25-million  grant for projects aimed at accelerating the development of innovative low-carbon vehicle technologies.
The funding will be provided through the UK's Advanced Propulsion Centre (APC) enabling JLR and others to drive the development of low-carbon propulsion technologies and their supply chains.
"The centre will help JLR adapt their existing engine production facilities to be capable of making electric vehicles," said UK business and energy secretary Greg Clark.
"Through our modern Industrial Strategy, we are harnessing our globally-renowned automotive heritage and engineering excellence to unlock the economic opportunities future vehicle technologies present to businesses across the country," he said.
JLR's project will bring together a consortium of academic and industry partners, with the aim of developing strategies and capabilities to produce electric drive units alongside internal combustion engines at its manufacturing facilities.
A second project led by Ford will work with a consortium to collaborate on the development of digital engineering tools for a new engineering process that enables the next generation of electrified commercial vehicle technologies to be developed and brought to the market much quicker.
The third major R&D project will be led by Arcola Energy to bring to market complete fuel cell electric powertrains, develop an integrated motor drive unit, strengthen UK capability in battery packs supply and demonstrate hydrogen technology on a commercial vehicle.
The projects, valued at £54 million in total including the grant funding from the APC, are expected to save around 2.5 million tonnes of CO2 and help build the future of major UK automotive facilities, creating and safeguarding a total of 1,750 jobs.
Make in, with and for India
The Tata Group company has also gone on record to say that it plans to harness India's skills expertise and work towards making advanced vehicles in and for the country.
Speaking at the soft launch of the new National Automotive Innovation Centre in Warwick recently, JLR CEO Dr Ralf Speth said the UK-based car manufacturer had grown to become a global player in the luxury, premium and performance marketplace under the Tata Group's ownership.
"The opportunity for today and tomorrow is to harness India's rich expertise and skill in a new mobility ecosystem. Not just to Make in India, but to Make with India and to Make for India," said Speth.
"Prime Minister Modi said 'Make in India' is a lion's step. From the home of the British Jaguar, we encourage and support you in taking this Indian 'lion's step'," he said.
The National Automotive Innovation Centre is a £150-million facility and is dubbed as the largest single automotive facility in Europe. JLR experts note that autonomous, connected, electrified and shared vehicles will define future mobility, something that has been categorised by the company as Destination Zero – zero emissions, zero accidents and zero congestion.
"Collaborations are vital – for no company alone can deliver Destination Zero. This is why JLR, Tata and WMG have together now invested GBP 150 million in the largest single automotive technology facility in Europe, now officially named as Lord Bhattacharya building," said Speth.
"Ten years ago, [Tata Group Chairman Emeritus] Ratan Tata had the vision to bring Jaguar Land Rover into the Tata family. Since then, JLR has grown to become a global player in the luxury, premium and performance marketplace, an exemplar of British invention and engineering excellence," he said.