Strong gusts of wind that could propel India-France ties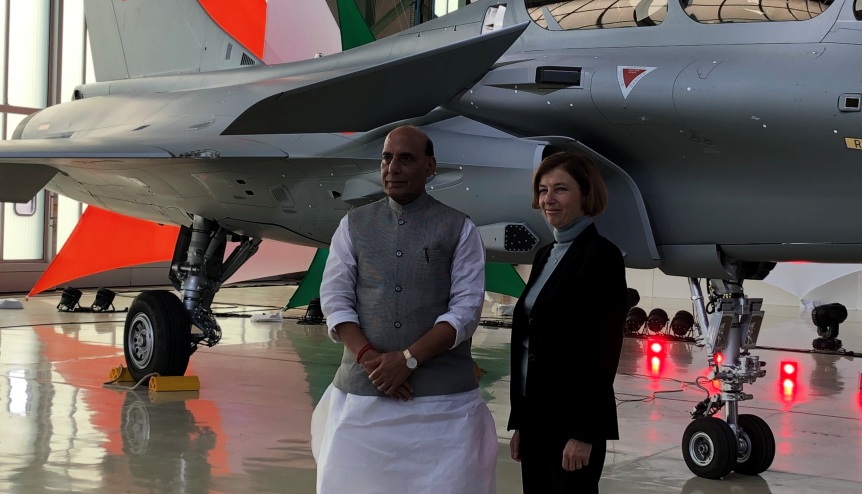 Editorial Comment
The recent €7.8-billion defence deal looks to be the first step to propelling India-France relations to new heights.
It is not commonplace for a country's President to clear his diary for a Defence Minister's visit ear-marked for a ministerial dialogue. But President Emmanuel Macron did just that for Indian Defence Minister Rajnath Singh, who was recently on a three-day visit to France for the annual India-France Defence Dialogue.
The optics of that 35-minute-long exchange at Elysee Palace in Paris just moments before Singh geared up for a sortie in the first of 36 Rafale jets acquired by the Indian government at an airport in Bordeaux could not have been better planned. The French government made repeated pledges on its commitment to the Make in India programme and Singh reciprocated in equal measure by reiterating the Indian government's unwavering focus on reforms required to attract such investments.
The minister made a direct call for French firms to make India their base for production of defence equipment and was categorial in his message that a New India is moving away from its traditional model of defence acquisitions towards co-productions and collaborations.
"The outcomes of this visit will further strengthen the defence cooperation between India and France," concluded Singh, at the end of a visit which marked an exponential hike in India's air combat capabilities as a result of the new French-built high-precision aircraft.
Rafale in French translates as gust of wind. The minister expressed the hope that the mega €7.8-billion worth of jets would live up to their name and by extension propel India-France relations to new heights.