Startups showcase India's fabric of unity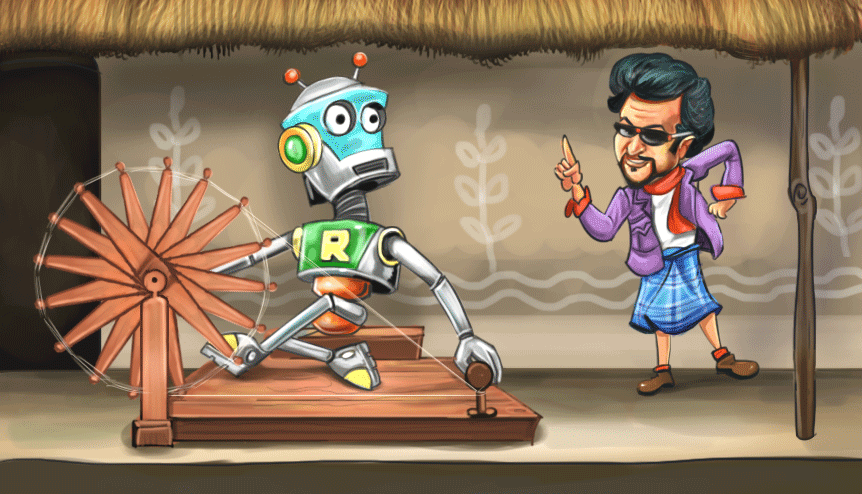 India's textile startups have embraced the opportunities from the coronavirus pandemic like few other sectors have, helping evolve the traditions of the humble Gandhian spinning wheel to a new era of robotic automation, nanotech and sustainable innovation.
One Indian startup has developed a nanotech coating for textiles that inactivates the coronavirus within five minutes of contact, offering peace of mind for frontline warriors, hospitals and restaurant workers and enabling common people to get a semblance of a normal life back after the pandemic.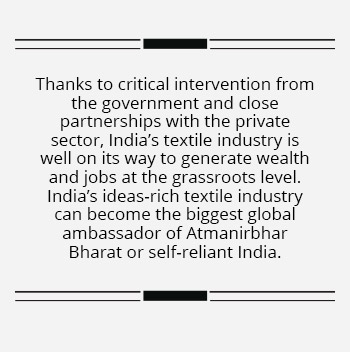 Yet another one, led by an ayurveda scientist, has come up with a nano-copper compound which inhibits novel coronavirus when sprayed on to fabrics.
In Bangalore, scientists from a private startup have collaborated with their US counterparts to identify a molecule that when applied to any fabric, helps it kill the coronavirus and others germs in the same way that soap or alcohol neutralizes any virus.
And khadi, the textile once known as the "fabric of freedom," has made a roaring comeback into mainstream society, with the Khadi and Village Industries Commission responding to Indian Prime Minister Narendra Modi's clarion call for a self-reliant India to fight Covid-19 with their affordable and sustainable versions of face masks.
Read more:
Millennium Alliance: Enabling Atmanirbhar Startups
Atmanirbhar Bharat: An initiative to foster entrepreneurship

Atmanirbhar Bharat also means 'Make for the World'
Post-pandemic, India will need to focus on fast-paced development for building Atmanirbhar Bharat
Ambani-Bezos rivalry heats up; market awaits Amazon's next move

The great disruption in textiles
Welcome to the brave new world of textile startups in India – a sector that has rushed to embrace the opportunities offered by the coronavirus pandemic like few other small and medium-scale industries have, disrupting and reinventing an industry that has always been India's traditional strength.
That leadership in the global textiles and natural fibres sector has been built up assiduously over the decades – and in many cases the call for self-reliance has come a full circle for textile companies that were set up in the backdrop of India's battle for independence and quest to develop indigenous products.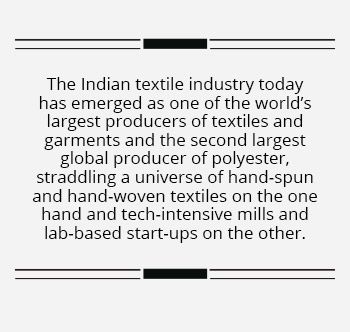 For instance, the Lalbhais founded Arvind Mills – one of India's major textile companies – in 1931 in response to Mahatma Gandhi's call for swadeshi products, and in 1952 set up its first dye and chemical plant to reduce India's dependence on imported dyes and chemicals. Similarly, Grasim Industries was set up by the Birlas exactly 10 days after India's independence in 1947, during which large tracts of cotton-growing fertile land went to Pakistan. Later, Indian business icon Ghanshyam Das Birla helped Grasim pioneer man-made fibre to fill the supply gap for textile fibre.
From those nationalistic roots, the Indian textile industry today has emerged as one of the world's largest producers of textiles and garments and the second largest global producer of polyester, straddling a universe of hand-spun and hand-woven textiles on the one hand and tech-intensive mills and lab-based start-ups on the other.
MOU approved today will facilitate Indian exports to meet the requirements of Japanese importers as per technical regulation imposed by Japan. This will help exporters expand their market in Japan and boost Indian Textiles & Apparel exports including Technical Textiles to Japan.

— Smriti Z Irani (@smritiirani) September 2, 2020
More to read:
India's pharma CMO sector a hotbed for private investors
Indian economy doomsday predictions are highly overstated
Reforming India's power distribution sector
Indian toy story: Let the games begin
The Modi govt is walking the talk of loosening control over PSUs
Massive legacy at stake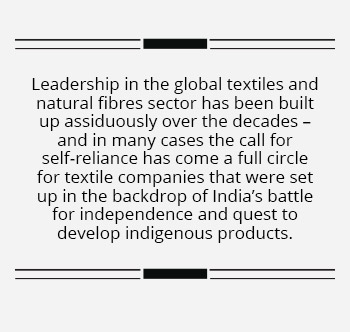 Power looms, hosiery and knitting form the largest component of the sector that contributed 7 per cent to India's industry output in value terms in 2018-19, according to Invest India. Overall, the industry contributes 2% to India's GDP, employs about 45 million people and contributed 15 per cent to the country's export earnings in 2018-19.
Globally, India is ranked second in textile export with a 6 per cent share and fifth in apparel export with 4 per cent share, and is now emerging as a key player in technical textiles industry contributing to a market size of $19 billion. In terms of capacity, the industry has the second largest vertically integrated textiles production base in the world after China.
It's this massive legacy that now stands on the threshold of a rapid transformation.
Vibrant startup scene in textiles
Over the recent years, a vibrant startup scene has sprung up all over India in the textiles and fashion industry – and the onslaught of Covid-19 pandemic seems to have been just the right spark to further ignite their imagination and creativity.
A new breed of young textile innovators and startup entrepreneurs have bravely challenged the traditional norms of this long-established industry – many of them working in close collaboration with the government or the Indian Institutes of Technology (IITs) – and in the process created new products and markets for textile-based services that were unthinkable before the pandemic started.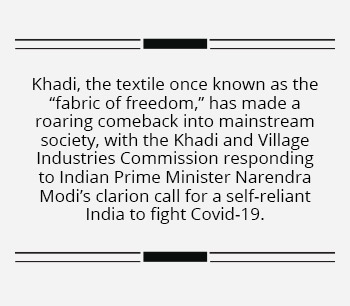 "Our strength is in science and understanding microbiology. We are also collaborating with experts in textile engineering," said Anand Anandkumar, founder of BugWorks, a mentor for the Bangalore-based startup Infection Shield Technologies (IShield). IShield has developed a fabric, using which it has made an affordable self-disinfecting mask that can kill the Covid-19 virus in 99% of cases, and has won orders from the Principal Scientific Advisor to the government and is in talks to export the masks to Singapore and other countries, the company said. "Somebody else's advanced textile can be treated with our science and then that can help in creating PPEs for doctors and other healthcare professionals," said Anandkumar.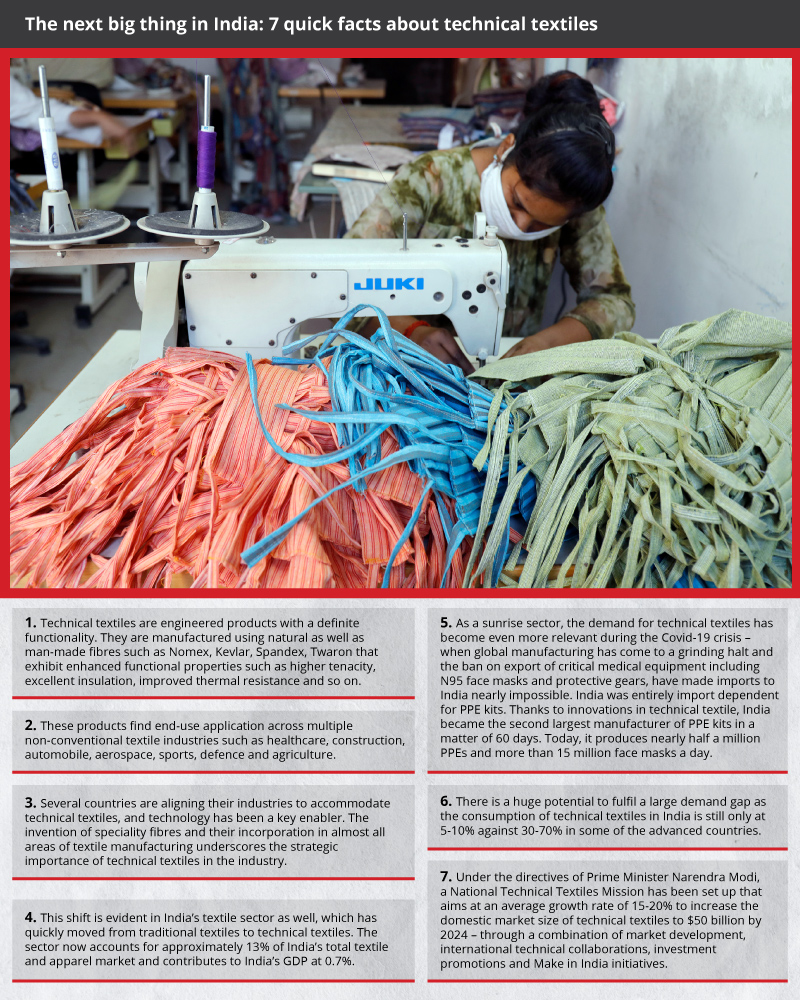 Khadi to the rescue
While the new breed of entrepreneurs has rushed to develop new technologies and products, traditional players have also sought to reinvent their utility.
India's Khadi and Village Industries Commission (KVIC) moved swiftly to convert its napkin stitching centre in Nagrotta, near Jammu, into a mask stitching centre, with production having begun on April 15. Today, many such KVIC centres are racing to produce millions of face masks across the country, with orders pouring in from various central government ministries, Rashtrapati Bhavan and the Prime Minister's Office.

"Khadi is our very own fabric. Buying it will contribute to our own country. The khadi fabric is unmatched – no machine can make 500 count fabric which has the intricacies of handspun and handwoven elements. It is environment friendly and is the greenest fabric of all," said V.K. Saxena, the chairman of KVIC.
Still more to read:
Why India-UK partnerships are booming amid the Covid-19 pandemic
Indian states step on the gas to attract FDI
India's national education policy could offer collaborations with the UK
India draws attention back to its civil nuclear and uranium mining ambitions
How India's agri-infra fund creates a bold future for farmers and entrepreneurs
A stitch in time
Despite this surge in creativity and spirit of entrepreneurship pervading legacy businesses and startups, India's textile exports of $40 billion are still no match for China's $269 billion, and the productivity of its textile factories and the technology used lag behind that of China and even of countries like Bangladesh and Vietnam. Chronic apathy of previous governments has contributed to the problem – for example, between 2000 and 2010, China doubled its share in the global export of apparels from 18.2 per cent to 36.4 per cent, but India could only manage to improve its share from a mere 3 per cent to 3.2 per cent.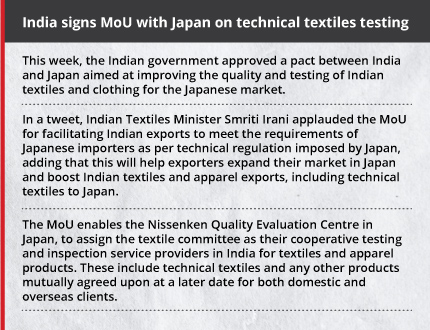 Thanks to critical intervention from the government and close partnerships with the private sector, India's textile industry is well on its way to generate wealth and jobs at the grassroots level. With a stich in time, India's ideas-rich textile industry can not only become the country's fabric of unity but also the biggest global ambassador of Atmanirbhar Bharat or self-reliant India.