Some standout moments from the 2018 calendar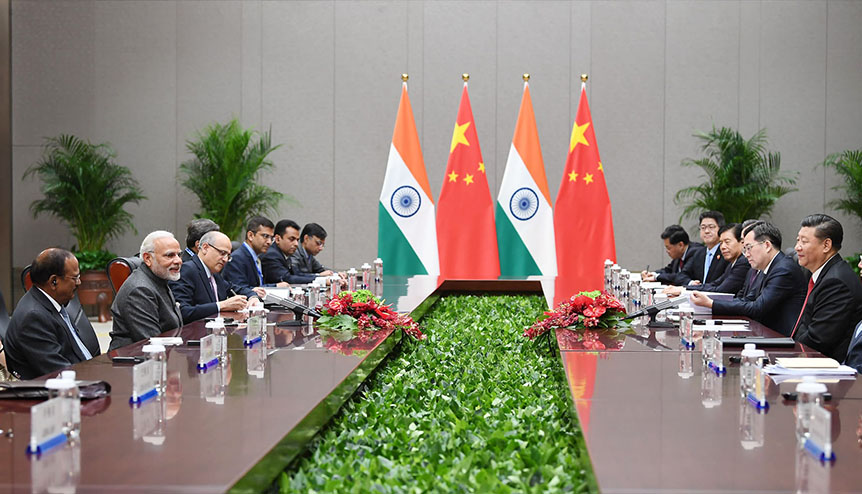 As the year comes to a close, 'India Global Business' looks back at some of the key developments that shaped India's global agenda and will resonate well into the New Year.
JANUARY
India sends its 100th satellite into space to watch borders
India launched its 100th satellite in January  as the Indian government sought to project the country as a global low-cost provider of services in space. A total of 31 small satellites were launched into space. More than half of the micro and nano satellites were for the US, and the remainder India, Canada, Finland, France, South Korea and the United Kingdom.
India's space programme has a budget of around $4 billion and the Modi government hopes the launches will improve its prospects of winning a larger share of the more than $300 billion global space industry. India will use these satellites for better border surveillance and obtaining high-resolution images of the earth.
FEBRUARY
Justin Trudeau gets a mixed welcome to India
Canadian Prime Minister Justin Trudeau said his visit to India yielded investments worth over $1 billion that will generate 6,000 'high quality' jobs. "This is a true vote of confidence from the Indian Business community and the desire from companies around the world to set up shop in Canada makes sense," he said, notwithstanding some reports that indicated a lukewarm welcome laid out for the Canadian PM over some controversial policies towards Canadian Sikh groups.
Trudeau insisted his visit was a success and said India and Canada must "deepen and broaden" its historic friendship. He also called for achieving trade and growth that lifts the poor and historically disadvantaged.
MARCH
India, Russia, Bangladesh in civil nuke pact
India signed a tripartite agreement with foreign partners Russia and Bangladesh for civil nuclear cooperation. The Nuclear Power Cooperation of India Limited (NPCIL) will play a key role in building a nuclear power plant on foreign soil with the proposed supply of equipment and material for the power station being built by Russia in Bangladesh.
While India has been working with major powers (US, Russia and Japan) across various sectors as well as firming up joint ventures in third countries in Africa, South-East Asia and Central Asia, it would be the first occasion where Delhi will be involved in a civil nuclear project on foreign soil, marking India's global entry into a strategic sector. It will also boost the Make in India initiative amid a proposal by Delhi to Moscow for manufacturing of some nuclear power reactor equipment in India.
APRIL
PM Modi invites Nordic investments
During his visit to Sweden, Prime Minister Narendra Modi invited top Swedish companies to invest in India and take part in the country's flagship initiatives, saying stronger bilateral business relations would augur well for the people of the two countries. Modi held bilateral meetings with his counterparts from Finland, Denmark, Iceland and Norway and discussed ways to enhance ties in key areas such as trade and investment, and renewable energy. He met the leaders of the four Nordic countries on the sidelines of the India-Nordic Summit in Stockholm.
Swedish companies have committed to invest $1.1 billion in India over the next two years.
MAY
Walmart buys controlling stake in Flipkart for $16bn
Walmart Inc. agreed to pay $16 billion for a roughly 77 per cent stake in Indian online e-commerce website Flipkart, the American retailer's biggest foreign investment ever as it battles Amazon in one of the world's biggest emerging markets.
Walmart said it expected the deal to knock about 25-30 cents off its earnings in fiscal 2019, assuming the deal closes at the end of the second quarter. It also said that the deal included $2 billion of funding from new equity in Flipkart, which could be sold to additional investors in the future, diluting the company's overall stake.
India, Nepal start power plant construction
Indian Prime Minister Narendra Modi visited Nepal in May to launch building work with his counterpart K.P. Sharma Oli on the country's biggest hydroelectric project, as New Delhi seeks to rebuild trust in the Himalayan republic, where China has made deep inroads.
At a ceremony in Kathmandu, Modi and Oli pushed a button that opened the curtain on a plaque at the site of the 900 MW hydro-power project, formally marking the start of construction work there. The project, which is expected to cost $1.04 billion and is being built by state-run Indian firm Satluj Jal Vidyut Nigam (SJVN) Limited, will be the single biggest foreign investment project in cash-strapped Nepal.
JUNE
India strikes river, rice deals with China
China and India settled a dispute over the flood-prone Brahmaputra river that flows from Tibet to Bangladesh in a sign of growing cooperation between them. Indian Prime Minister Narendra Modi and Chinese President Xi Jinping signed the agreement as they began the two-day Shanghai Cooperation Organisation (SCO) summit.
Under two deals signed on the sidelines of the SCO summit, China will share hydrological data on the Brahmaputra river and amend certain requirements on Indian exports of rice other than the premium Basmati variety to China.
India's trade gap with China has widened to $51 billion, a nine-fold increase over the past decade. The rice deal should help India finally crack the market in China, the world's biggest buyer of the commodity.
JULY
Samsung opens world's largest phone factory in India
Samsung Electronics has formally opened a new factory in India, which the South Korean tech group says is the world's biggest mobile phone manufacturing plant, part of its plans to expand production in the world's fastest-growing major mobile phone market.
The factory in Noida, on the outskirts of New Delhi, will allow Samsung to make phones at a lower cost due to its scale at a time when other phone making hubs such as China are getting more expensive. The new factory will help Samsung to double its current capacity for mobile phones in Noida to an annual 120 million units after the phased expansion plan is complete, the company said in a statement.
AUGUST
India, China agree to expand military ties
India and China have agreed to expand their military ties and enhance interaction to ensure peace on their common border, India said after a meeting between the old rivals' defence ministers. Relations between the Asian giants were strained last year over a 73-day military face-off in a remote, high-altitude stretch of their disputed Himalayan border.
But the neighbours have been working on mending ties and visiting Chinese Defence Minister Wei Fenghe told Indian Prime Minister Narendra Modi that their countries' friendship dated back to ancient times. The ministers also discussed their border and agreed to implement "confidence building measures" to ensure the maintenance of peace, including the early operationalisation of a hotline between their armed forces.
SEPTEMBER
Modi, Macron receive named Champions of the Earth
United Nations Environment names Indian Prime Minister Narendra Modi and French president Emmanuel Macron winners of the 2018 'Champion of the Earth' award for their leadership in the promotion of solar energy. The organisation's citation for its highest environment honour read: "UN Environment is recognising Indian Prime Minister Narendra Modi for his bold environmental leadership on the global stage. Under Modi's leadership, India pledged to eliminate all single-use plastics in the country by 2022."
The honours were announced less than a week before the first International Solar Alliance assembly in New Delhi, which was attended by the UN Secretary General.
OCTOBER
Statue of Unity
The 'Statue of Unity' honouring Sardar Vallabhbhai Patel was be inaugurated by Indian Prime Minister Narendra Modi on October 31. The ambitious project on the banks of the Narmada river was a Gujarat government initiative.
Unveiled on the birth anniversary of Sardar Patel, the statue is built near the Sardar Sarovar Dam in the Narmada district, close to 200 kilometres from Ahmedabad. The interiors of the project include a museum of Sardar Patel, elevators, and the viewing gallery. The museum will have 40,000 documents, 2,000 photographs and a research centre dedicated to Sardar Patel's life. At 182 metres, it is now the tallest statue in the world.
India, Russia ink $5.2bn defence deal
India and Russia, in a move that could invite US sanctions under CAATSA, formally inked the $5.2 billion deal for S-400 system. The air defence system is expected to be delivered by the year 2020.
The S-400 Triumf is an advanced surface-to-air missile system, developed by Russia's state-owned company Almaz-Antey, and can shoot down hostile aircraft and ballistic missiles. It has an estimated range of 250 kilometres and a possible upgrade is speculated to extend it to 400 kilometres.
Russian President Vladimir Putin, who was on a two-day visit to India, met Indian Prime Minister Narendra Modi and discussed a number of key global and regional issues, including the US oil sanctions on Iran.
NOVEMBER
India makes a dent in the Ease of Doing Business rankings
India leapfrogged to 77th rank in the World Bank's 2018 'Ease of Doing Business' rankings, jumping 23  notches from the previous year.
The report recognised India as one of the top 10 improvers in this year's assessment, for the second successive time. India is the only large country this year to have achieved such a significant shift. It improved its rank by 53 positions in the last two years, and 65 positions in the last four years (2014-18). PM Modi has launched brainstorming sessions within weeks to explore measures required to realise the vision of India breaking into the top 50.
DECEMBER
India pushes for counter-terror cooperation at G20
While engaging in several bilateral meetings on the sidelines of the G20 summit in India, Prime Minister Narendra Modi mainly emphasised on jointly combating the menace of terrorism, which is a global phenomenon.
Indian Foreign Secretary Vijay Gokhale said that in a meeting with President of European Commission Jean-Claude Juncker, President of European Council Donald Tusk and German Chancellor Angela Merkel, the Prime Minister asserted on how the countries could jointly cooperate in combating terrorism.
In addition to this, he hoped that Indian companies would be given data adequacies status in line with the European Union's data protection regulations which have recently come into force.