Smriti Irani: The politician weaving her own magic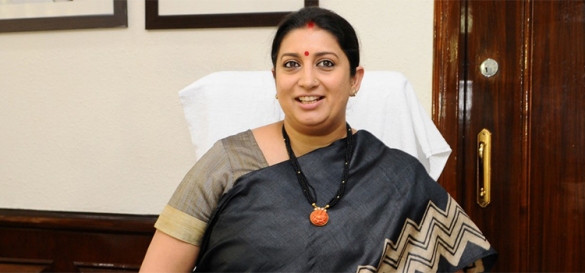 Feisty, determined and courageous are just some adjectives that define one of India's most dynamic young ministers.
Smriti Zubin Irani has been a model, Miss India contestant, a McDonald's worker, a top TV actress, India's favourite small screen daughter-in-law, a multiple award winning actor, feisty politician and the youngest Cabinet minister in Prime Minister Narendra Modi's Cabinet. And all this before she turned 38.
Along the way, she has faced and overcome many hurdles, sparked several controversies and faced two electoral defeats, but every time, she has displayed a remarkable ability to bounce back strongly. And it is this resilience and determination that marks Smriti Irani out as a politician to watch out for.
Middle class beginnings
Irani (nee Malhotra) was born to a cosmopolitan middle class family, the oldest of three sisters. Her father was Punjabi and mother Bengali. According to media reports, Irani got her first modelling assignment while still a schoolgirl studying in Standard 10 – for promoting beauty products.
Entry into the world of glamour
She contested the Miss India title in 1998 but couldn't reach the finals. Like many beauty pageant contestants, she too decided to enter Mumbai's famed tinsel town, moved to India's "Maximum City" and supported herself by working at McDonald's even as she regularly auditioned for roles.
India's favourite daughter-in-law
After a period of struggle, she landed the role of Tulsi Virani in producer Ekta Kapoor's blockbuster serial 'Kyunki Saas Bhi Kabhi Bahu Thi' on Star Plus. It was this role as the daughter-in-law in a business family that made her a superstar and the nation's favourite small screen bahu (daughter-in-law).
The serial ran for a record eight years, won her four consecutive Indian Television Academy Awards in 2001, 2002, 2003 and 2004 as well as several others. She built on this success by setting up her own production house called Ugraya Entertainment and hosting a successful dance reality show in 2008 and also showed off her acting prowess in the comedy serial Maniben.com.
Political career
Irani, who married Parsi businessman Zubin Irani in 2001, joined the BJP in 2003 and was appointed Vice-President of the party's Maharashtra youth wing. The following year, she contested the Lok Sabha elections against ace lawyer and Congress candidate Kapil Sibal from Delhi's Chandni Chowk constituency and lost, but got noticed by the party leadership for her hard work and dedication.
This earned her an executive membership of the party's Central Committee and a few years later the position of Secretary and a short while later as the chief of the party's women's wing. In 2011, the BJP rewarded her with a membership of the Rajya Sabha.
Irani again captured the nation's imagination when she was put up by the BJP to contest the prestigious Amethi constituency against Congress Vice President Rahul Gandhi. This was a Congress pocket burrow and had been nurtured by the Gandhi family for decades. But the feisty Irani campaigned hard, gave the Congress scion a scare and reduced his victory margin by more than half – proving once again that regardless of the odds, she was no pushover.
Ministership
Prime Minister Narendra Modi appointed her Human Resource Development Minister in 2014. This immediately became controversial because of her own lack of formal education and the alleged discrepancies about her qualifications in two different affidavits she had filed.
She sparked off another controversy by adopting a combative stand on the death of a student in Hyderabad that caused a national furore.
In 2016, she was transferred to the Textiles Ministry as Cabinet Minister and, in July this year, was given additional charge of the Information and Broadcasting portfolio following the resignation from that position of Venkaiah Naidu, who was elected Vice-President of India.
Irani has two children from her marriage to Zubin Irani as well as a step-daughter from her husband's previous marriage.