Sitharaman's reforms package is the real deal and not just window dressing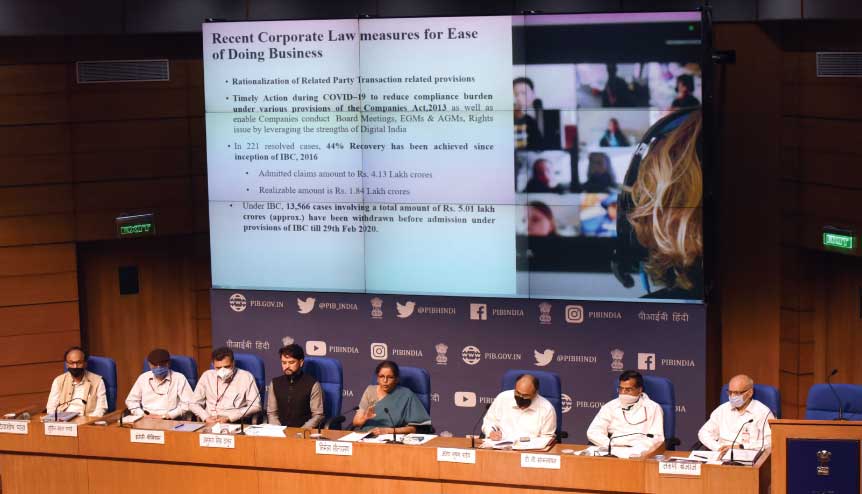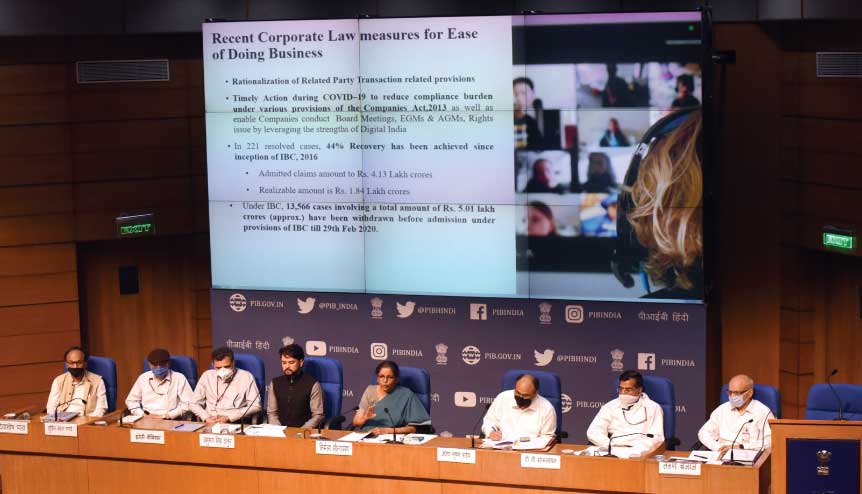 The International Monetary Fund(IMF) has tracked the stimulus packages of 193 countries and found that the Indian measures are much larger than analysts' estimates and among the biggest for emerging economies.
Here's validation that Indian Finance Minister Nirmala Sitharaman wasn't window dressing the recently announced economic stimulus package to make it look bigger and better than it actually was – and it's the International Monetary Fund (IMF) that's saying so.
Related stories: Nirmala Sitharaman's 5-part package could be a 1991 redux
India's historic $266 billion relief package will leave a lasting global impact
The background
The $266-billion stimulus, amounting to 10 per cent of GDP, unveiled by Nirmala Sitharaman last month was criticised by several foreign and Indian agencies and analysts. Their charge: The actual fiscal stimulus was much smaller than announced.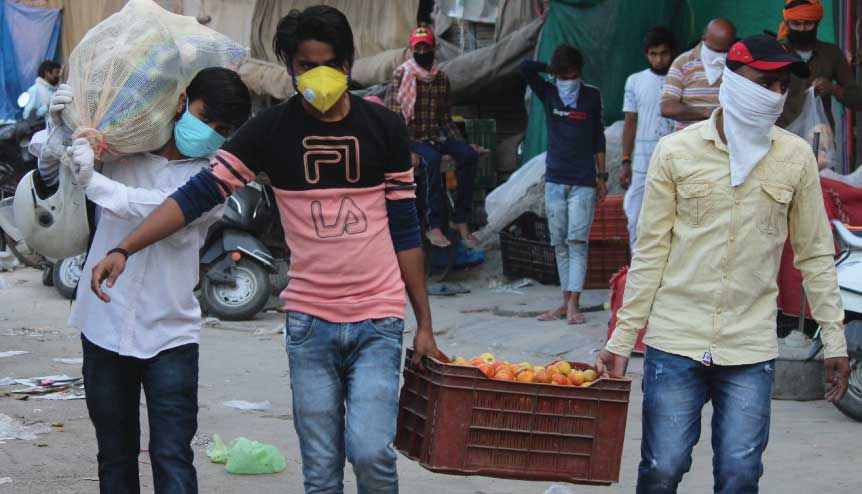 Most of these analysts said the "real" fiscal stimulus was only 0.8 per cent to 1.2 per cent of GDP. The almost unanimous opinion was that the balance – bank credit, loan guarantees and monetary measures announced by RBI amounting to more than $200 billion –could not be classified as a stimulus. These actual stimulus figure, the criticism went, was too small and so, wouldn't generate any immediate demand. Hence, it would succeed in lifting India's economy out of the Covid-hit trough it finds itself in.
Therefore, this line of argument went, the Indian stimulus measures were much smaller – even puny – compared to those of almost every other major economy. The defence of the government's math by a small band of economists was summarily dismissed and was lost in the din of criticism.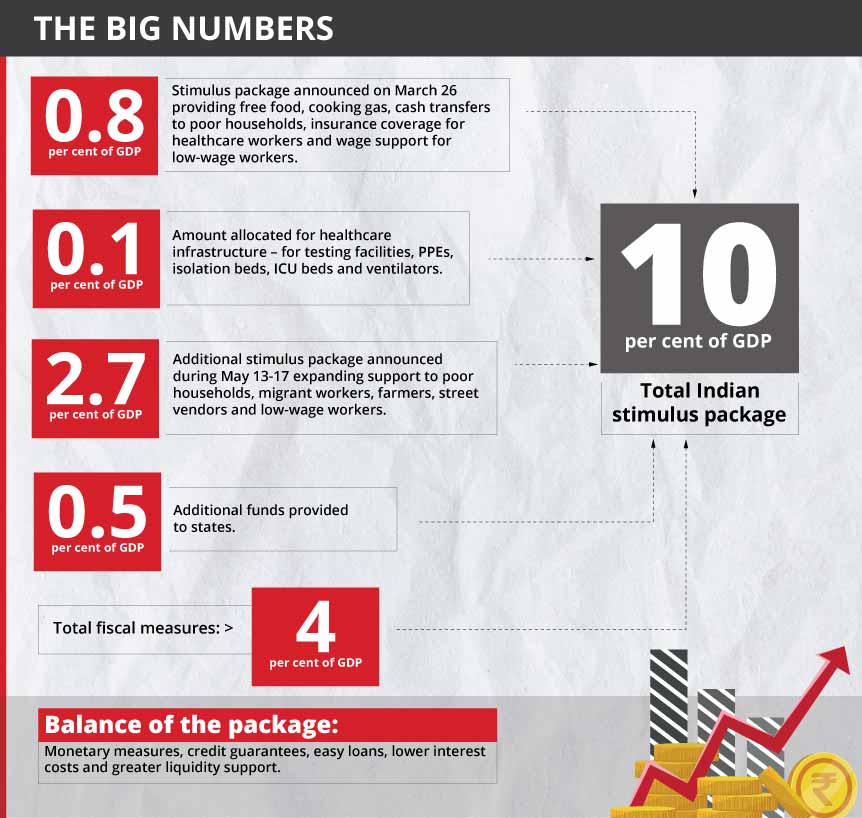 What the IMF says
Now, the International Monetary Fund-Policy Tracker (IMF-PT), which has analysed the fiscal and monetary policy responses of 193 countries to the economic slowdown caused by the Covid-19 pandemic, has estimated the Indian fiscal stimulus is about 4 per cent of GDP. And it has validated the use of credit and monetary measures as legitimate tools to stimulate an economic recovery.
The IMF says the direct fiscal component of the stimulus package is 3.5 per cent of GDP. Contrary to the disinformation campaign launched by critics, this amount is being spent on agriculture, poor households and migrant workers.
"There is an additional 0.5 per cent of GDP for states to spend unconditionally, bringing the fiscal package, excluding loans to businesses, to at least 4 per cent of GDP. The support for businesses (MSMEs) is estimated to be 2.7 per cent of GDP. Of this, at least 2 per cent of GDP is in the form of 100 per cent credit guarantees and equity infusion," wrote Surjit Bhalla, Executive Director at IMF representing India, Sri Lanka, Bangladesh and Bhutan and one of India's leading economists, in a newspaper column.
How the Indian package compares to others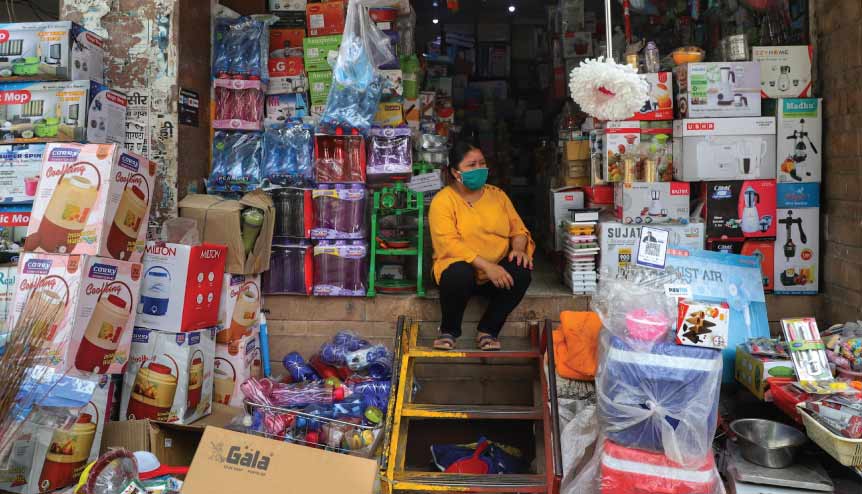 Far from being puny, the Indian fiscal measures compare rather well with those of other emerging economies. According to IMF-PT, Brazil has announced a package that is 8 per cent of its GDP, but this includes loans and guarantees – non-fiscal measures – amounting to 3 per cent. Peru (7 per cent of GDP), Indonesia (3.5 per cent) and China (2.5 per cent) are some of the other countries to have announced significant stimulus packages.
The richer countries obviously have greater leeway to spend more. Japan's stimulus package, amounting to 21 per cent of GDP, also includes easy credit and guarantees, just like India's. The average package in the EU is 4 per cent, considerably less than the amount pledged by Sitharaman.
Why criticism of Sitharaman's package is unfair

Internationally, there is a broad consensus among economists and policy makers that any stimulus package comprises direct fiscal measures, of the kind demanded by Indian critics, as well as loans and credit guarantees, as provided by Japan, the US, India and several other countries.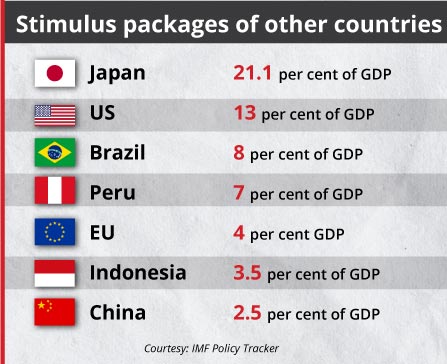 There is no economic rationale for recognising only the former as a legitimate stimulus measure and dismissing the latter as window dressing.
The reforms are more important
It must be borne in mind that India is the only country to have announced far-reaching reforms measures along with the stimulus package. These have liberated the agriculture sector from stifling socialist-era strait jacket that has strangled it for decades, opened up every sector of the Indian economy to the private sector and promised deep factor market reforms.
The criticism of Sitharaman's package, therefore, is not only unfair but also, in the light of IMF-PT, uninformed.