Setting clearly defined goals can bring desired results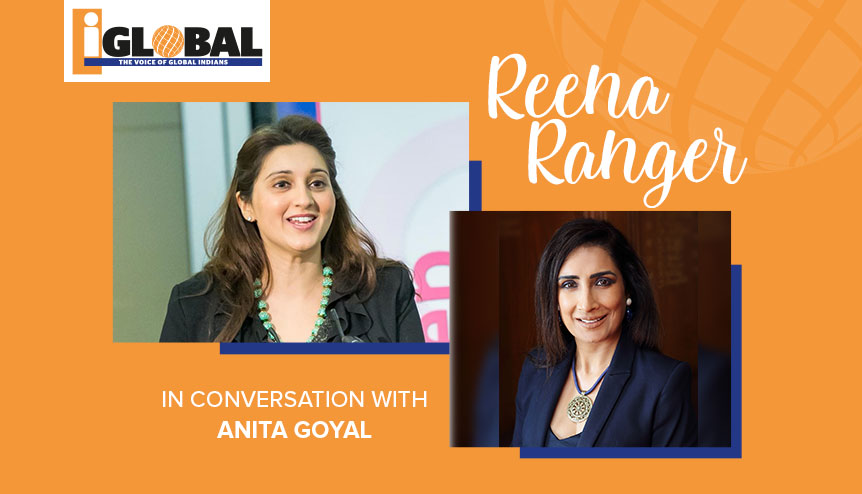 Reena Ranger, Chair of Women Empowered, is In Conversation with Anita Goyal as part of her regular series for iGlobal to explore some inspirational facets from the life and achievements of prominent Global Indians.
Anita is the CEO and Trustee of the Hemraj Goyal Foundation and the Hallmark Care Homes Foundation. The award-winning philanthropist and education pioneer, as the Founder of Enrichment Experiences in Education with a focus on tools to support character building in schools, tells Reena about following one's passion, supporting relief efforts through the coronavirus lockdown, thinking out of the box and the importance of self-development.
What has lockdown taught you about you and others?
The biggest challenge that I have had during this time is seeing friends, family and acquaintances lose their loved ones, the heartache and sorrow that they have experienced has been heart-breaking. It has been difficult to visit and console these wonderful people during the lockdown and my thoughts are with so many individuals going through their grief.
It has made me value my time at home, especially with my elderly mother-in-law, husband and two daughters. It has been a time of exploration of my relationships with family and friends and through personal coaching I have managed to establish how to open my mind and heart to make an impact. It has widened my awareness of hardship that people in poverty are experiencing globally through this pandemic and I have been incredibly fortunate to be able to support the various emergency relief efforts in India and the UK.
Moreover, I am alarmed by the fragile situation that vulnerable young people are finding themselves in; those who rely on school, health and social systems as well as the voluntary sector feeling unprotected. The crisis is having a frightening effect on the mental well-being of vulnerable children worldwide.
In India, NGOs have switched to distributing basic food rations to families in the fight to survive Covid-19 as well as carrying out a variety of relief work during the nationwide lockdown.
If you could go back and give your teenage self-one bit of advice, what would it be?
The best piece of advice that I would give my teenage self is to explore my interests and follow my passion to the highest level and be the best at it. To read as many non-fiction books to learn about the world and grow my mind to have empathy and compassion for others.
To believe and trust myself and have courage to confidently connect with inspirational people and to grasp as many opportunities to be the best version of myself. To lead a life with integrity, love and freedom, always respecting others and honouring all my values authentically.
Which one person has had the greatest influence in your life, and why? 
My husband is the greatest influence in my life. Avnish has always supported me with my ideas and projects in our family foundation – Hemraj Goyal Foundation. He has encouraged me to think outside the box, using innovative ideas to enhance our fundraising and influence.
He has inspired me to be courageous in my public speaking and create a united vision to make a difference with integrity. Avnish has been pivotal in committing to my personal development through a number of programmes, including Landmark Education and Unleash the Power Within by Tony Robbins.
I now have the tools for producing breakthroughs in areas of my life that matter most to me, such as the quality of my relationships, confidence, personal productivity and my ultimate enjoyment of life.
What self-development and planning tools that have helped you the most would you recommend?
My passion for self-development is always evolving and I use numerous tools to help me grow and develop my mind set. At the beginning of every year, I set my goals that resonate with my vision and values. I believe that there are many reasons why everyone can consider setting their goals; here are three of them:
1. It restores a sense of focus in your world, a world that has become complicated by the many options. Goals clarify our desires and, in doing so, help us to focus on only those activities that will lead us to what we want. Writing down your goals clarifies your intentions. If you set goals, the actions you take will be based on your life's mission rather than on your day-to-day mood.
2. Goal setting works as it keeps you alert to opportunities. The discipline almost magnetises your mind to seek out new opportunities, opportunities that you need to seize to create the personal, professional and spiritual life you deserve.
3. Clearly defined goals commit you to a course of action. They give you the inspiration to act on your priorities and make things happen in your life rather than waiting for opportunities to land in your lap. Selecting goals that engage and motivate you is one of the best ways to boost the level of your personal commitment to life and increase the energy you bring to your days.
I think that when you are clear about your values and have established your life purpose, then you can connect with it and develop an intention to live by it every day. Engage in seminars, read books, attend workshops, meet inspirational people and find great role models to help propel you towards your vision. Consider the legacy you want to leave behind and put systems in place that will move you towards the life that you have designed for yourself.
I encourage everyone to use mentors and consider getting a life coach. By using all the resources available to you, create a life of abundance in your physical and mental health as well nourishing yourself intellectually and spiritually. Be the best version of yourself every day!
Reena Ranger is the Chair and Co-Founder of  Women Empowered. In this exclusive "In Conversation" series for iGlobal, the dynamic entrepreneur-philanthropist will be catching up with high-achieving Global Indians across different fields to spotlight some insightful life lessons.