Rural India drives the boom in Indian e-commerce sector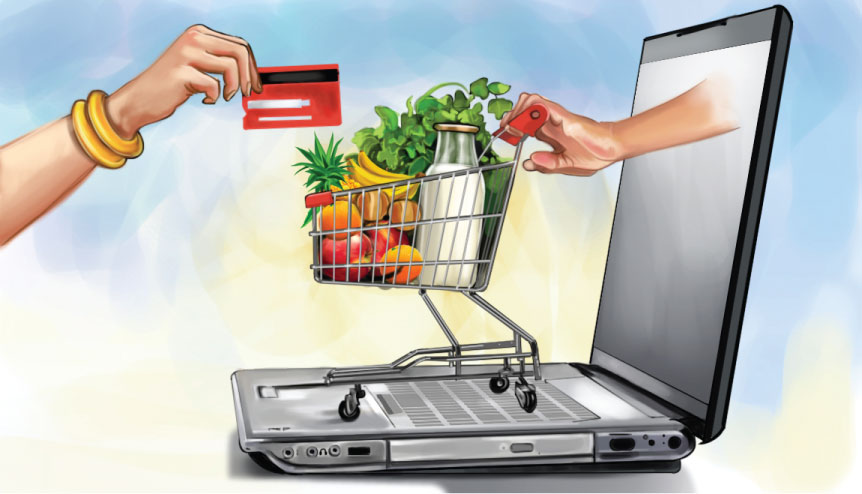 The addition of new products available for e-shopping, the rising prosperity levels in Tier II and Tier III towns and the increasing penetration of the internet and smartphones will fuel the next phase of growth of India's e-commerce sector.
The Covid-19 pandemic is likely to permanently change the way Indians consume goods. Even cars and other mobility solutions are now moving to the online sales model.
Related stories: Profitable future in store for Indian online grocery market in post-Covid-era
New payment opportunities fill in the e-commerce gap for small businesses in India
New markets
Consider this: Audi, the German luxury car brand owned by Volkswagen, recently launched a digital sales and after-sales service platform in India that will offer potential customers a 360-degree virtual experience that will replicate the real-life experience of walking into a showroom to buy a car – all from the comfort of remote locations.
And it's not just the high-end brands that are doing this. Sectors such electric mobility are also taking the e-plunge.
"We've started various promotional schemes using digital platforms. In a first-of-its-kind initiative, we're hosting webinars with potential customers to address their queries. We are seeing a huge surge here. People are interested in buying electric vehicles but also knowing more about them. So maybe so far, the information that was available out there was not enough for consumers to take that plunge," Naveen Munjal, Managing Director, Hero Eco Group, one of India's largest e-vehicle makers told India Global Business.
Fast growth, bright future
The Covid-19 outbreak has given the Indian e-commerce market a positive push, says an analysis by GlobalData, a leading London-based data analytics firm. The sector is projected to grow at a compounded annual growth rate (CAGR) of 19.6 per cent between 2019 and 2023 to $100 billion. A PwC report titled 'Propelling India towards global leadership in e-commerce' says the Indian e-commerce market will touch the $100-billion mark a year earlier, ie, by 2022.
According to the company's website, Ravi Sharma, Lead Analyst, GlobalData, said: "While the current lockdown in the country has led to the overall decline in consumer spending, this is being partially offset by a rise in online spending, as wary consumers stay at home and use online channels to purchase goods. Online payment solutions from the likes of Paytm, Amazon Pay and PayPal could potentially benefit from the current situation… The Covid-19 outbreak will have greater implications on Indian consumers' buying behaviour, pushing them to embrace e-commerce. The market is anticipated to… exceed previous forecast levels to reach $98.4 billion in the next four years."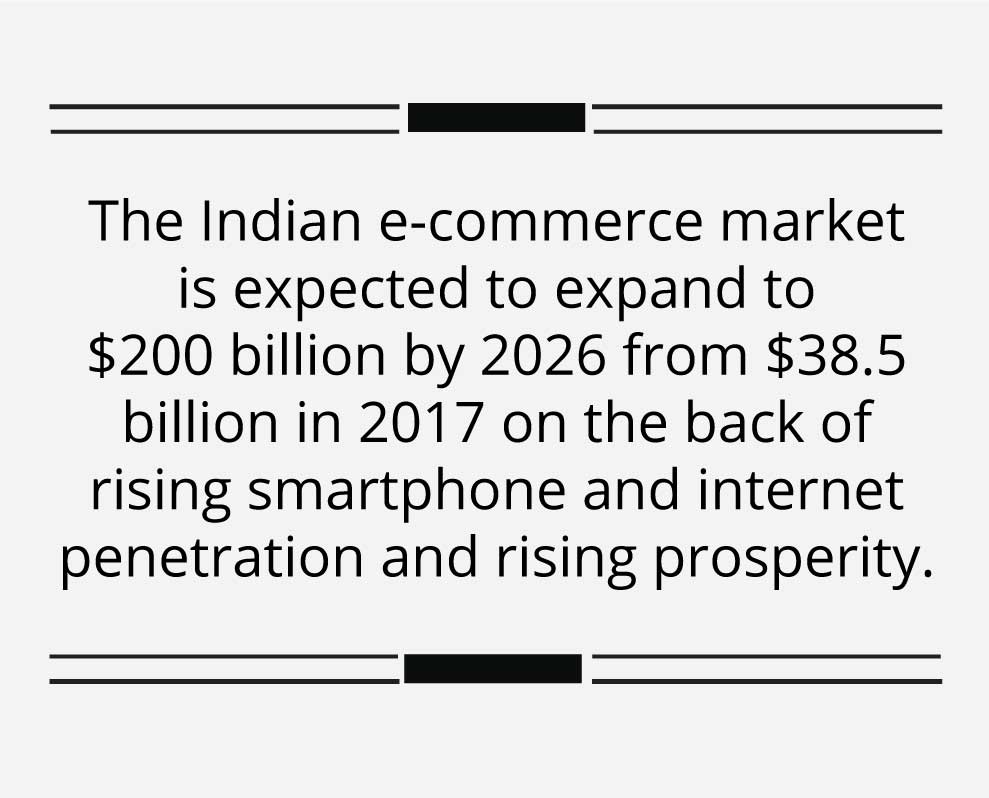 The Indian Brand Equity Foundation (IBEF), a trust floated by the Government of India to promote Indian trade and commerce globally, estimates that the Indian e-commerce market will expand to $200 billion by 2026 from $38.5 billion in 2017 on the back of rising smartphone and internet penetration and rising prosperity.
India currently has an estimated 687 million internet users, making it the second-largest internet market in the world. But the penetration rate, at 50 per cent, still leaves massive room for further growth in the coming years.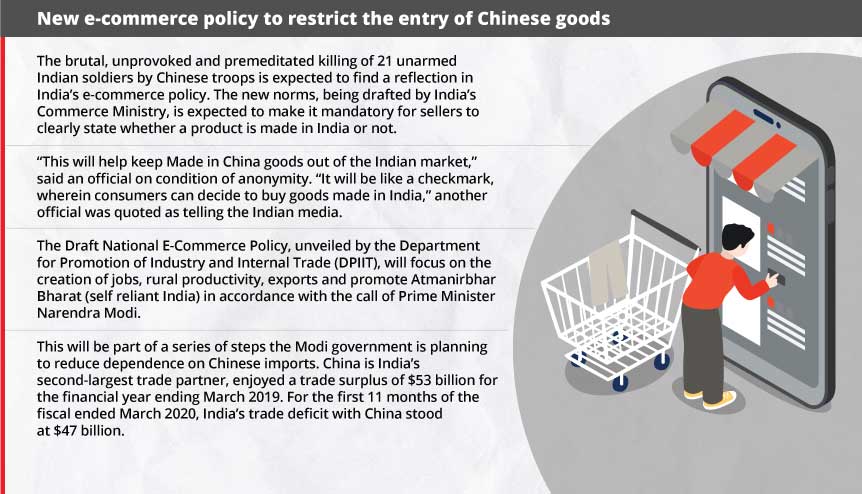 Rural India to fuel e-commerce boom
The Covid-19 pandemic hasn't impacted rural India as much as it has hit urban centres. Then, the series of incentives and reforms announced by the government for the farm sector, coupled with a bumper winter harvest and a forecast of a bountiful monsoon are expected to generate rural prosperity. Consumers in Tier II and Tier III towns, as well as farmers and others living in villages, are expected to spend a significant portion of this incremental purchasing power on consumer durables and non-durables – via online market places such as Amazon India or the Walmart-owned Flipkart the homegrown Reliance Retail, among several others. That will drive the growth of this sector over the short term.
The Covid-19 multiplier
The coronavirus outbreak has hastened the adoption of online shopping in India. Since the start of the lockdown on March 24, many more Indians have begun shopping online – even for daily items like groceries and other essentials as well as for non-essential goods – out of fear of catching the dreaded virus at crowded shops and neighbourhood stores. Analysts say many of these first-time online shoppers will continue this mode of shopping even after the Covid-19 scare abates because of the convenience of a hassle-free experience and the cheaper prices on offer.
Demographic dividend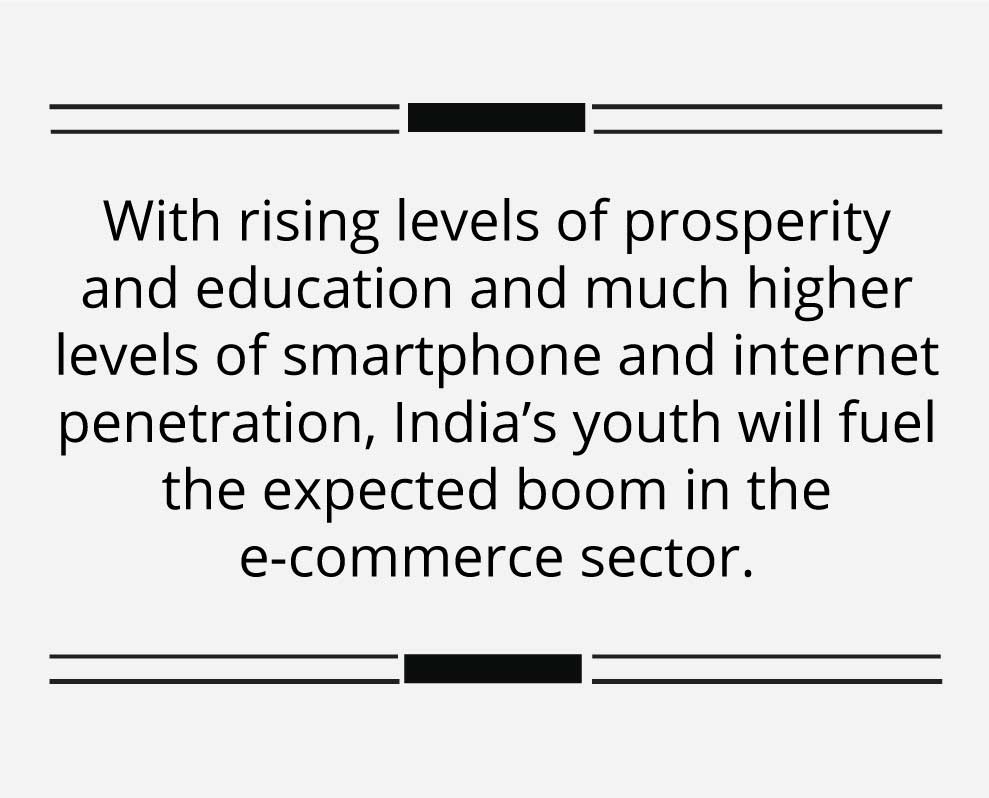 Economists estimate that India will have close to 90 million households headed by millennials by 2030. The country will then have a median age of 31, making it one of the youngest nations in the world. With rising levels of prosperity and education and much higher levels of smartphone and internet penetration, this demographic group will fuel the expected boom in the e-commerce sector.
Neighbourhood stores the new force multiplier
A vast majority of Indians still buy their essentials and many durables from neighbourhood kirana stores. These mom-and-pop shops have close relationships with most shoppers and provide facilities like easy credit, home delivery and personalised services. These shops were traditionally seen as rivals to the big multinational e-commerce behemoths like Amazon others.
But Reliance Retail has turned this model on its head by roping in these kirana shops as its last-mile agents, who will fulfil online orders placed on the Reliance website while maintaining the personal connection and providing the services that their customers have grown comfortable with. As more e-commerce companies adopt this model, which is still being rolled out by Reliance Retail in some parts of the country, it promises to increase the penetration of online retailers .
Digital India to facilitate e-commerce penetration
In many parts of the country, farmers are buying fertilisers, seeds and other agricultural inputs online. As the Modi government's flagship Digital India scheme gains critical mass and more villages across the country get connected to the digital highway, the penetration of e-commerce will increase manifold.
This is expected to drive the next wave of expansion in the Indian e-commerce sector.