Reliance's 5G ambitions provides alternative to a tainted Huawei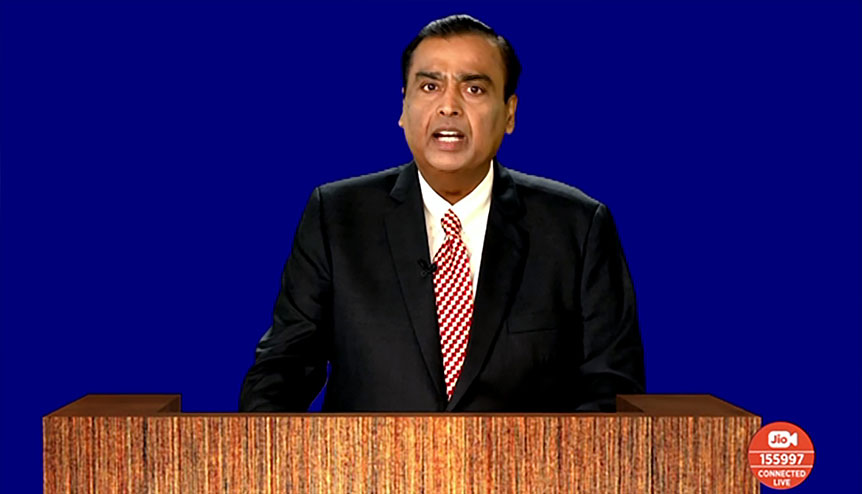 Mukesh Ambani's announcement that his Jio Platforms has developed in-house a 5G solution, his deal with Google to develop a new OS to power affordable smartphones, his JioMeet answer to the Zoom meeting app and several other initiatives promises to place India at the centre of global high technology innovation and offer the Axis of Democracies a new sourcing point for these products.
Reliance Industries has always been known for the scale and scope of its ambitions and executions.
Which is why the world of tech and the company's shareholders woke up and rubbed their eyes in astonishment when RIL's Chairman and Managing Director Mukesh Ambani announced at the company's 43rd annual general meeting (AGM) last week that his company has emerged as the world's new Huawei, Zoom, Xiaomi, Tencent and Alibaba all rolled into one – with more than a little help from US tech giants Google and Facebook.
Related stories: Why big tech is betting big on India
Forget the experts, follow the money
India can get a lion's share of digital transformation opportunities
Digital India receives added boost with KKR-Reliance deal
Towards an open, globally competitive, self-reliant India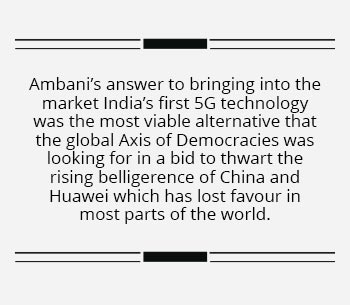 Ambani's answer to bringing into the market India's first 5G technology was the most viable alternative that the global Axis of Democracies was looking for in a bid to thwart the rising belligerence of China and Huawei which has lost favour in most parts of the world.
Since Ambani's announcement the Reliance Group has wasted little time with Reliance Jio seeking spectrum in certain frequencies from the Department of Telecom (DoT) for holding trials of the latest 5-G technology. Additionally, it is understood that the company's wholly owned US-based subsidiary Radisys has already started selling some of the 5G solutions to foreign companies.
This appears to be a gamechanger of sorts. Moreover, it underlines what Indian Prime Minister Narendra Modi had said in his address to a global audience at the India Global Week (www.indiaglobalweek.com) #BeTheRevival last week – that Atma Nirbhar Bharat (Self-reliant India) is about more not less openness and how it will integrate India into global supply chains like never before.
In keeping with the government's directives Jio has said that high frequencies have been put to use in advance in countries like the US, South Korea, Japan, Canada, the UK. Jio reportedly wants trails in these bands to start in India in order to make India "Atma Nirbhar".
'Huawei killer'
If this as yet untested technology proves to be globally competitive, then RIL will emerge as a direct competitor to Chinese giant Huawei, which countries such as the US and UK have banned for its alleged links with the Chinese deep state.
The RIL-controlled news and current affairs website news18.com has dubbed the new technology a "Huawei killer".
New Android-based OS on the anvil
Then, as Alphabet and Google CEO Sundar Pichai made a virtual appearance at the AGM to commit a $4.5-billion investment in Jio Platforms, Ambani said his company would partner with Google to develop a new operating system (OS) based on Android to make affordable smartphones for India and the world.
Should this plan succeed then it could make India one of only two or three countries in the world to have an OS for mobile phones and this will facilitate the migration of India's 350 million feature phone users to smartphones. This, in turn, will render 2G technology almost redundant in India, free up spectrum for other uses and provide a platform for a fourth of India's population to enter the world's 4G and 5G innovation, learning, shopping, business and entertainment platforms.
At present, Chinese brands like Xiaomi, Vivo and a few others dominate this price sensitive segment. If the plan succeeds, Reliance could win a significant chunk of these consumers and reduce the space for imports.
Shopping, meetings et al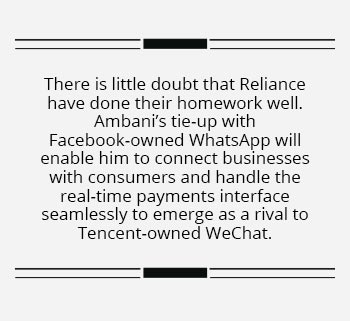 There is little doubt that Reliance have done their homework well. Ambani's tie-up with Facebook-owned WhatsApp will enable him to connect businesses with consumers and handle the real-time payments interface seamlessly to emerge as a rival to Tencent-owned WeChat. This would be another attempt to counterattack China in the space of technology.
If there is one thing that Reliance does well it is handling projects to scale. Ambani playing host at the virtual AGM was proof of this as he outlined his company's statement of intent. Hosted on JioMeet, Ambani's new Zoom rival, it had, according to media reports in India, between 300,000-400,000 shareholders, analysts and interested people logging in to watch his presentation.
Atma Nirbhar Bharat = Globalised India
Should Ambani succeed in this project Reliance will propel India towards becoming a international source of new age technology, tech products and innovation and reduce the free world's dependence on one country for affordable high technology products. That is also the essence of what Prime Minister Modi has called Atma Nirbhar Bharat.