Reliance Retail writes parallel script in India's growth story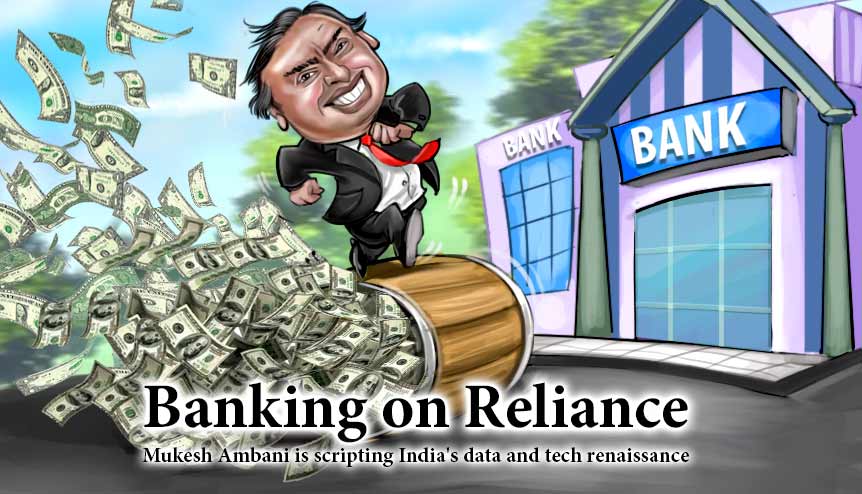 Mukesh Ambani has attracted $4.4 billion investments in his retail arm since September 9. RIL's pivot towards consumer businesses like telecom, tech and retail are a bet on consumer spending recovering very soon.
Reliance Industries Ltd (RIL) Chairman Mukesh Ambani is continuing to rake in the megabucks from the biggest and most respected global investors. Even as the ink is still drying on his deals to sell a 30 per cent stake in Jio Platforms, RIL's telecom and technology vehicle, he has embarked on another deal making spree, this time in Reliance Retail, India's largest retailer, which has a presence both in the physical as well as the cyber world.
Over the last three weeks and a bit, i.e., since September 9, Ambani, Asia's richest man and the world's fourth richest, has sold a 7.28 per cent stake in his retail venture to a clutch of deep pocketed and hard-nosed foreign investors for $4.4 billion. The market is rife with talk that he plans to sell up to 15 per cent stake in Reliance Retail to raise about $8-9 billion.
Read more:
Festive season sales could launch Indian tech cos globally
The world wants a piece of the Indian innovation pie
Ambani-Bezos rivalry heats up; market awaits Amazon's next move
Self Reliance and Reliance are writing the great Indian story
Bet big and bet long in the Indian economy
India growth to get back on track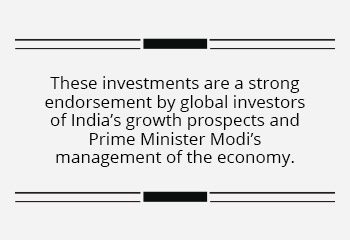 This is a strong endorsement by global investors of India's growth prospects and Prime Minister Narendra Modi's management of the economy despite recent Covid-induced hiccups, which led to a 23.9 per cent contraction in GDP growth in the first quarter of the current financial year. It also means foreign investors, who carry out detailed due diligence before committing their investment dollars to any country, are looking beyond the slowdown and betting on the Indian growth story getting back on track very soon.

There was also speculation that Ambani was talking to Jeff Bezos to sell Amazon a 40 per cent stake in the venture for $20 billion. Reliance has, since, denied the news item, which was widely reported in the Indian media. But the chatter refuses to die down.
Seven deals with six investors
RIL recently announced that GIC, the giant Singapore-based fund manager will invest $750 million in Reliance Retail Ventures Ltd (RRVL) for a 1.22 per cent stake. Leading US investment company TPG will also buy a 0.41 per cent stake in the company for $250 million.
Prior to these deals, Ambani has, since the second week of September, sold a 2.13 per cent stake to US private equity firm Silver Lake in two tranches for a little more than $1.25 billion. He has also roped in Mubadala Investment Company, Abu Dhabi's sovereign wealth fund, as an investor in RRVL, selling it a 1.4 per cent stake for $840 million. US private equity fund managers General Atlantic and KKR have also invested $500 million and $760 million, respectively, for 0.84 per cent and 1.28 per cent stakes in Reliance Retail.

That's seven cheques from six investors who are valuing RRVL at about $62 billion and counting.
Global partnerships to help RIL's retail arm
Commenting in the investment by GIC, Ambani said in a statement: "It gives me great pleasure to welcome GIC to the Reliance Retail family. I am delighted that GIC, with its track record of close to four decades of successful long-term value investing across the world, is partnering with Reliance Retail in its mission to transform the Indian retail landscape. GIC's global network and track record of long-term partnerships will be invaluable to the transformation story of Indian retail. This investment is a strong endorsement of our strategy and India's potential."
More to read:
Factory output at a new high as India fights back
Just $54 to celebrate a Merry Christmas or Happy New Year
The resurgence of the Indian economy can give investors the ride of their lives
Skill development crucial to making India's workforce Atmanirbhar
Government e-Market Place targets $100-bn sales in 5 years
India's potential is key
The headline numbers for the Indian economy aren't looking very great. As mentioned above, India's GDP shrank 23.9 per cent in the April- June quarter because of the Covid-19 pandemic and the world's most stringent lockdown that led most industries to completely shut down all activities for most of the quarter.
Then, three major economic indicators – consumer spending, investments and exports – showed major contraction and this, many economists are predicting, has set the stage for the first full-year contraction in four decades in what was till recently the world's fastest growing major economy.
Investments are timely
What will be of particular interest to the investors in Reliance Retail is the private final consumption expenditure, which is a proxy for consumption demand in the economy. This contracted 26.7 per cent in the first quarter, indicating that consumers are feeling skittish.
Since Reliance Retail depends on consumer spending for its revenues, this should have, logically, been a red flag for the likes of GIC, TPG, Silver Lake and others. But it wasn't.
Then, gross fixed capital formation, which is a proxy for private investment in the economy, shrank an unprecedented 47 per cent, the manufacturing sector recorded shrank 39.3 per cent and services, which accounts for almost two-thirds of the Indian economy, declined 26.8 per cent.
Yet, these global investors, who can invest anywhere in the world, are choosing to pour in billions of dollars into India. Why?
Recovery on its way
"In some (ways), this decline is expected, given the global lockdown that happened… India is definitely experiencing a V-shaped recovery, so we should expect better performance in the subsequent quarters," the government's Chief Economic Advisor K. Subramanian said, adding that the contraction is because of the "exogenous shock that has been felt globally".
This sentiment was echoed by Rajiv Kumar, Vice Chairman of NITI Aayog, the government's official think tank, who said: "First-quarter GDP growth is on expected lines. However, month on-month we see a steady improvement in certain parameters."
Still more to read:
Dip in smartphone imports has a nice ring to it
Retail and e-commerce must present level playing field for all
Festive season sales could launch Indian tech cos globally
Kirana stores are vital for dominating India's e-tail sector
The world wants a piece of the Indian innovation pie
Investors betting with their feet
For a moment, let us not go by what these gentlemen are saying. It is their job to talk up India's prospects. But investors, especially foreign investors, have no such compulsions.
Why are they pouring in dollars in the tens of billions into India in consumer-centric businesses at a time when the world economy is shrinking?
They are obviously seeing something that Indian analysts are missing.
Second coming for most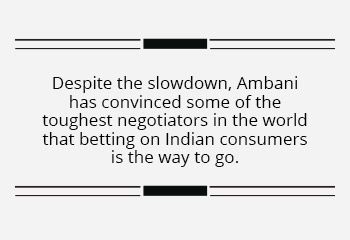 A closer look at the investors and the numbers shows that for many of them, their investment in Reliance Retail is the second (and, in some cases, the third) vote of confidence in Reliance and the Indian consumer.
Mubadala, Silver Lake, KKR and General Atlantic had also invested vast sums of money in Jio Platforms. These investments have had a very positive knock on effect on the RIL stock and propelled it to a lifetime high. In the process, the company became the first in India to clock a market capitalisation of more than $200 billion.
RIL's pivot towards B2C business
RIL, which has traditionally been a B2B-focused oil refining to petrochemicals company has, over the past few years, been pivoting towards the Indian consumer even as its bread and butter business continues to remain its mainstay.
Not only has Ambani placed this counter-intuitive bet on the Indian consumer in the middle of a slowdown when most surveys show consumer confidence to be down, he has also managed to convince some of the toughest negotiators in the world that this is the way to go – as is evident from the multi-billion dollar cheques that continue to flow into his coffers.
Betting on Modi's growth mantra
These ultra-high-value stake sales/acquisitions in Jio Platforms and RRVL are, in reality, a bet on the Indian consumer and the Indian economy. They mean Ambani and his investors believe Prime Minister Modi's stewardship of the country and its economy will succeed in steering it through the choppy waters they currently finds themselves in and deliver the high growth numbers that will justify the high valuations that have been assigned to RIL.
This is borne out by the statement issued by Jim Coulter, Co-CEO, TPG. "Regulatory changes, consumer demographics and technological disruption are creating seismic shifts across the entire retail value chain in India. In the midst of this transformation, Reliance Industries has utilised technology and scale to position Reliance Retail as an incredibly strong, well-organized, and innovative leader. We are excited to join with them as they seek to create a more inclusive retail industry that allows kiranas and Indian consumers to benefit from the connectivity, efficiency, and accessibility of the Reliance Retail omnichannel platform," he said.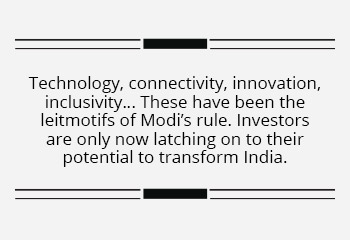 Technology, connectivity, innovation, inclusivity… These have been the leitmotifs of Modi's six years in power. Foreign investors are only now latching on to the real meaning of these catchphrases in the Indian context – and betting on them transforming the Indian economy in the years to come.
Reliance, as one of the early adopters of these mantras, is benefitting from them. Its multi-billion-dollar partnerships with the world's leading technology companies and investors will play a big role in India's transition to the next level of development and help ensure that the Prime Minister's vision of an Atma Nirbhar Bharat (Self-Reliant India) comes to fruition.