Rapid missile tests by DRDO demonstrates drive towards self-reliance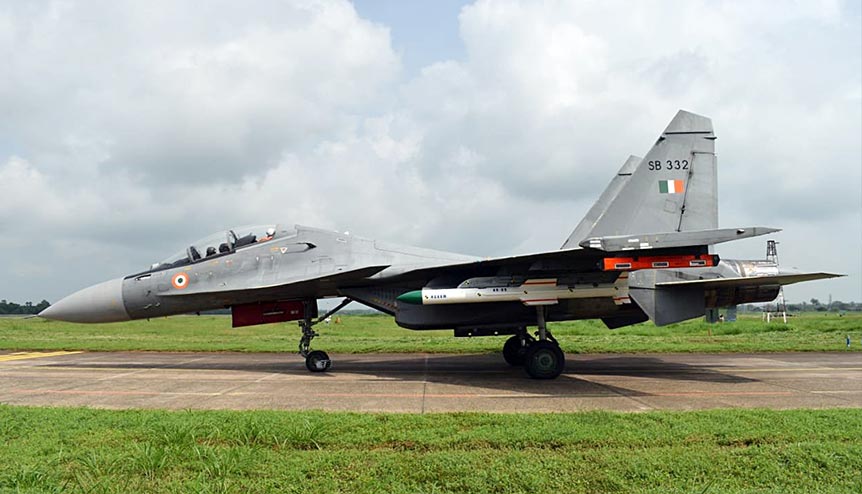 Successful Rudram-1 anti-radiation weapons test, and a host of other trials, is an example of the evolution of India's defence manufacturing industry whose goals are to involve multiple stakeholders and private investors.
With the successful launch of the country's first indigenous anti-radiation missile called Rudram-I, India has joined an elite league of nations to indigenously develop and test an air-launched radar-busting weapon that top defence analysts say can change the course of a war and dictate its results.
Read more:
Private sector should push for level playing field in domestic defence production
FDI in defence set to make a big bang
Defence becomes the new building block for UK-India ties
Negative list of imports to provide a leg up for Made in India defence platforms
Private space sector gets ready to fly India to the moon and beyond
Private sector, start-ups can revolutionise India's atomic energy sector
Reforms to uncork 'Make in India' defence contracts worth billions
In a trial run by India's Defence Research and Development Organisation (DRDO), the Rudram-1 was launched from an Indian Air Force (IAF) SukhoiSu-30MKI Flanker fighter jet over the integrated test range at Balasore in the Bay of Bengal, off the coast of the eastern state of Odisha.

"The Rudram-I was successfully flight-tested onto a radiation target located on Wheeler Island off the coast of Odisha. The missile was launched from SU-30MkIfighter aircraft," the DRDO said in a statement. It hit the radiation target with pinpoint accuracy, it said, adding: "The missile is a potent weapon for the IAF for Suppression of Enemy Air Defence effectively from large stand-off ranges."
According to reports, the missile manoeuvred towards the target based on direction detected by the seeker after launch and all mission objectives were successfully met. "Rudram-1 has a range of up to 200 km depending upon the launch conditions. The missile can be launched from altitudes of 500metresto 15 km and speeds of 0.6 to 2mach," an Indian Air Force source told The Hindu.
Boost to India's air defence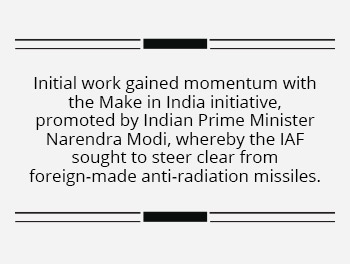 Since an anti-radiation missile can locate and take out any designated targets that emit radio frequency – such as enemy radars, jammers and communication sites – they play a crucial role in neutralizing any enemy jamming platforms or taking out radar stations to clear the path for its own fighters to carry out an offensive. Typical anti-radiation missiles are programmed to home in on to the target radar and destroy the enemy's ability to launch surface-to-air missiles, for instance.
More to read:
Nirmala Sitharaman announces paradigm-changing reforms in a wide range of sectors
AI to take cyber defence to the next level
A new high for UK-India defence ties
India-France defence partnership takes flight
Indian aerospace and defence can be at ease in Quebec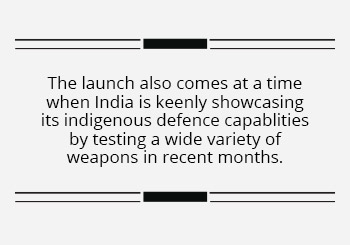 In defence of a strategic Make in India policy
The indigenous missile thus not only provides a significant boost to India's air defence-suppression capabilities, but is also a perfect example of the evolution of India's defence manufacturing industry to involve multiple stakeholders and private players. Rudram-1 has been developed as a joint effort involving several DRDO labs, the IAF, the Hindustan Aeronautics Limited (HAL) and many public and private sector enterprises, with the Hyderabad-based Defence Research Development Laboratory (DRDL) acting as the nodal agency.
The New Generation Anti-Radiation Missile (Rudram-1) which is India's first indigenous anti-radiation missile developed by @DRDO_India for Indian Air Force was tested successfully today at ITR,Balasore. Congratulations to DRDO & other stakeholders for this remarkable achievement.

— Rajnath Singh (@rajnathsingh) October 9, 2020
The launch also comes at a time when India is keenly showcasing its indigenous defence capablities by testing a wide variety of weapons in recent months – including a very long-range supersonic anti-submarine missile, a hypersonic scramjet-powered vehicle, an extended-range version of the Brahmos cruise missile, a laser-guided anti-tank missile, and the nuclear-capable Shaurya ballistic missile.
Promoting Make In India
Even though the tests have been carried out in a spate of a few weeks, it's been a long and grueling journey for India's defence industry. Initial work on a version of Rudram-1, for example, started in 2012 and subsequently gained momentum with the Make in India initiative promoted by Indian Prime Minister Narendra Modi, whereby the IAF sought to steer clear from foreign-made anti-radiation missiles, primarily provided by Russia. With the application of a name, Rudram-1, defence observers strongly believe the missile is on the verge of frontline service.
The timing of the tests is serendipitous.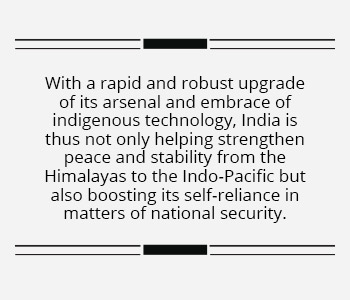 While Pakistan's arsenal comprises an old version of a MAR-1 anti-radiation missile that was developed by the Mectron company of Brazil, the test of Rudram-1 also comes in the wake of China deploying air defence assets to the Himalayan region.
With a rapid and robust upgrade of its arsenal and embrace of indigenous technology, India is thus not only helping strengthen peace and stability from the Himalayas to the Indo-Pacific but also boosting its self-reliance in matters of national security.