Products must reflect the diverse aspirations of today's generation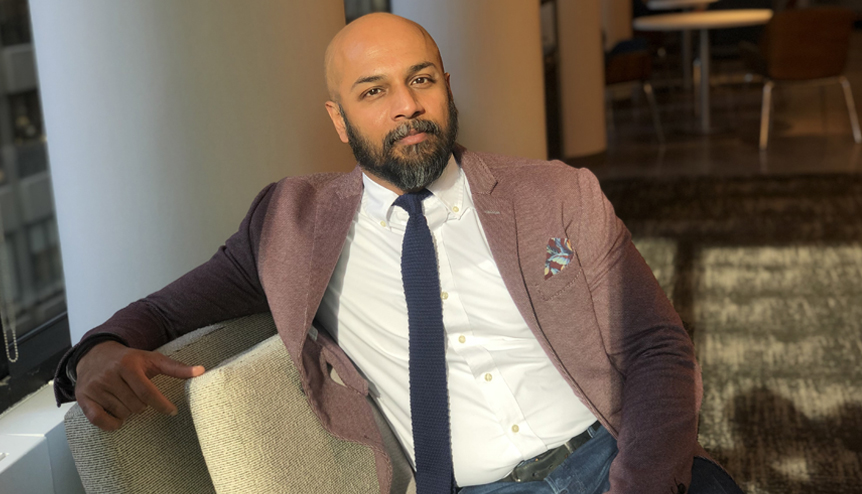 Interview
Suresh Raj is the Chief Business Development Officer at Vision7 Communications Inc. In this interview, he elaborates on how creating a diverse and inclusive work environment will ensure better engagement with customers.
Why are inclusivity and diversity good for business?
The idea of inclusivity in business or driving business growth really came to life when I moved to the US. In the UK, the one thing that was evident was that I never felt different as an individual. When I moved to the US, the idea of race and colour really stood out and I felt and was treated very differently. When you look at major countries, you will find significant ethnic minority communities with their own communities everywhere. So, the thought that any business can have a one-dimensional view of the world in terms of race, religion etc is completely short-sighted.
The younger generation is speaking up and saying that they want a world on their terms, a world that is inclusive and where they feel reflected in what the brand or the product is trying to sell. If brands don't embrace this culture internally and reflect the world, their offerings will be very one-dimensional. If companies don't understand these mixed communities, how will they deliver a product to reach that audience? Ethnic minority groups have incredible purchasing power and if businesses don't reflect that community in the world, then there is a massive dichotomy.
Race, gender, sexuality and ability – these are the four core spectrums. If you include people from each walk of life, the outputs of that group will be very inclusive. If you create a big marketing or advertising campaign but don't think about the considerations of a brand name or a tagline that has a very different topical view on a particular community, that can reflect very badly. Having a work environment that is inclusive will produce diverse thoughts, considerations and will help connect to the world in a much better way. It is a very simple solution to a very prevalent problem.
What are some tips for companies keen to ensure a welcoming environment for a diverse workforce?
Companies have to practice what they preach, right from the very top. A lot of businesses have a diversity policy which they feel qualifies them as a diverse and inclusive business – but it is not always that. Implementing a genuine equality policy is very different.
The first place to look at is the talent team. Does the talent team reflect an inclusive environment? They're the gatekeepers of incoming talent into the company and if they don't reflect a diverse team, then there will be a very one-dimensional entry of opportunities.
Another thing we started last year is the idea of Blind CVs. I speak from experience that it is three times harder for someone who is of a minority to achieve a similar level as others and make the impact they need to. Removing the identifiers of gender and race will automatically lead to an uptake of people of different minorities or genders, because recruiters will then focus on merit and skill.
Once you diversify your work environment, it is not just about putting people of colour in the right places. It is about sustaining them, empowering them and making them feel welcome. Ensuring they have the right career progression paths or are being given the same opportunities, support and care.
You also need to build a support structure that also provides them with the same benefits. Equality in gender and sexuality are major points here. Do people of LGBTQ+ families have the exact same parental rights, healthcare benefits, insurances that equates to a straight couple?
What is your vision for the company as a relatively new team member leading on business development?
In the world of marketing and communications, the one thing that we really need to understand is why people consume whatever they do. In that, defining things such as how to bring our vision of diversity to life is very important. I would love to see a lot more done around how we help brands understand their purpose and role in communities and how we bring that to life.
As we evolve as a human race, there seems to be an overreliance on technology. Marketeers feel they have to up their investments in technology to reach a wider audience but tend to forget the human story. Delivering this truth between human creativity and technology is actually going to be a very important space for us as an organisation. I enjoy using my skills and helping companies realise their vision, their values and their purpose in a much more human way.
Is the Indian market within the sights of Vision 7; what are some future expansion plans for the company?
Our parent company is Chinese, one of the biggest marketing and communication groups in the country. Whilst we are already global in footprint, there is no immediate plan in terms of expansion into India but we would certainly love to explore that if the opportunity presents itself.
What does your role as a global influencer for the City of London entail?
A former colleague, now at the City of London, approached me to join their Global Influencer Group. It is a panel of Londoners who can act as ambassadors of London in the community they engage with. As I speak to brands, I talk about London and New York being two global hubs of the world. Brands that want to engage with the global communities need to look at these places to set up their business. I am very much involved in ensuring that London is still considered a global hub of the world in terms of business, services and a destination as a whole.
What does being a Global Indian mean to you?
I was born and brought up in Malaysia with Indian parentage, lived in the UK for a long time and now reside in New York. I am so incredibly proud of my Indian heritage and the irony is that I have never been to India. This year marks the first opportunity for me to visit, and I am very excited. I am a product of mixed marriage – my father is part Indian, part Palestinian-Jew and my mother is part Malay, part Arab. Given the inter-caste nature of the marriage, we were ostracised from the family. But we always wanted to know what our heritage was. Upon digging into the past, we discovered that my great-great-grandfather was a well-loved royal poet and musician for the maharaja in Tanjore in India. Apparently, a statue of him still resides in the palace there.  His statue has always been like a beacon for pilgrimage for us as a family and I am eager to see it. Every week, even though I live in New York, I cook Indian and Malay food. It is who I am as a person – my life, my culture, my heritage.
The more we intermingle and change the landscape of this world, the nationalists will start to fade and a much more welcoming society will start to form. For me, that is utopia.
Everyone talks about China, the world's largest population and its impacts. People forget that India is right behind. It has a massive footprint and we are the backbone of several economies – a lot of the technology and finance industries is built on the backs of the Indian community. This makes me proud of being who I am, and I want that to stand for something.