PLI scheme can make India laptop, tablet hub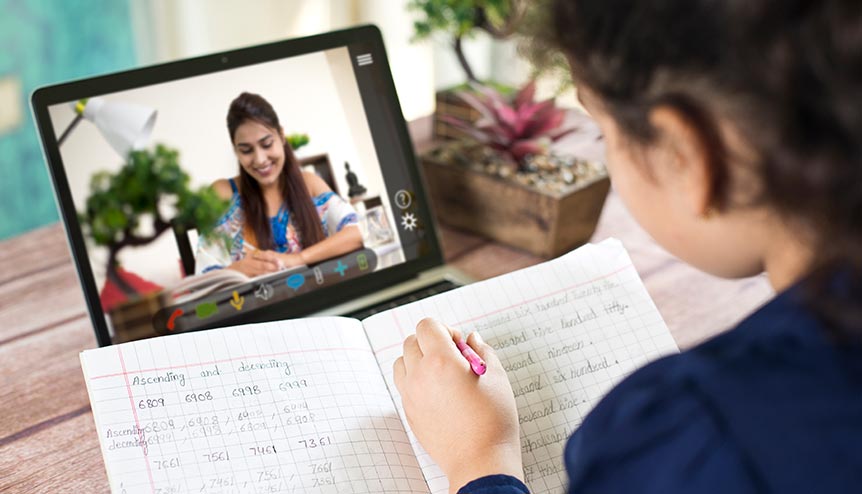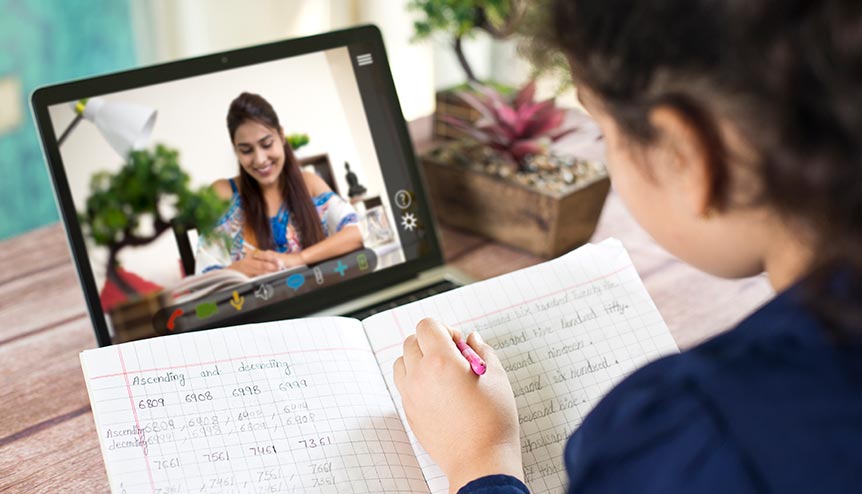 The recently launched production-linked incentive scheme for smartphone makers has already started paying rich dividends. Extending this to laptops, tablets could open up a $100-billion opportunity for India, reduce the trade gap with China and generate employment for millions.
The Modi government's much hyped production linked incentive (PLI) scheme, which is designed to attract foreign manufacturers to set up factories in India, is already paying dividends.
Global mobile phone companies such as Apple (through its contract manufacturers Foxconn, Pegatron and Wistron) and Samsung and Indian firms such as Dixon Technologies, UTL Neolyncs, Lava International, Optiemus Electronics and Micromax are setting up or expanding their factories to take advantage of the PLI scheme.
. @NITIAayog colleague Ishtiyaque Ahmed writes an insighful piece on the transformative capacity of the Production Linked Incentive Scheme: From projected spillover effects of anchor entities to generation of primary & secondary #employment.
More here:https://t.co/hBavyJXKdf

— Rajiv Kumar 🇮🇳 (@RajivKumar1) November 16, 2020
50,000 direct jobs to be created by March
These new or expanded facilities are expected to generate incremental direct employment for 50,000 workers by March next year. Of this, the Indian companies will employ around 20,000 people.
Read more:
$100-bn smartphone export scheme is a new Make in India template
Stimulus 3.0 will help revitalise many sectors
Moody's revises India's 2020 GDP growth forecast to 10.6 per cent contraction from 11.5 per cent earlier
India's stimulus 3.0 supportive for growth, fiscal impact unclear: Fitch Solutions
Modi government making concerted efforts to make India a global toy hub
"From now till March next year, the handset industry will hire 50,000 direct employees. After the lockdown was removed, many have returned to the cities and the PLI scheme is finally taking shape," Pankaj Mohindroo, President of India Cellular and Electronics Association (ICEA), told leading Indian financial daily The Economic Times.
ICEA members include industry behemoths such as Apple, Foxconn, Wistron, Nokia, Motorola, Vivo, Xiaomi, Realme, Micromax and Lava, among others.
Massive uptick in hiring
Last year, the industry, which employs 700,000 people in India, had taken a mere 15,000 additional workers on board. "That was because the PLI scheme was still in draft state and it was a quiet year," Mahindroo was quoted as saying.
But with migrant blue-collar workers now returning to the big cities and other production centres, hiring is set to pick up over the next few months.
How the PLI scheme works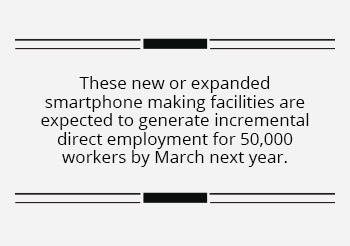 The Modi government notified the PLI scheme, which offers incentives of 4 per cent to 6 per cent on incremental sales of handsets over the sales figures for 2019-20, to attract smartphone manufacturers to set up assembly and manufacturing operations in India in April this year. Till now, 97 per cent of Samsung's $2.5-billion mobile phone exports from India comprised handsets costing less than $200.
The PLI scheme, which provides incentives worth $6.5 billion, will be applicable only to smartphones costing more than $200. This is expected to make India a hub for high value phones and leave the lower end phone making open to India's domestic phone manufacturers. This will facilitate the upgradation of their manufacturing skills and enable them to also enter the high-end phone manufacturing space over time.
More to read:
Modi's recent pitch to foreign investors key to India's $5-trillion economy ambitions
India's pharma CMO sector a hotbed for private investors
India is wooing investors with agility, incentives and political will
Modi's government keeps moving ahead in its quest to lift the economy
UPI could become first Made in India brand to take the world by storm
Apple has begun making its iPhone 11 and iPhone SE in India and will soon ramp up its numbers. The scheme will result in local value addition for smartphones made in India doubling to 35-40 per cent from 15-20 per cent now.
In October, the government cleared the applications of 10 foreign and domestic smart phone makers to Make in India under this scheme.
$100-billion opportunity in laptops and tablets
Meanwhile, leading global consulting firm EY and the ICEA have said a focused PLI scheme that addresses issues relating to land, labour, capital, taxes and cost of machinery could open up a $100-billion opportunity to make India a global manufacturing hub for laptops and tablets.
"Making in India for the world… will give us a manufacturing value of $100 billion by 2025," Mahindroo told the same newspaper.
Still more to read:
India leads the way in weathering climate change
Stimulus 3.0 should zone in on direct income support and infrastructure spend
Fuel cells are key to powering India's green future
Sitharaman's Stimulus 2.0 will boost consumption, investments
India on path to becoming global hub for electronics
Mitigating India's cost disadvantage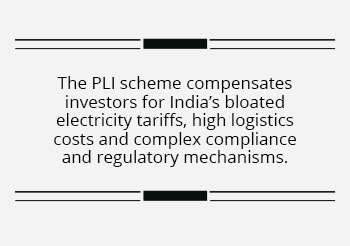 The Modi government has recently extended the PLI scheme to 10 sectors. Such a scheme is necessary to attract companies that are looking at exiting China as that companies operating there enjoy an average cost advantage of 17.3-19 per cent over their counterparts in India. The comparable cost advantage for companies in Vietnam is 7.5-9.8 per cent.
This is on account of high transaction costs in India. Several ministers of the Modi administration have said at multiple fora that the government is committed to bringing down the cost of doing business in India.
The PLI scheme is one such initiative to compensate for India's bloated electricity tariffs, high logistics costs and complex compliance and regulatory mechanisms.
During the pandemic we brought out Production Linked Incentive Scheme. I am happy to share that major global and Indian mobile phone manufacturers have invested close to Rs. 11,000 Crore and have committed to manufacture phones worth Rs. 10.50 Lakh Crore in coming five years. pic.twitter.com/fcYhP1nQBd

— Ravi Shankar Prasad (@rsprasad) November 19, 2020
Well received by domestic, foreign investors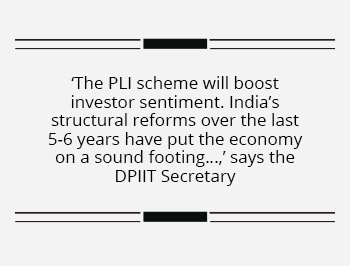 Declaring that India will reduce the cost of doing business in the country, Guruprasad Mohapatra, Secretary, Department for Promotion of Industry and Internal Trade, said in an interview to a leading daily: "These decisions (PLI, corporate tax cuts, phased manufacturing programme) will boost investor sentiment. India has undertaken structural reforms over the last 5-6 years to put the economy on a sound footing… These have been favourably received by both domestic and global investors."
At present, India imports a majority of smartphones, 87 per cent of laptops and 63 per cent of tablets sold in the country. Making them in India will not only generate jobs, taxes and consumption demand but also earn foreign exchange and reduce the ballooning trade deficit with China, which has been hovering in the range of $50 billion over the last couple of years.