Ongoing reforms will get Indian bureaucracy ready for 21st century challenges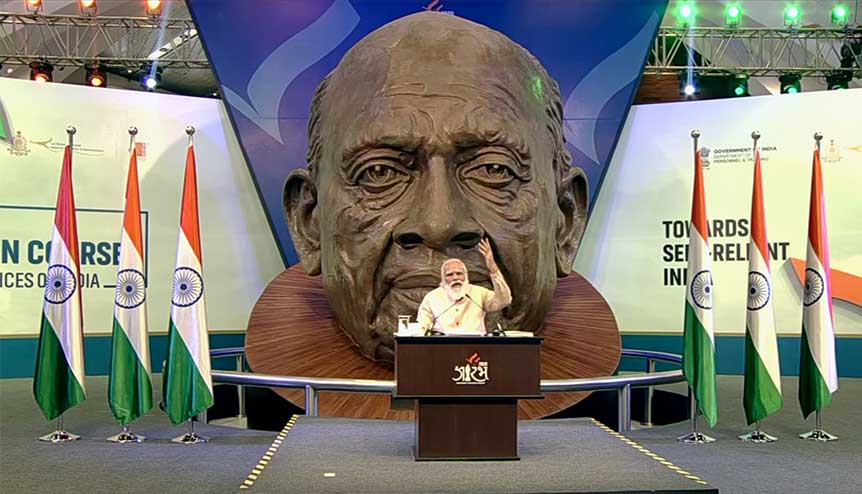 Addressing a batch of civil service probationers, Indian Prime Minister Narendra Modi urged them to judge policies based on outcomes and their effect on the people they are meant to serve. This is just one of the many changes his government is ringing in to ensure that the government's policies make a positive difference to the lives of 1.3 billion Indians.
The "steel frame" of the Indian bureaucracy is in the process of being strengthened and burnished. Addressing civil service probationers, or Officers in Training (OT) as they are called, Indian Prime Minister Narendra Modi exhorted them to apply the latest management and human resource techniques to deliver the best possible outcomes for the people of the country.
Have you read?
India's radical and much needed civil service reforms
Should Modi hire "assorted weirdos" to reform India's civil service?
What ails the Indian civil aviation sector
Modi unleashes a spate of reforms over a year
Legal reforms are crucial to attracting investment
Modi government reforms labour laws to make India globally competitive
The occasion was the 145th birth anniversary of the late Sardar Vallabhbhai Patel, the builder of modern India. Pointing out that they were entering the services at a time when India is to enter its 75th year as an independence nation, Modi said: "A government does not run on policies alone. People for whom the policies are meant need to be involved. People are not the receiver of the government's policies and programmes. They are the real driving force… So, we should move from government towards governance."
Brightest minds join the civil services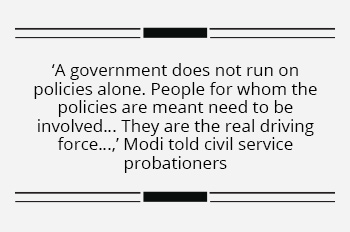 In keeping with this mantra, the government has initiated wide ranging changes in the way training is imparted to the civil servants who are among the brightest young minds in the country – university toppers, graduates and post graduates from the elite Indian Institutes of Technology (IITs) and Indian Institutes of Management (IIMs), medical doctors, scientists and even some alumnus from Oxbridge and the Ivy League institutions.
After qualifying and on completion of their training programme, they take up assignments mostly in India's far-flung districts, serving in a variety of positions and departments before rising to the top of India's administrative ladder as secretaries to the Government of India or various state governments.

This experience of dealing with and solving people's problems in India's complex society gives these officers life experiences and skills that no management school or company can impart.
Unfortunately, there is no proper mechanism to ensure institutional memory of these skills and experiences and so, these are not leveraged to the fullest extent.
Changes needed to keep pace with aspirational Indians
So, it may be a good idea if civil service reforms focus on changing this to build a service in tune with the needs of a highly aspirational and rapidly globalising India.
Then, an Indian Administrative Service (IAS) officer, a part of the civil service that helms most departments across the federal and state governments in India, has an average tenure of only 464 days, or less than 16 months, in any position during his/her entire career.
Increase tenures of officers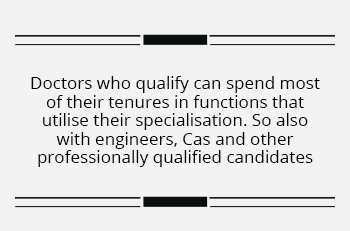 This figure, sourced from India's Department of Personnel and Training (DoPT), refers to the tenure of officers under Narendra Modi's first government (2014-19). This is certainly an improvement over the average tenures of 382 days, 379 days and 390 days under the Atal Bihari Vajpayee and the two Manmohan Singh governments but still woefully short of the time most would need to fully understand the nuances of the job and make a meaningful difference.
That is a good point at which to begin civil service reforms: By increasing the tenure of officers in all positions to at least three years.
In the past, many governments have announced plans of reforming the civil services, which still hold on to many British Raj-era traditions that are complete anachronisms in today's India but no government before Modi's has actually done anything about it.
Lateral entry a radical step
In a small but radical experiment last year, India's central government laterally inducted nine joint secretaries – a senior position in the Indian civil service – from the private sector. This is a drop in the ocean, considering that the IAS cadre has about 5,200 serving officers, but in the precedent-loving Indian system, this break with tradition is considered nothing short of radical.
That could be one way forward to making the tradition- and precedent-bound civil services nimbler and more responsive to the fast-paced changes taking place in India across society and business.
Needed: Specialists in various technical fields
A natural corollary of this move will be to allow officers, who are mostly generalists, to specialise in particular fields. For example, medical doctors who qualify for the services could spend most of their tenures in departments and functions that utilises their hard-earned specialisation. So also with engineers, chartered accounts and other professionally qualified candidates who join as OTs.
Foreign service needs more diplomats
One particular area that is crying out for reforms is the Indian Foreign Service (IFS). The Indian diplomatic corps has just about 850 officers. This is ridiculously small for a country that recently overtook France and the United Kingdom to become the world's fifth-largest economy.
The Government of India, Indian businesses and Indian citizens have a presence in almost every country in the world. Yet, India's foreign office hasn't grown in tandem with this exponential expansion of its global footprint.
Other countries have many more people in their foreign offices
In comparison, the US has the world's largest corps of 8,000 "generalist" diplomats". In addition to this it also has an equal number of domain specialists in varied fields like trade, data security, technology, etc., to help them conduct American foreign policy.
Britain's Her Majesty's Diplomatic Services (HMDS) employs 14,000 people, roughly one-third of whom are Crown Servants working directly for the UK's Foreign and Commonwealth Office. China has a 5,700-strong diplomatic service and Brazil's has over 2,000. Even small countries like South Korea and New Zealand have a diplomatic corps of 1,250-1,300 officers. A city state like Singapore has 850 diplomats – about the same as India.
Follow the example of Australia and Brazil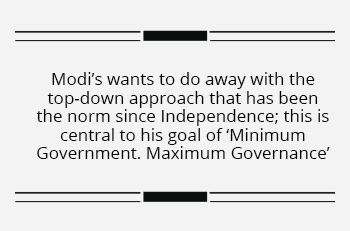 In this context, it wouldn't be a bad idea to follow the examples of Australia and Brazil and merge the Ministry of External Affairs with the Ministry of Commerce. Though not everyone is convinced about the move, there is one major point in favour of it.
Increasingly, relations between countries, the traditional domain of the Foreign Office, are dominated by their trade relations, which is the domain of the Commerce Department. Remember, before the Covid-19 pandemic and China's muscle flexing in Hong Kong, Taiwan and the Indian border brought US-China relations to the brink, it was trade that had soured ties between the two countries.
Not only will such a merger solve the numbers problems in the foreign service, but it will also bring some much-needed synergy between two central pillars of the Indian government's foreign-facing departments.
More reforms will usher in 'Minimum Government and Maximum Governance'
These are just some of the areas that need reforms. There will be many more needed to fulfil Modi's vision of that the Government should not run with a top-down approach as has been the norm since Independence and his goal of ensuring "Minimum Government and Maximum Governance".
It's a long road ahead, but at least the Modi government has taken the first few steps towards the goal of a reformed, 21st century-ready bureaucracy.