Ocean wave energy: A significant renewable energy and manufacturing opportunity for India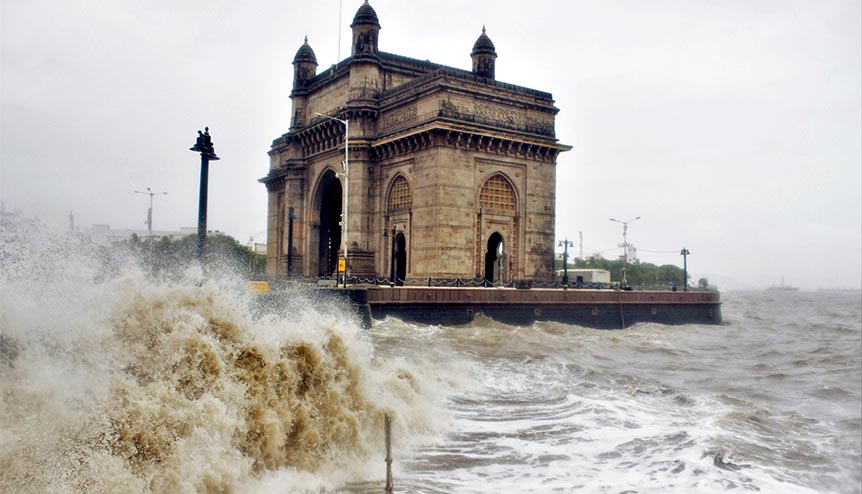 Ocean wave energy could provide a significant contribution towards India's growing demand for clean energy and become a major economic opportunity for Indian energy and manufacturing companies.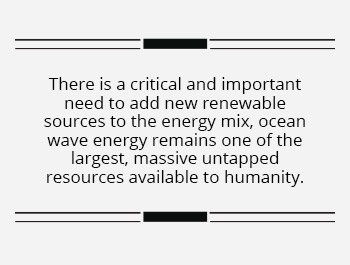 The shift to renewable energy sources from fossil fuels to reduce greenhouse gas emissions and reducing global warming is one of humanity's grand challenges. While solar and wind energy have made massive strides and have been widely deployed, the continued deployment of these is limited by very real issues such as land availability, especially near population centres, and supply demand mismatch – ie unavailability, especially of solar energy, when electricity demand peaks, usually in the 6-10 PM window in India. Therefore, there is a critical and important need to add new renewable sources to the energy mix, and ocean wave energy remains one of the largest, massive untapped resources available to humanity.
Related stories: Investors keen to bring in fresh capital in Indian renewable business
India's hydropower sector can whet investor interests
Start-ups propelling India to its Renewable Energy Vision 2022
India remains the largest market for corporate energy contracts in Asia
Why India is the new hotspot for renewable energy investors
India's world-class energy service vocally local in UK
Waving into the ocean mix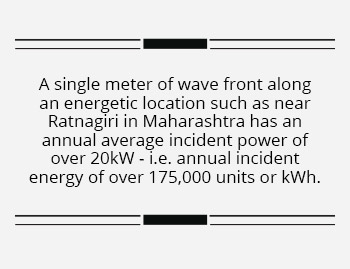 Typical ocean waves are caused by wind interacting with the whole surface of the ocean. Wave energy is far more energy intense than solar or wind. A single meter of wave front along an energetic location such as near Ratnagiri in Maharashtra has an annual average incident power of over 20kW – i.e. annual incident energy of over 175,000 units or kWh (per-capita energy consumption in India was about 1150 units in 2017-2018 for comparison) .
Wave energy is also highly predictable, 5-7 days in advance, allowing utilities to plan better. It is also available close to densely populated and industrialised coastlines. It naturally complements solar energy very well both from a seasonal and daily perspective. For example, wave energy will be highest during the monsoon season when solar energy is its lowest.
The total incident wave energy resource in India to be around 40-60 GW, with very attractive locations along the southwest and southern coasts in Maharashtra, Kerala, Karnataka, and Tamil Nadu. Even if only a fraction of this resource could be harnessed, it could still provide a significant contribution towards India's growing demand for clean energy and become a major economic opportunity for Indian energy and manufacturing companies.

Courtesy: University of California
Highly efficient and affordable wave energy systems is needed to deliver electricity costs competitive with other renewables. However, new technology is finally emerging that could make wave energy commercially viable.
Why India should adopt ocean wave energy
There are many reasons why ocean wave energy would work well in India, even though adoption has been difficult in the West. The main obstacle for commercial adoption of wave energy in Western countries is cost; high capital cost (CAPEX), and high operations and maintenance costs (OPEX). Since a large percentage of the system CAPEX comprises manufacturing in heavy industries such as shipbuilding, steel fabrication, electrical equipment, etc., India can provide a considerable advantage. By utilising domestic Indian manufacturing costs, which are only a fraction of those in Western countries, CAPEX can be significantly reduced. Since OPEX costs are also driven mainly by local technical labor costs, India can also provide a considerable cost advantage.
The local resource also plays an essential part in minimising capital costs. Relative to a high energy western climate, the maximum storm wave intensity in India is substantially lower. However, the average energy from the environment is a number of locations is sufficiently high, allowing systems to be constructed lighter and at a lower cost.
Public opinion and the political climate in India has also become very favourable to clean and renewable energy adoption. In 2019, India's Ministry of New and Renewable Energy (MNRE) formally declared wave energy a renewable resource eligible for renewable purchase obligations (RPOs).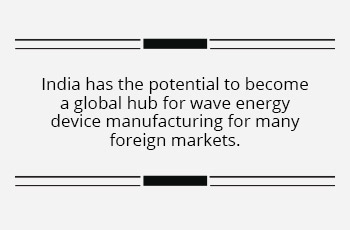 These factors combine to make India's conditions ripe to open the door to a global wave energy revolution. However, the story does not stop there. While the domestic Indian local energy opportunity abroad. The global wave energy market is expected to grow to over $21 Billion by 2027. Indeed, India has the potential to become a global hub for wave energy device manufacturing for many foreign markets such as Africa, Australia, Indonesia, and perhaps even Western Europe and the US. Such growth out of India would be very consistent with current Indian government initiatives such as the Make in India Program. With companies such as US-Based Oscilla Power starting to explore opportunities in India, it is a perfect time for Indian manufacturing firms and project developers to take this opportunity seriously and look at wave energy as a new market opportunity. India has a window now to step up and take a leadership role in wave energy manufacturing for the next decade and beyond, taking its place at the head of a wave energy revolution.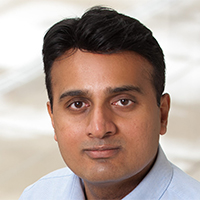 Balakrishnan (Balky) Nair is the President of Oscilla Power Inc. (Seattle, USA).