Nepal resets links with India through petroleum projects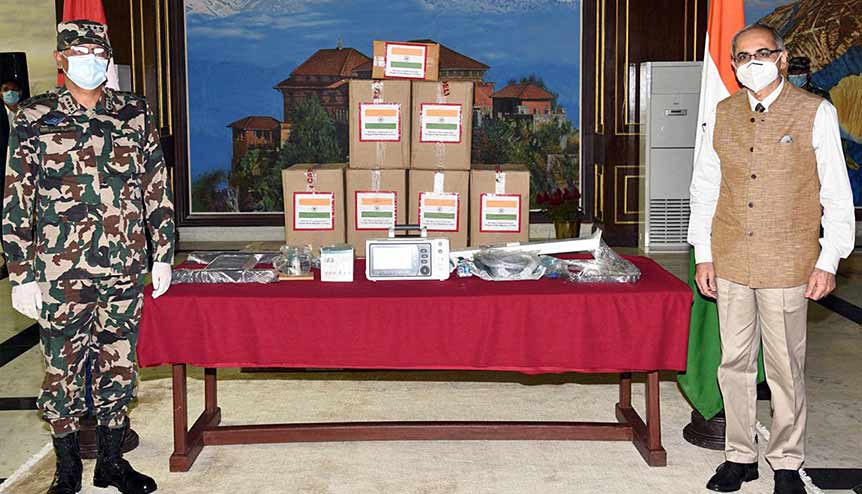 Three new petroleum and gas pipelines, a liquefied petroleum gas plans and oil storage facilities are going to be constructed in Nepal and boost bilateral relations.
Having managed to stave off a threat to his prime ministerial position in Nepal KP Sharma Oli brought an end to a long political mess which has impacted the governance of his country thanks to his political differences with former Maoist leader Prachanda.
An appointed task force has now concluded that Oli can govern Nepal for a full term of five years, while Prachanda, the co-chair of the Nepal Communist Party (NCP), serves as executive chairman.
It is still not certain if the two protagonists will abide by the letter and spirit of the report but very little is guaranteed in Nepal these days as infighting seems to be the order of the day.
Have you read?
India and Nepal: Picking up the pieces
Nepal becomes a pawn in China's high-stakes game against India
India-Nepal relations: A fresh start
India's neighbourhood is warming towards its empowering influence
India could rescue SAARC nations staring at a debt-trap
China's imperialist eye turns to Bangladesh
Much of Nepal's daily political operations is tacitly overseen and directed by China which is why the significance of Oli's phone call to wish Indian prime minister Narendra Modi, on India's 74th Independence Day, to seek out ways to promote 'meaningful bilateral cooperation' was not lost.
Oli's anti India posturing
The true import of the gesture was felt within the NCP given that the party's top leader, including Prachanda, who have been demanding Oli's resignation, informed him that his recent anti-India posturing and remarks were "neither politically correct nor diplomatically appropriate."
According to an official release by Nepal's Ministry of External Affairs, "The leaders expressed mutual solidarity in the context of the efforts being made to minimise the impact of the COVID-19 pandemic in both countries. Prime Minister offered India's continued support to Nepal in this regard." The high level contact came after nearly nine months of tension largely orchestrated by Nepal, at the orchestration of China, to trigger off a border dispute with India.
Two days later, India and Nepal held the 8th meeting of the Oversight Mechanism (OSM) through digital video conferencing. The meeting carried out a comprehensive review of bilateral economic and development cooperation projects. And on Wednesday, India and Nepal launched a series of multimillion dollar petroleum projects to reenergise areas of collaboration in the oil sector. It is interesting to those who are keenly examining the resilience of the bilateral ties between the two states. As per the discussions three new petroleum and gas pipelines, a liquefied petroleum gas plans and oil storage facilities are going to be constructed in Nepal and the issue of funding for these projects is yet to be finalized.
More to read:
Bangladesh opens up new avenues of trade, strategic cooperation in South Asia
India's Buddhist Circuit: A pillar of the Act East Policy
A new strategic drama unfolds in the Himalayan theatre
Why India is ready for a permanent role at the UN Security Council
The oil connection
A natural gas pipeline extending from the Indian state of Gorakhpur to Bhairahawa in Nepal and an oil pipeline from Siliguri to Jhapa have also been proposed including extending a pipeline from Amlekhganj to Lothar in Chitwan. South Asia's first 69 kilometre cross border petroleum pipeline was inaugurated by Narendra Modi and Sharma Oli on September 10, 2019. The pipeline originated from the Barauni refinery in Bihar to Amlekhganj in Nepal. The purpose behind such arrangements is to boost relations between the two countries. The construction of the pipeline was organized by Indian Oil Corporation Limited (IOCL), India's largest refiner, at a cost of Rs. 324 crore, in collaboration with Nepal Oil Corporation Limited (NOCL) and the highlight of this project was that it was completed 15 months ahead of the scheduled 30 months deadline.
At least two million metric tonnes of clean petroleum products are transported through this pipeline at affordable rates for the people of Nepal. It also reduces the rates of transporting for Nepal who are able to invest the amount saved into expanding similar pipelines across its territories and this is a statement of intent of India's meaningful actions towards its next door Himalayan neighbour.