Nepal becomes a pawn in China's high-stakes game against India
Beijing is using Kathmandu, in a desperate bid to distract from its faltering economy and the international reputation it has lost, but it underestimates India's global and regional influence.
On the face of it, it can simply be seen as a land mass of 330 sq km. Looking ahead, however, this little stretch of real estate has the potential to trigger a political, diplomatic and cartographic face-off between India and its closest neighbour Nepal.
The coincidence that this piece of land, called Kalapani, is situated near Nepal's western tri-junction with India and China is not lost on observers from all three countries, as well as the international community who have witnessed quite a few high-profile recent thoughtless actions by China.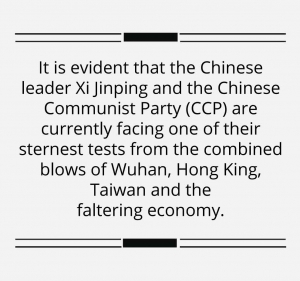 These movements by China are primarily designed to distract its people from the Covid-19 stimulated internal and external economic and diplomatic loss of face that Xi Jinping is now facing. It is the typical Chinese approach to fuel nationalism while spreading Chinese whispers that there is a threat perception to its sovereignty. It is evident that Xi and the Chinese Communist Party (CCP) are currently facing one of their sternest tests from the self-inflicted combined blows of Wuhan, Hong King, Taiwan and the resultant faltering economy.
The CCP and the National People's Congress (NPC) are currently deliberating on the challenges that the country faces since May 22-28th to try and find a way out of this self-created mess. But despite its best efforts to adopt a smoke and mirrors policy, Beijing seems to be underestimating India's global and regional influence. India is the third largest market after the US and ASEAN and it can even pull the strings to determine China's economic fate. With an already faltering economy, and loss of international goodwill, Beijing cannot afford to go-for-broke as the political and economic costs to such a misadventure will be huge, resulting in total alienation regionally and internationally.
Related stories: It can't be business as usual with China
Go for broke to attract companies looking to move factories away from China
Against such risks China have been using Nepal as a proxy to create nuisance value. According to Reuters, Nepal published a new political map that includes the small stretch of disputed land, toughening its stance on a decades-long row over the territory with India which rejected the move. Nepal's liberal communist prime minister K.P. Sharma Oli has been under intense pressure from student groups and members of parliament to issue the new map since India opened an 80 km (50 mile) long road this month linking the northern state of Uttarakhand with Lipulekh on the border with Tibet across the controversial piece of land. Nepal claims the territory under an 1816 treaty with the East India Company which sets the Kali as its western boundary with India and says the land lying east of the river was its territory. Nepalese officials said the exact size of the territory was being calculated.
Mapping a controversy
The new map that shows a sliver of land – including areas like Limpiyadhura, Lipulekh and Kalapani – jutting out from the northwestern tip of Nepal was made public by Land Management Minister Padma Aryal.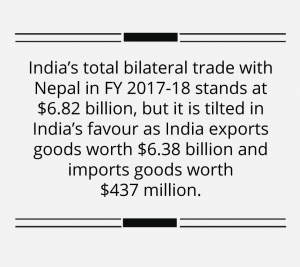 To understand the coincidence, or should it be seen as a carefully engineered controversy, orchestrated by a control room situated in Beijing, one needs to get an insight of a few instances that have taken place between the Indian and Chinese armed forces in recent weeks.
There has been more than one border skirmish between the Indian and Chinese armed forces. China opened up a new front in Ladakh this year causing tension along the border. The incidents started in Galwan near the Hot Springs, in addition to intrusions near the north bank of Pangong Tso, referred by the Indian Army as the Finger 4 areas followed by further aggravation which resulted in fistfights with Indian armed forces at Naku La near Sikkim.
Chinese transgressions across the disputed India-China border had soared by almost 75% in Ladakh last year. There has also been a high rise in Chinese intrusions in the first four months of this year as compared to the same period last year. Mystifyingly Nepalese prime minister KP Sharma Oli also gave off sound bites blaming India for the spread of coronavirus in Nepal, stating that the "virus strain from India looks more lethal than from China, or Italy." The irony was not lost.
The international community, specially the US authorities, have roundly criticised China's sense of adventurism. Beijing is currently reeling from a global pushback over the COVID-19 pandemic and their alleged efforts to influence the World Health Authority (WHO) to gloss over certain irresponsible actions.
Secret alliances
It is no secret that Nepal is furtively aligning itself with China. The seeds of this relationship may have been sown during Chinese president Xi Jinping's visit to Kathmandu on October 12, 2019, the first Chinese president to visit Nepal in 22 years, in a bid to further ties. During that meeting Xi had stated to the Chinese media that, "Anyone attempting to split China in any part of the country will end in crushed bodies and shattered bones." Oli responded by assuring Xi that Nepal would oppose all "anti-China activities on its soil."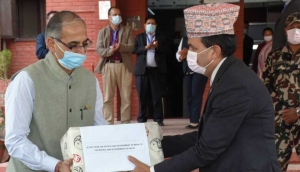 Against this backdrop, the loss can only be Nepal's as trade will suffer. India's total bilateral trade with Nepal in FY 2017-18 stands at $6.82 billion, but it is tilted in India's favour as India exports goods worth $6.38 billion and imports goods worth $437 million.
India has also gifted Nepal with 23 tonnes of medical supplies. This came following Narendra Modi's outreach to all SAARC leaders via a video conference on March 15, just after the coronavirus outbreak, to "emphasise on the continuing cooperation between the leaders of the two countries to prepare, act and fight the common challenge of the COVID-19 outbreak. India stands in solidarity with the Government, health professionals and people of Nepal in this hour of challenge" according to an official statement.
Bordering trouble
Despite assistance from India and an attempt to renew strong bi-lateral ties between the two countries there has been an increase in commercial ties between Kathmandu and Beijing in trade, investment and regional connectivity.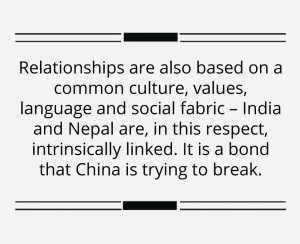 Financial aid has been promised and millions of yuan have also been directed towards infrastructure and hydropower projects in Nepal which has signed up for the Belt and Road Initiative (BRI) with Beijing. Beijing's influence over Nepal may grow, if unchecked, given that its economy relies significantly on trade which, as data shows, has a growing deficit with China. This will make Nepal beholden to Beijing a grip it cannot wriggle out of.
The Nepal government's Central Bureau of Statistics (CBS) released a report card on its economy stating that it would grow by 2.27% in the year to July 15 – this is the lowest since 2015-16 given the COVID-19 outbreak. Nepal's economy grew by 6.75% last year as against the government's projection of 8.5%. Construction, transport, manufacture and hotels would register in the negative, while health, electricity and gas could bring a satisfactory report card.
The quintessential middleman
Relationships are also based on a common culture, values, language and social fabric – India and Nepal are, in this respect, intrinsically linked. It is a bond that China is trying to break.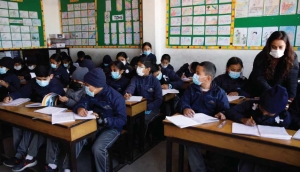 Insecure about India's centuries old cultural and people-to-people ties with Nepal, China is also trying to reduce the cultural barrier between the two countries. The Nepal Communist Party is helping towards this cause. Mandarin is becoming a compulsory language in school as long as Beijing foots the bill for the teacher who imparts this skill to students.
There is also the access to Indian ports which facilitate the movement of two-thirds of goods for Nepal, but it has now signed a transit protocol with Beijing providing Nepal with access to four seaports and three land ports in China. Nepal has also signed multiple security agreements with Beijing. China's idea of connectivity with Nepal has also widened digitally. A direct internet connection is being fed from Beijing to Nepal from across the Himalayas.
Nepal is playing a high-stakes game as the middleman between India and China. It is trying to profit from both sides, but there will be a price to pay. There are many incidents of Beijing using countries to further its own ends. Examples of such highhanded attitude abound, especially in the African continent. The world's only Hindu Kingdom may one day find itself at a crossroads, in a search for its own identity, at the cost of selling itself for a few pieces of silver. Relationships abound in an atmosphere of friendship and stability and China can offer neither. India, on the other hand, has been an able ally in a centuries old partnership which has been defined by mutual respect and dependability.