Modi's strategic tango with Arab states paying rich dividends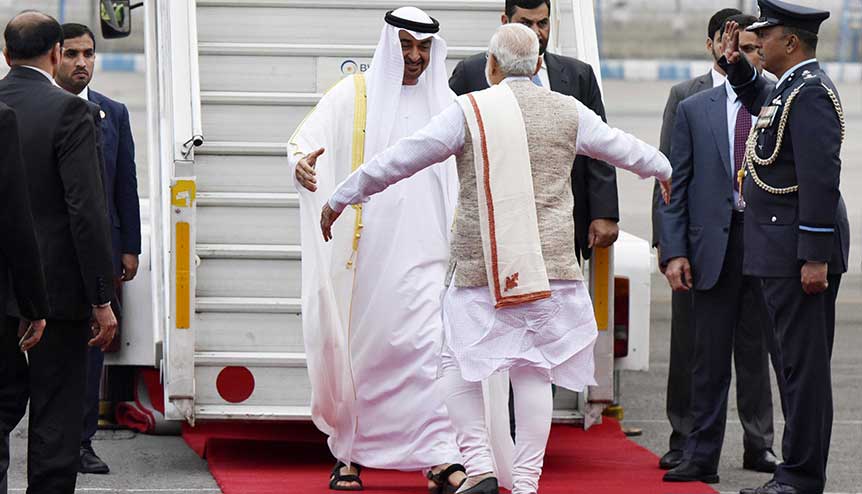 The Indian Prime Minister's proactive outreach to Saudi Arabia and the United Arab Emirates has opened up many new opportunities, worth billions of dollars from the Arab world, thanks to graduation from purely transactional alliances to a convergence of economic, strategic and military interests.
Consider this: Indian Prime Minister Narendra Modi was honoured with the King Abdul Aziz Sash, Saudi Arabia's highest civilian award, in 2016. Last year, the United Arab Emirates (UAE) followed suit and conferred the Order of Zayed, its highest honour on Modi.
On both occasions, Modi very graciously accepted the honour on behalf of the India's 1.3 billion people, but these awards signalled something with far greater geopolitical salience than just the recognition of a centuries-old bilateral relationship.
Have you read?
Saudi Arabia stops oil supply on deferred payments to Pakistan following threats to split OIC
Saudi Arabia's delicate balancing act in the Indian Subcontinent
Can Saudi Arabia solve India's oil conundrum?
Modi's Arabian clinch paying rich dividends
India's strategic tango with Saudi Arabia, UAE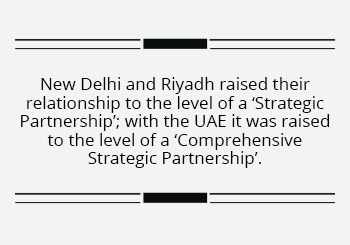 In fact, ties between India and these two Gulf monarchies is so close that New Delhi and Riyadh raised their relationship to the level of a "Strategic Partnership"; with the UAE the stakes were raised even higher as the two countries signed an agreement on a "Comprehensive Strategic Partnership" in 2017.
These agreements have been followed by heightened defence and security collaboration between India and these two countries. Over the past few years, these two countries have extradited several criminals and terrorists – some of them trained in and financed by Pakistan – to India. This would have been inconceivable just 10 years ago. In the sphere of defence cooperation, the Indian Air Force (IAF) made its first staging visit to Saudi Arabia in 2015. Three years later, India and the UAE held their first bilateral naval exercise.
Modi's proactive diplomacy pays off
This new strategic tango between India and the two Arab states is a result of Modi's proactive diplomacy and geopolitical outreach as well as a convergence of economic, strategic and military interests.
It was only in the early 2000s that these two strategically important and politically influential Arab monarchies in the Middle East began to warm up to India, Prior to that, India's bilateral relations with Saudi Arabia and the UAE had been very transactional – India saw these states as sources of crude oil and NRI remittances, both critical for the Indian economy, while the two Gulf states viewed India as a source of cheap white and blue collar workers.
But India's rising economic profile in the 2000s following the liberalisation process initiated a decade earlier made it an attractive investment destination for Saudi Arabia and the UAE and increasingly important customer for their oil.
Also read:
Advantage India as the world embraces the new normal
How India's oil sector pulled all stops to counter Covid-19 impact
India could reap benefits from investing in strategic oil reserves
India and Iran find themselves in the crosshairs of US-China bipolarity
The Abraham Accord between Israel and the UAE is a boon for India
For the love of neighbours and crude oil
Vande Bharat! India embraces the future
Ocean mining: India's next frontier
Close economic collaboration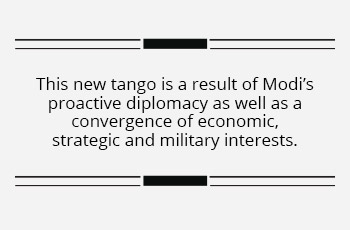 The overall economic and strategic relationship has blossomed over the past couple of decades. Bilateral trade with UAE has grown to $60 billion in 2018-19, making it India's third largest trading partner. This is expected to touch $100 billion this year. It is also the second-largest export destination for India, with exports worth $30 billion during 2018-19.
Then, UAE is India's 10th largest source of FDI with inflows of about $13 billion mainly in sectors such as services, sea transport, power, infrastructure and housing.
Great potential to increase cooperation in food security with UAE. Addressed several exporters & importers and released e-catalogue at the India-UAE virtual Buyer Seller Meet today. @APEDADOC @IndembAbuDhabi @cgidubai pic.twitter.com/ndStHoni7E

— Amb Pavan Kapoor (@AmbKapoor) August 20, 2020
The trade relationship with Saudi Arabia is relatively more modest, but it is of greater strategic importance as it is India's largest source of crude oil and LPG. In 2019-120, bilateral trade between the two countries was $33.07 billion; it was heavily skewed in favour of the former as its exports to India, mainly oil and gas, were at $26.84 billion and imports at $6.23 billion.
Saudi Arabia to invest $100 billion in India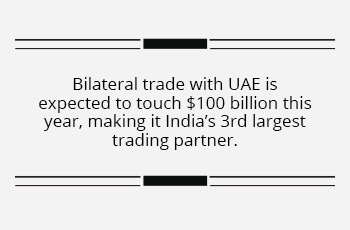 But Saudi Arabia has committed to invest $100 billion in India's infrastructure, mining, petrochemicals, agriculture, energy and refining sectors, that country's Ambassador to India Dr Saud bin Mohammed Al Sati told PTI in an interview last year.
Since then, Saudi Arabia's Sovereign Wealth Fund has invested $1.5 billion in Indian technology company Jio Platforms, which is part of billionaire Mukesh Ambani's Reliance Industries Ltd (RIL). Further, Saudi Arabia's Public Investment Fund is looking to invest $1 billion in Jio Fibres, the fibre optic cable network of RIL and Saudi Aramco has confirmed it is evaluating a $15-billion investments in RIL's petrochemicals business. This proposed investment was announced after Saudi Arabian Crown Prince Mohammad bin Salman's meeting with Ambani last year.
Pakistan loses out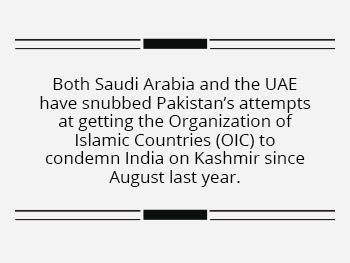 Traditionally, Pakistan has been the go-to state for Saudi Arabia and UAE in the sub-continent. But Modi's outreach to these two countries and a convergence of economic, military and strategic interests between New Delhi, Riyadh and Abu Dhabi have largely neutralised the advantage that Pakistan has historically enjoyed.
In fact, both Saudi Arabia and the UAE have snubbed Pakistan's attempts at getting the Organization of Islamic Countries (OIC) to condemn India on Kashmir since August last year. Earlier, UAE had invited former Indian Foreign Minister, the late Sushma Swraj to address the OIC, leading to loud protests and a boycott of that meeting by Islamabad.
Frustrated at seeing its traditional allies snubbing it so publicly, Pakistan Prime Minister Imran Khan and his Foreign Minister Shah Mahmood Qureshi have lamented that the economic attraction of maintain close relations with India is trumping the needs of what they understood to be Islamic solidarity.
Another diplomatic win for India
In fact, the Modi government's close ties with Saudi Arabia and UAE are now threatening to cause permanent rupture in their relationship with Pakistan. Following Qureshi's outburst on Kashmir, the leadership in Riyadh sought immediate repayment of a $1 billion loan. From here on, generous loans and cheap oil from Arab states will no longer be a given for Pakistan.
And that will be a huge diplomatic victory – albeit an unintended one – for the Modi government.