Modi uses soft power in G7 to disarm critics on Kashmir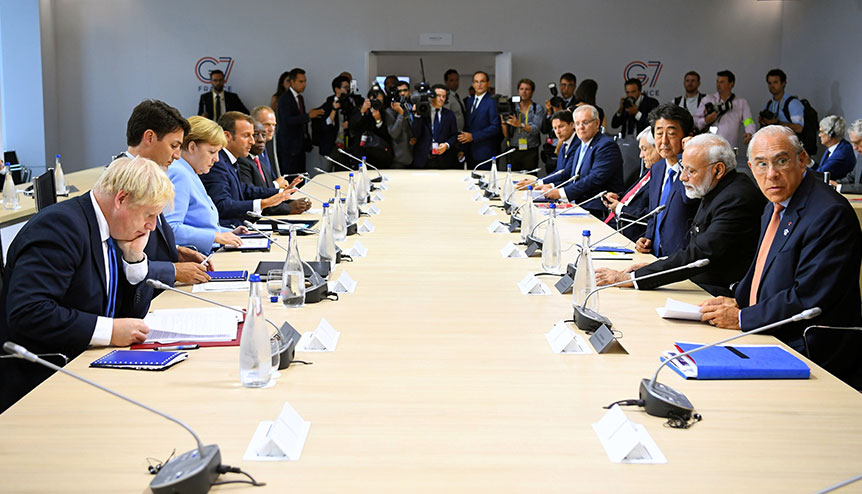 Indian Prime Minister Narendra Modi's participation in the G7 summit in Biarritz in Southwestern France at the end of August capped a month's glorious diplomatic success for his government.
At the beginning of August 5, India abrogated articles 370 and 35A that had, for nearly 70 years, granted special status to the country's northern most state of Jammu & Kashmir. The fall out of the controversial if belated decision was expected to be vitriolic, both from within the state that is India's only Muslim majority region, and from outside the country. Even as India has always maintained that J&K was an integral part of its territory, Pakistan wanted the world to believe Kashmir was a matter of dispute. The special status that, among others, disallowed citizens from other parts of the country to buy land and settle down in J& K unlike in any other part of the country, was a not so subtle admission towards that from the Indian side.
The absence of the special status at least for the optics of it, truly made J&K an indelible part of India and it has rattled Pakistan to no end. It was believed the latter would use all its diplomatic channels to corner India on the issue and retract its decision. The Modi government has been able to, not only maintain peace in the region – there have been only a handful instances of any untoward incidents in the valley– but also expertly leverage its own diplomatic heft to counter and negate Pakistan's rhetoric on multi-lateral forums.
The first major victory was achieved barely a fortnight after revoking the special status at the United Nations Security Council in mid-August. India's position on J&K was undisputed and unchallenged by a majority of the UN's members including the Arab countries while its measures to bring in normalcy and development in the region were also acknowledged. There was only a feeble protest by China, as expected, and Pakistan was left isolated in its efforts to make Kashmir an international diplomatic hot potato.
Modi cushioned that success with a strategic three nation tour in the latter half of August to United Arab Emirates, Bahrain and France. The significance of the choice of the countries should not be missed. The two Islamic nations are traditionally close to Pakistan but are also important to India due to deep bilateral trade relations. Modi's visit to both nations was hugely successful as is evident by the conferring of the "Order of Zayed" the highest civilian award to him by the King of UAE and the "King Hamad Order of the Renaissance" by the King of Bahrain Hamad bin Isa bin Salman Al Khalifa.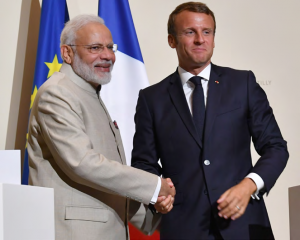 This was the first visit by an Indian Prime Minister to Bahrain and the importance of it ran much deeper than the three seemingly innocuous memoranda of understanding would suggest. Like other middle eastern countries, Bahrain lies right in the middle of an oil rich region, but it produces only about 41000 barrels of crude per day and is grappling with declining output in some of its oil fields. The discovery of reserves in Khalij al-Bahrain offshore basin, estimated at about 80 billion barrels of oil and 10-20 trillion cubic feet of gas however, has changed the narrative. For an oil and natural gas import dependent country like India, friendly relations with Bahrain today may reap multiple benefits tomorrow.
The visit to UAE further underlined strong ties between the two nations. This was Modi's third visit to the Arab country in four years and relations have been on an upswing ever since his first trip in 2015. Evidence of that is UAE's official and unstinted support to India on Kashmir and the invitation to former external affairs minister Sushma Swaraj as a guest speaker at the 46th meeting of foreign ministers of OIC (Organisation of Islamic Cooperation) even as it led to Pakistan, which is a full time member of the OIC, boycotting the meeting.
The visit to France where Modi was also a special invitee to the G7 summit was the more important of the three nations he visited. It was an opportunity for Modi to get the heads of seven of the largest and advanced economies of the world – Canada, France, Germany, Italy, Japan, US and UK, over to his side on the issue of Kashmir. He managed to do that with each of these countries accepting that Kashmir was a bilateral issue between India and Pakistan and needed no intervention from anybody else.
"We don't want to bother any country about these issues. We can find solutions through discussions," Modi said.
The camaraderie he shared with US President Donald Trump was particularly remarkable. It wasn't just for the photo op sessions either. Trump who had in the recent past repeatedly offered to mediate on the Kashmir issue between India and Pakistan, this time chose to clearly leave it to the two countries to sort it out between themselves.
"They speak with Pakistan and I'm sure that they will be able to do something that will be very good," Trump stated. "Well we spoke about Kashmir, and the Prime Minister (Modi) really feels he has it under control," he went on to add.
Obviously, it was not the result of the charm offensive of one man alone. Modi played India's strength as a growing, vibrant and structurally solid economy to buttress his strong leadership credentials on security as well. India's huge market and its active diaspora particularly in US and Europe gives it much heft in diplomatic channels.
"I am told that the Ganpati Festival has become the main feature of the Parisian cultural calendar. On this day, Paris transforms into mini India. That is, a few days from now, the echo of Ganpati Bappa Maurya will also be heard here," he said in Paris. "Indians living in France have a relationship with India, so you have a relationship with France. Your successes are a matter of pride for France, as well as they make India proud."
India's armed forces is a big client for any kind of weapons and ammunition that can be supplied, and France is a beneficiary of that courtesy. At the same time, India is also one of world's largest consumer of crude oil which gives it importance in Middle East.
The Modi administration has also been able to convert a potentially damaging situation into an opportunity with regards to Iran. The Trump administration's insistence last year on every country to wind down its bilateral trade with Iran had put India in a tight spot. In 2018-19, Iran exported 23.5 million tonnes of crude to India. Paring it down completely put a vacuum in the country's energy needs but at a time when the global economy is sluggish, this opened up an opportunity for India to scout for newer suppliers that included existing vendors like Saudi Arabia and Kuwait as well as expanding ties with the US.
This was a point that was driven home on the sidelines of the G7 Summit meetings as well where Modi told President Trump that India plans to further step up imports, including oil, from the US and that $ 4 billion worth of imports were already "in the pipeline."
Bilateral trade between the two nations which is skewed in favour of India's exports to the US in 2017-18 stood at $ 47.9 billion while imports were at USD 26.7 billion, is a touchy topic for Trump. He had previously described India as the "tariff king" and had even demanded that India withdraw its very high tariffs on US goods before his meeting with Modi at the G20 Summit in Osaka in Japan in end June.
Using all the ammunition in his disposal, of India's importance as a big market, the potential to expand businesses and his own charm offensive, Modi managed to change the narrative on Kashmir. Instead of India being cornered in multilateral forums it is Pakistan instead that has been left isolated. That has been the biggest takeaway from G7 this year.