Modi unleashes a spate of reforms over a year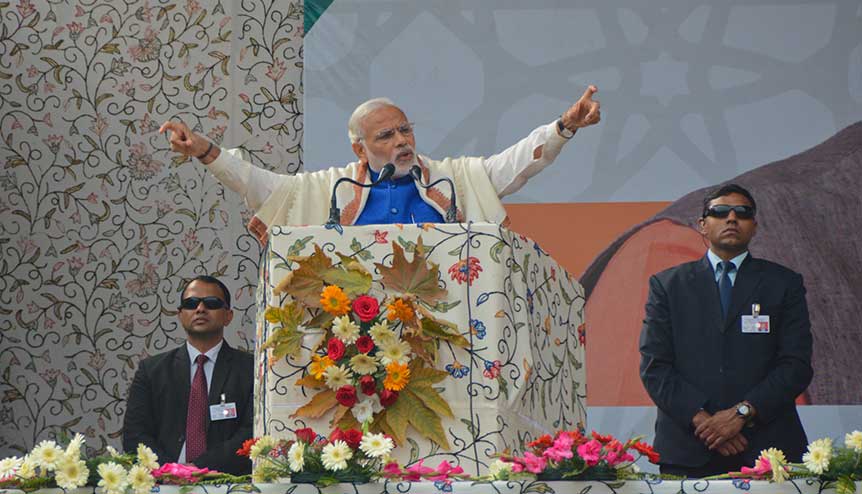 Jettisoning the incremental approach that marked his first term in power, Prime Minister Narendra Modi has opened up every sector of the Indian economy to domestic and foreign competition.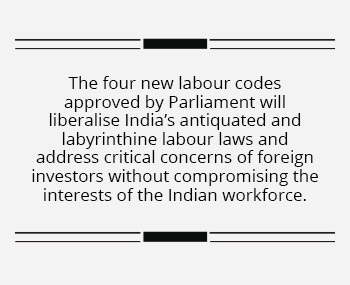 The Narendra Modi government has been on a reforms overdrive over the last year. This month alone, it has pushed through deep and far reaching farm and labour reforms that promise to open up the Indian agricultural sector to domestic and foreign investments and draw much needed investment dollars and new technologies to the moribund and hitherto neglected sector.
Then, the four new labour codes approved by Parliament will liberalise India's antiquated and labyrinthine labour laws and address critical concerns of foreign investors without compromising the interests of the Indian workforce.
Have you read?
Bold reforms now could set India on a high growth trajectory
FDI can technologically upgrade Indian coal sector
Modi government reforms labour laws to make India globally competitive
India's radical and much needed civil service reforms
States compete for far-reaching labour reforms in India
Nirmala Sitharaman announces paradigm-changing reforms in a wide range of sectors
Minerals sector reforms to usher in transparency, increase competition, efficiency
Tax cuts last September marked the launch of current reforms push
This rush of reforms began on September 21 last year, when Indian Finance Minister Nirmala Sitharaman, in a surprise and unexpected announcement, cut India's high corporate tax rates, slashing it from 34 per cent to 25.17 per cent inclusive of surcharge and cess, thereby redeeming a promise made by former Finance Minister, the late Arun Jaitley five years ago.
In a huge boost to the Make in India programme, the government also allowed new domestic manufacturing companies to pay income tax at 17.01 per cent inclusive of cess and surcharge provided they start production on or before March 31, 2023.
At one stroke, Indian tax rates became competitive vis-à-vis other peer nations in South and South East Asia and is one of the factors behind the recent surge in interest from companies looking to de-risk their supply chains from their current over-reliance on China.
Levelling the field for the private sector
In series of five press conferences in mid-May – at the height of the Covid-induced lockdown – and in a radical departure from the past, Sitharaman said the private sector would be allowed to enter all sectors of the economy, including those like space, atomic energy, commercial coal mining, that had till then been reserved for the public sector.
This finally laid to rest the ghost of the last vestiges of the Nehruvian socialist model that had envisaged the public sector at the commanding heights of the economy. Thus, the domestic private sector and foreign companies and/or foreign-funded start-ups can invest in every single sector of the Indian economy.
Foreign investors can own up to 74 per cent in defence production firms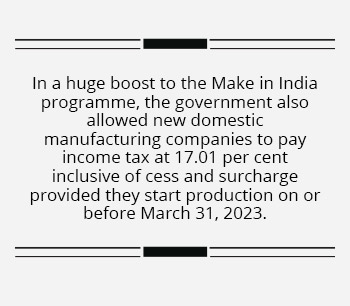 In a massive boost for the Make in India campaign, the government increased the FDI limit in defence units to 74 per cent from 49 per cent. Foreign companies have been reluctant to transfer critical technologies to Indian joint ventures in which they did not have a clear majority.
As a result of this move, FDI flows in new defence units are expected to gather momentum in the years ahead, especially as the government has decided to ban imports of 101 categories of defence equipment.
Then, the Ordnance Factory Board, which runs the India's public sector ordnance factories, will be corporatised, but not privatised and listed on the stock markets to enable Indian citizens own a part of it.
Private players allowed to mine coal for commercial sales
In yet another bold decision, the Modi government repealed the Coal Mines (Nationalisation) Act, 1973, enacted by the Indira Gandhi government at the peak of her socialist phase, and finally ended its monopoly on the production of coal, as promised by it a couple of years ago.
Till recently, private companies in the steel, cement and power sectors could mine coal for captive use but could not sell their production in the market. This led to a distortion in the market, created an inefficient public sector monopoly (Coal India Ltd) and resulted in India having to import billions of dollars' worth of coal every year despite having the world's fifth largest reserves of this fossil fuel.
Then, the arbitrary distinction between captive and non-captive coal mines has been removed. This will allow for transfer of unviable captive mines to companies that might want to exploit it for merchant purposes.
This reform is in keeping with Prime Minister Modi's vision of self-reliance as private production of coal in India will reduce the country's dependence on imported coal, save precious foreign exchange outgo and generate additional direct and indirect jobs in the sector.
In addition, the Finance Minister has allocated $7 billion for creating infrastructure to evacuate the enhanced production of coal in India – both from the 50 mines to be allocated to private players as well the targeted increase in output from the public sector Coal India Ltd.
Read more:
India's farm sector reforms are a pathbreaking step forward
India needs to speed up judicial reforms to attract larger volumes of foreign investments
Sitharaman's reforms package is the real deal and not just window dressing
Reforms to uncork 'Make in India' defence contracts worth billions
Modi begins crucial reforms of India's bureaucracy
Nirmala Sitharaman's reforms enable foreign investors to enter power sector
Minerals sector reforms to usher in transparency, increase competition, efficiency
Norms for other minerals also eased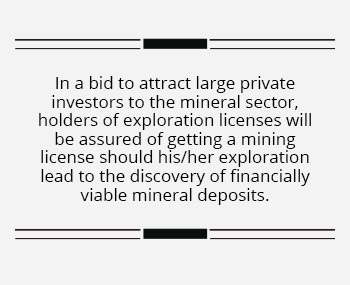 In a bid to attract large private investors to the mineral sector, holders of exploration licenses will be assured of getting a mining license should his/her exploration lead to the discovery of financially viable mineral deposits.
The government will offer 500 mining blocks for auction and bauxite blocks would be auctioned along with coal blocks. This will improve the competitiveness of India's aluminium industry. Further, the stamp duty payable at the time of award of mining leases has been rationalised to make it easier for investors.
Discoms in UTs to be privatised
The Modi government has announced plans to privatise power distribution in the Union Territories. Since Union Territories are administered by the federal government, this decision comes within the administrative jurisdiction of the Modi government.
This is considered a political hot potato in India even though experts and analysts have long said the only way to really transform India's power sector is to sell the state-owned distribution networks to private players.
Private sector allowed entry into the space sector
In a major easing of norms, the Modi government has allowed private players and start-ups to enter India's burgeoning space sector. This means private players can use the facilities of the Indian Space Research Organisation (ISRO) for space launches following an easing of regulations governing the same.
Private players can enter atomic energy sector
The government has allowed the private sector and start-ups to link up with the country's well-developed nuclear sector. In particular, research will be carried out in public-private partnership (PPP) mode on medical isotopes and on irradiation tech for food.
Revitalising the MSME sector
The micro, small and medium enterprises (MSME) sector accounts for 30 per cent of India's GDP, 50 per cent of exports and almost 40 per cent of employment. It is also the largest employer in India's manufacturing sector. Yet, this sector has been neglected by various governments in the past.
In a booster dose to revitalise this sector, the Modi government will provide more than $40 billion as collateral free loans for MSMEs to help ease their credit woes. Both the principal and the interest will be guaranteed by the government. An estimated 4.5 million units, which have been facing a severe liquidity crunch over the past several quarters, will benefit.
Still more to read:
Nirmala Sitharaman's new deal for Indian farmers
Government allocation for the fisheries sector boosts economic fundamentals
FDI can technologically upgrade Indian coal sector
Sitharaman's package to give a huge fillip to the food processing industry
Nirmala Sitharaman's reforms enable foreign investors to enter power sector
Modi government expands the MSME umbrella
In India, MSMEs are given various tax, procedural and statutory benefits denied to larger companies. This creates a perverse incentive to businesses to remain small in order to partake of those benefits. Alternatively, business owners incorporate multiple companies to stay within the limits mandated for MSMEs.
MSMEs were defined by the investment they made in plant and machinery. This has been revised upward and new criteria – turnover – introduced to given them much greater freedom. The revised norms are as follows:
* Micro: Investment $140,000; turnover up to $700,000, an increase of 500 per cent
* Small: Investment $1.4 million; turnover $7 million, an increase of 500 per cent
* Medium: Investment $2.8 million; turnover $14 million, up 200 per cent
Then artificial and arbitrary distinction between MSMEs in the manufacturing and service sectors has been removed and both bought at par for the purpose of classification.
This will enable MSMEs to have stronger balance sheets and allow them to expand much more than earlier without worrying about losing any benefits.
Other reforms measures
Then, the government has announced a slew of measures to attract corporate investments and FDI into the fisheries, dairy, animal husbandry and allied sectors. It has also begun laying out the red carpet for foreign players in the aircraft maintenance, repair and overhaul (MRO) sector to turn India into a regional MRO hub.
To increase the ease of doing business in India and to attract more FDI into the country, the government is also amending the Companies Act to allow the compounding of many offences that currently invite criminal action.
It is also in the process of rolling out a series of production-linked incentive schemes to attract foreign companies looking for alternatives to China, following the tremendous reception its PLI scheme for smartphones has received from the likes of Apple, Samsung and others.
Change in pace
In his first term, Modi's critics accused him of being an incrementalist who shied away from big bang reforms. But having used his first term as Prime Minister to clean up the plumbing of the Indian system and to put in place processes that facilitated seamless transmission of benefits to intended beneficiaries, Modi has stepped on the gas in his second term.
His track record on economic reforms, as described above, is second to none. It can, arguably, be compared favourably to the historic reforms drive undertaken by late Prime Minister P.V. Narasimha Rao in 1991.
Why foreign investors should be interested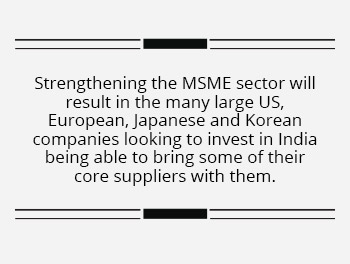 These reforms will completely open up the Indian economy to competition from domestic and foreign players. This is expected to facilitate the entry of several foreign investors that are looking for alternatives to China. How?
Strengthening the MSME sector will result in the many large US, European, Japanese and Korean companies looking to invest in India being able to bring some of their core suppliers with them. This will become another "pull factor" when these companies consider new destinations for their investments.
Then, the deep and far-reaching farm sector and labour reforms will add more lustre to this attractiveness. These measures, coming in the wake of Covid-19 pandemic, are expected to fast track investment, including FDI flows into India and facilitate the country's emergence as a favoured investment destination for companies looking for alternatives to China.
Podcast: Play in new window | Download