Merkel's Indian promise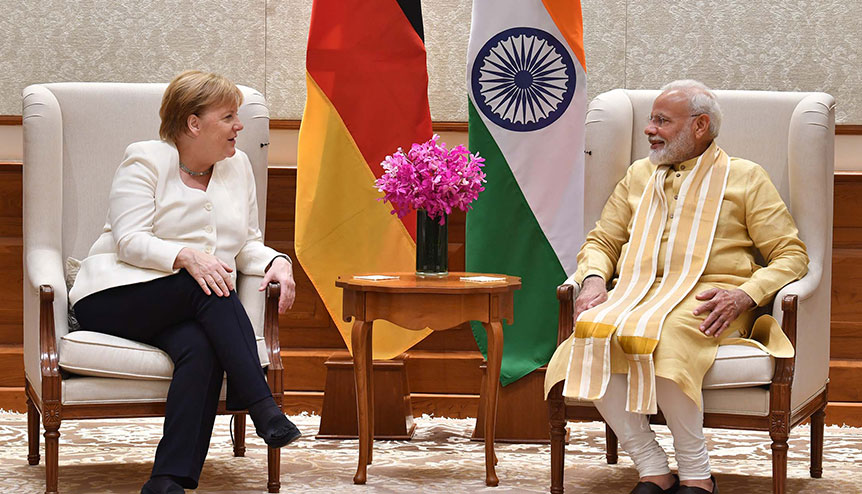 India-Germany ties remain strong with increasing cooperation on climate change, sustainability, combating terrorism, digital transformation and artificial intelligence.
Though Chancellor Merkel still has a few years before she steps down, her legacy will depend as much on how successful she is in building long term strategic relations with India as it will be on managing turmoil in Europe. Under her and Indian Prime Minister Narendra Modi, the bilateral relationship has gone beyond the nuts and bolts of clinical engineering and business that Germans are known for, and entered a warm phase where the strong trade relationship is being complemented by collaboration on a wide range of issues such as artificial intelligence, Make in India, Start-Up India and cyber security.
The European Union (EU) is India's largest trading partner and Germany has the second-largest individual share within the EU.  Bilateral trade between India and Germany was $24.06 billion in 2018-19, a 9.36 per cent growth over the figure of $22 billion the previous year. Then, there are more than 1,700 German companies operating in India and they have invested a combined $12 billion since 2000.
Little wonder then that Germany has been Indian Prime Minister Narendra Modi's most frequent port of call in Europe. In his first term in office (2014-19), he has visited Germany (and Russia) four times, France thrice, the UK twice and some other European nations once. German Chancellor Angela Merkel, too, has visited India four times over this period.
Modi and Merkel have reiterated on several occasions that the bilateral strategic partnership is based on the common values and shared principles of democracy, free trade, mutual trust and respect and a rules-based international order.
Despite this, the bilateral relationship with Germany does not get the kind of media coverage or generate the kind of public interest that India's relationships with, and Modi's visits to, the US, the UK or even France do.
Yet, the two countries share a deep relationship based on respect for democratic values and cooperate closely on climate change, sustainable development and green energy options, on combating terror, digital transformation and artificial intelligence.
Robust commercial relations
The country-to-country relationship may lack the high profile it deserves, but commercial ties between India and Germany remain strong. The major German exports to India are motor vehicles, machinery, chemicals, electronic products, electrical equipment, pharmaceuticals, transport equipment, food products and special rubber products.
India exports auto components, generic pharmaceutical products, leather and leather goods, textiles, metals, chemicals, light machinery, gems & jewellery and food & beverages.
Germany also has a strong industrial presence in India. Companies such as Daimler Benz India, which makes heavy trucks, Mercedes Benz India, which makes luxury cars, Bosch (electrical equipment and cloud computing). SAP Technologies (software), BASF (chemicals, personal care and hygiene), Volkswagen India (passenger cars), DHL India (courier service), Metro Cash & Carry (retail) and Deutsche Bank (banking services) are among the largest foreign enterprises in India and many of their products are household names in the country.
Cooperation on sustainable development
Merkel, who visited India from 31 October–1 November for the biennial fifth Indo-German Inter Governmental Consultations (IGC), and Modi issued a joint statement that laid great emphasis on sustainable development. The statement acknowledged that providing low-carbon and sustainable solutions, especially in the field of transportation and mobility, is a key challenge for the world.
"Both sides agreed to foster cooperation on low-carbon mobility solutions and welcomed the signing of the new Joint Declaration of Intent on the Indo-German Partnership on Green Urban Mobility wherein the German side expressed its readiness to provide additional finance of 1 billion euros to support improvements of green urban mobility infrastructure and services and strengthen capacities of national, state and local institutions to design and implement sustainable, inclusive and smart mobility solutions in Indian cities," the statement said.
"For both countries, the Sustainable Development Goals and the Paris Agreement serve as guiding frameworks in their cooperation. They underlined that for a successful energy and transport transition in India and in Germany both countries need to closely cooperate, to learn from each other and to capitalize on the economic potential of climate protection," the joint statement added.
Germany is a key partner in India's flagship Smart Cities Mission and is providing technology, expertise and consultancy in areas such as urban mobility, water and wastewater management, renewable energy and energy efficiency to cities such as Kochi in Kerala, Bhubaneswar in Odisha and Coimbatore in Tamil Nadu.
Collaboration in artificial intelligence, cyber security and agriculture
The two countries have identified artificial intelligence (AI) and digital transformation as a key area of collaboration. Germany will also extend support to India to ramp up its cyber security using AI.
Last year, the Department of Science and Technology, Government of India, had launched the Inter-Disciplinary Cyber Physical Systems for research on AI and internet of things (IoT). The German Science & Technology Center will provide support and technical expertise to take this forward.
Among other things, the collaboration on AI will also help India in the field of agriculture by facilitating precision farming, which increases efficiency, saves resources and reduces food losses and waste.
Push for Make in India, Startup India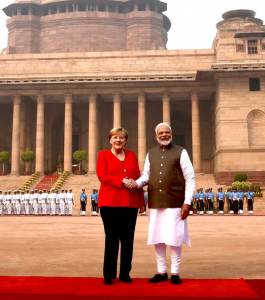 Several large German companies have a sizeable industrial and market presence in India. But recognising that medium and small enterprises form the backbone of any economy, India and Germany have launched the Make in India Mittelstand (MIIM) Programme. Under this, over 135 German Mittelstand (highly specialised medium and small companies that supply components to large conglomerates like Daimler Benz, Siemens, SAP, etc.) and family-owned enterprises have invested over €1.2 billion in India.
However, India's often labyrinthine regulations are coming in the way of faster FDI flows from these companies. The Modi government is working on easing norms and has met with some success as can be seen in India's 63rd rank in the latest World Bank's Ease of Doing Business Index, a record jump of 79 places from the 142nd position five years ago.
The German Indian Startup Exchange Program (GINSEP), created by the German start-ups Association and the German Federal Ministry for Economic Affairs, to strengthen and foster the German-Indian economic relations in the field of start-ups, is promoting  exchanges between the start-up ecosystems of the two countries and has had some initial success in facilitating access to the German market for Indian start-ups and vice-versa.
Lack of progress in India-EU FTA a key challenge
India has strong bilateral ties with several EU nations including Germany. However, the inordinate delay in finalising a free trade agreement with Brussels is holding back a more rapid ramp-up of trade and closer integration between the two economies. During Merkel's recent visit, both sides agreed to deepen efforts to resume negotiations on the stalled Bilateral Trade and Investment Treaty between EU and India.
However, foreign policy and global trade experts in New Delhi aren't optimistic about an early breakthrough on this on account of Brussels' reluctance to provide greater access to Indian professionals and its insistence on mixing trade with what India considers extraneous issues such as human rights and other non-trade-related issues.
But the EU is India's largest trading partner and both sides recognise the importance of signing this deal. India will want Merkel to use her considerable political capital to get the bureaucracy in Brussels to shed some of its orthodoxy and nudge them towards an agreement that is acceptable to both sides.
Despite this, India's trade, strategic and diplomatic relations with German remain robust and promise to gain momentum in the years ahead.