Merkel-Modi chemistry to be at play once again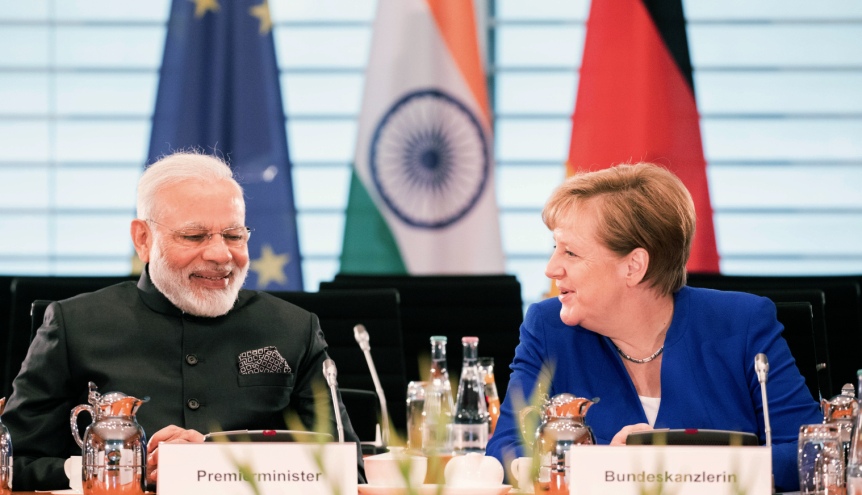 German Chancellor Angela Merkel shares a well-documented connect with Indian Prime Minister Narendra Modi, expected to further boost Indo-German economic relations at a biennial summit in India in November 2019.
Indian Prime Minister Narendra Modi had specifically made time for a brief stopover in Berlin at the request of German Chancellor Angela Merkel during his UK visit last year for the Commonwealth Heads of Government Meeting (CHOGM). In the diplomatic world, such symbolic gestures reflect the depth of relations between countries and the fact that Modi and Merkel share a good rapport is certainly a well-document fact.
This chemistry will be at play once again when the two leaders meet for their biennial Intergovernmental Consultations (IGC), a strategic partnership meeting held at the level of heads of government every two years. India belongs to a select group of countries with which Germany has such a dialogue mechanism, seen as a sign of the importance of Indo-German ties which have had the distinction of a strategic partnership since 2001.
Trade facts
Germany is India's most important trading partner in the European Union (EU) and its sixth most important trading partner worldwide. According to official German Federal Foreign Office statistics, bilateral trade between India and Germany increased to a volume of around €18.2 billion in the first 10 months of 2018.
India ranks 26th overall among Germany's trading partners, 27th in terms of imports and 25th in terms of exports. Conversely, Germany ranks tenth as a supplier of goods to and sixth as a buyer of goods from India.
There has been consistently strong Indian demand for German goods, especially capital goods such as machinery, which accounts for around a third of Germany's total exports to India, electrical engineering products, metal goods, chemical products, motor vehicles and vehicle parts.
Transforming relations
However, beyond the straight-jacket trade ties, Germany has been an important development partner for India too, in crucial areas of renewable energy, sustainable urban development and smart cities and has been cooperating closely on issues around dealing with plastic, transport as well as environment and resource protection.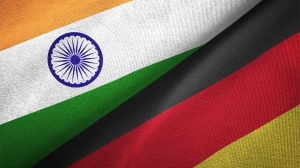 The Indo-German Environment Forum has set up a number of joint working groups which meet regularly to discuss topics including climate protection, sustainable urban development, biodiversity and water and waste management/recycling.
Germany is among the key countries working with India on the Modi government's flagship Clean Ganga mission.
"The German government is putting quite some money into this," Walter J. Lindner, the German ambassador to India, recently said.
The country has been applying its own learnings from the cleaning of the River Rhine to this Indian mission. The issue, alongside other related environmental and climate change topics, will feature high on the agenda of the Merkel-Modi dialogue in November.
Industry 4.0
The so-called Fourth Industrial Revolution has been at the heart of many Indo-German exchanges in the past, including during the Modi-Merkel bilateral meeting at Hannover in April 2015, when the two leaders jointly inaugurated the Hannover Trade Fair.
The German ambassador's office in New Delhi, which is working round the clock on the upcoming summit, has said that innovation and Industry 4.0 will once again form the crux of the talks, alongside artificial intelligence, the Internet of Things, robotics as well as energy, renewable energy, sustainable development, vocational training and environment.
"There are a lot of topics which we share. And since the chemistry between the two PMs is a good one, I think they have a lot to talk in this context," noted Lindner.
Important alliances
Against the backdrop of the UK's impending exit from the EU, Germany as one of the economic bloc's strongest powers has time and again been in India's corner.
On political issues such as India's firm stance over the abrogation of Article 370 to bring the state of Jammu and Kashmir in alignment with the entire country, Germany had spoken out in support by classing it as India's "internal affair". Security aspects, including the fight against terrorism, is an important area if alignment between the two countries and expected to remain central during the latest deliberations.
And, with the EU now set for a change of guard with the new Commissioner set to take charge being Germany's Ursula von der Leyen, hopes for a resumption of the stalled India-EU free trade agreement (FTA) have also gained some ground.
That scenario would unfold only over time, but meanwhile Merkel's visit to India is expected to reinforce an already strong bilateral bond.