Mercedes makes an EV statement of intent in India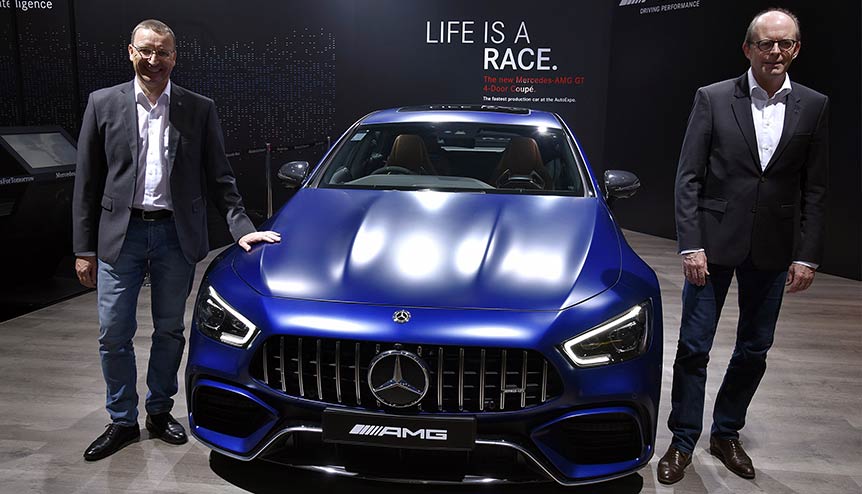 As the automobile industry goes in for the reset and reenergize phase the concept of electric mobility is the logical step forward, though care must be taken to harness the benefits of the IC sector as well.
In what can be seen as a shot in the arm for the effects of reforms carried out by the Indian government across diverse sectors, German auto giant Mercedes Benz has shown faith in the automobile sector by announcing that they could put into place solid plans to manufacture electric cars in India.
Mercedes-Benz are hoping to benefit from the lower rate of GST (5%) earmarked for green cars and the manufacture of EVs comes in line with their global plans while ensuring that they are grabbing this opportunity in India as well. "It makes sense to look at localization," said Mercedes India MD & CEO, Martin Schwenk adding that, "we need bigger volumes and will look at subsequent models for local assembly." Schwenk's comments came in the backdrop of launching the EQC, the first all-electric Mercedes Benz SUV launched in India and this introduction will seen as a statement of intent by Mercedes of their commitment towards EVs for the greater good.
Bouncing back slowly
Mercedes have had a rather decent outing despite the shackles imposed by the pandemic. They are back to roughly 70% of their pre-Covid sales and by all projections they will bring home a better report card thanks to the upcoming festive season.
Read more:
Tesla's passage to India a boost to the EV sector
India an important export hub for auto sector
Auto India driving towards global dominance
Indian government plans incentives for auto makers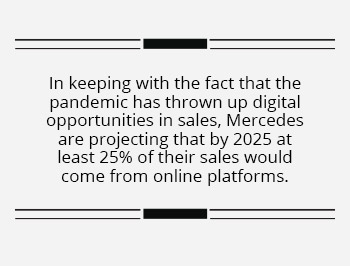 The engines are revving in Sriperumbudur
In keeping with the fact that the pandemic has thrown up digital opportunities in sales, Mercedes are projecting that by 2025 at least 25% of their sales would come from online platforms. Schwenk is simply not stopping there. A commitment has been to showcase art least 10 EV models by 2022 across all segments. By 2025 the parent will target 15-25% sales from pure electric models and by 2030 half the cars sold from the Mercedes stable will be plug-in hybrids or electric.
Time for EVs is now
It is time for the Indian automobile sector to grab the concept of EV's with both hands while the entire industry is going through a reset and reenergize phase in a bid to emerge from the crisis caused by the pandemic. EVs seem to be a logical idea in this context and ties in perfectly with the awareness towards the environment and the solid dependence towards futuristic cutting-edge technology which automakers the world over now seems to base their R&D on.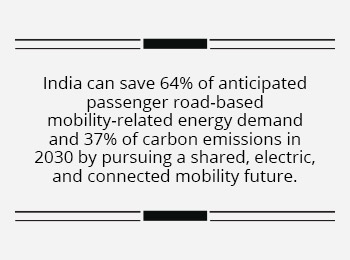 India has the chance to offer up a completely clean mobility system and given that the government is looking at the environment in a more rresponsible manner the tilt towards EV seems like a no brainer.
More to read:
Now is the time to be investing in the EV ecosystem
Banks gearing up to jump start auto industry
Competing with robots: How online learning can help professionals win in the future
India must not wobble on its EV ambitions
The worst may be over for the Indian economy
Awareness in Indian ecosystem is key
Awareness and information in the Indian ecosystem is key. India is the third largest automaker in the world, and the largest in the two-wheeler segment, yet, the penetration of EVs is not flattering in the least. Given this, there is no better time to invest in the EV ecosystem specially when one considers a rapidly changing powertrain technology landscape, stricter regulations, shifting customer preferences, increasing demand for connectivity and digitisation that have become important factors for shaping the future of mobility.
The Niti Aayog has also showcased a future vision document for the Indian automotive industry 'India Leaps Ahead – Transformative Mobility solutions for all', jointly authored by Rocky Mountain Institute. The report highlights that there needs to be a paradigm shift in the way of thinking about mobility and the fact that there is a need to cut down Co2 emissions. According to the study commissioned, India can save 64% of anticipated passenger road-based mobility-related energy demand and 37% of carbon emissions in 2030 by pursuing a shared, electric, and connected mobility future. This would result in a reduction of 156 Mtoe in diesel and petrol consumption for that year. At USD 52/bbl of crude, this would imply a net savings of roughly Rs 3.9 lakh crore (approximately 60 billion USD) in 2030.
Still more to read:
India: An emerging global manufacturing hub for the auto industry
India's $23 billion manufacturing package packs a punch
Self Reliance and Reliance are writing the great Indian story
India's growth rates likely to rebound quite strongly next year
Indian economy doomsday predictions are highly overstated
In addition to reducing energy demand, this transformation yields other benefits, including lower congestion as shared, public, and nonmotorized modes of transportation serve an increasing share of mobility demand. With a larger share of the fleet running on electricity, it leads to lower local emissions, improving public health. This has significant implications for India's electricity sector and economy, supporting India's ambitious renewable energy goals while saving money, providing jobs, and strengthening Indian industry.
Safeguarding the IC industry from reverses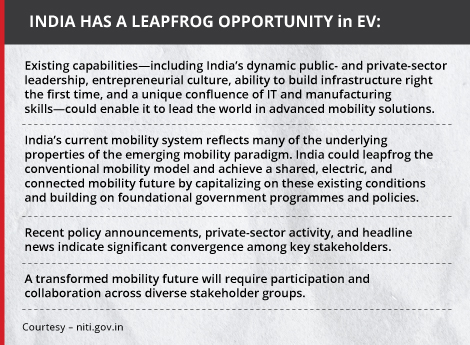 The time for EVs is now but the industry and authorities will have to apply a delicate balance when advocating the benefits of it. Caveats have to be in place to ensure that the vibrant internal combustion (IC) industry does not suffer further problems.
Almost 40-50 percent of the roughly $40-billion turnover of the auto component industry comes from this segment and engine and powertrain accounts for over 30 per cent of the country's $11 billion exports bill. The sector employs 1.5 million people directly and indirectly. The industry has also had an gross block of around $12 billion. The introduction of new technologies must ensure that the existing industry is not disrupted from further reverses. Car sales are registering an optimistic turnaround specially in the compact vehicle segment given that more people are avoiding public transport in the era of the pandemic. The Indian automotive industry accounts for over 7 percent of the country's GDP, as well as 22 percent of the manufacturing GDP. According to the industry body Society of Indian Automobile Manufacturers, the industry supports more than 3.7 crore employment and with GST collections it provides for nearly 15 per cent of total GST collection of the country in a year. The auto sector is also one of the biggest recipients of FDIs, given that between April 2000 and March 2020, the sector has received FDI amounting to $ 24.2 billion.