Making waves in the Indian Ocean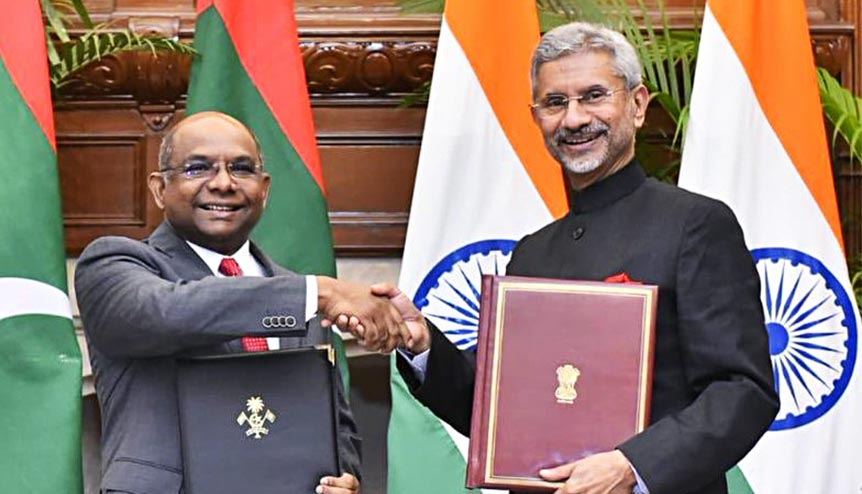 The government of Maldives has entered into a defence pact with the US, the first ever of its kind, which only highlights the strong ties between India and the US in an area known to be in New Delhi's area of influence.
If China waives the rules then India can rule the waves.
The ever growing bonhomie between New Delhi and Washington could not have been better highlighted better than during the decision taken by the government of Maldives to sign a military concord with the US, making it the first that Male has agreed to with any country apart from India in an area considered through the years to be India's area of influence.
Read more:
India-Maldives: Back to the future
Maldives offers itself as a solution to a 'brewing India-China cold war'
India is strengthening its bonds of friendship with the African continent
Sri Lanka prioritises a fresh reset in ties with India
India and Nepal: Picking up the pieces
The aim is to bolster security in the Indo-Pacific region and promote a rules-based order that supports peace, stability and prosperity for all stake holders. These are tenets that are espoused vigorously by India and illustrate its overall interests and view toward promoting regional stability.
Male's strategic position
What is even more astounding about the military pact is that it showcases a strategic position taken by the Maldives who have chosen to partner the US and not China despite the fact that it is a partner in Beijing's Belt and Road Initiative.
More to read:
India's links with the Arab world strengthens with the IPL
How sport helps India win friends and influence nations
India's neighbourhood is warming towards its empowering influence

India could rescue SAARC nations staring at a debt-trap
The Andaman-Nicobar Islands offer an ocean of opportunities
Such an accord with Washington could perhaps sound the death knell for Chinese projects in the Maldives. This is not a knee jerk phenomenon. One has only to look towards Sri Lanka who have also realized their folly in signing a one-sided partnership with China which not only eats into its economic progress but its sovereignty as well. Both governments have aligned back with India after identifying the serious consequences such one-sided alignments may have thus leaving them in the vice-like grip of the Chinese 'debt trap'.
The past few months have ensured that Indian foreign policy had to be at its effective best while dealing with the globally debilitating effects of the pandemic and standing up to be counted as a responsible global citizen; a faltering economy which had to be rejuvenated through reforms thereby inviting foreign interest and FDI, and the constant nuisance value posed by the destructive approach of China which almost sparked off an armed conflict between the two neighbours.
Negotiating past challenges
New Delhi has negotiated through these challenges with a successful report card and ensured that India's stature in the global order is cemented and rising. Close on the back of a defence alliance with the US and other countries who wish to make their presence felt in the Indo-Pacific region by virtue of the Quad, Indian exports to the US have also grown rapidly in the past 2-3 months – and that's an economic brag.
Still more to read:
China's imperialist eye turns to Bangladesh
India's outreach creates a new paradigm in public health security
India emerges as a partner of choice amid COVID-19
Fighting an invisible enemy, globally
Jaishankar's Tunisia trip is important for its timing
But it is an effective foreign policy that will set the template for the ties that India sets out to establish as the world begins to comprehend the dangers of a China that operates out of a rules-based framework. As Indian foreign minister S. Jayshankar stated recently, "As India rises in the world order, it should not only visualise its interests with great clarity but also communicates them effectively. In sum, the essence of international relations and its rules is changing. For India this means having to invest in ideal relationships with all the major powers to advance its own global agenda.
Positive associations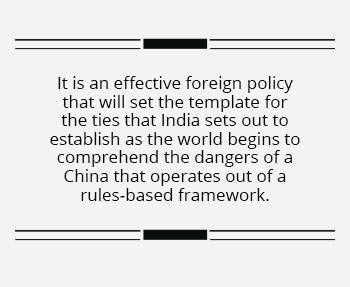 New Delhi's relationship with the Maldives comes as a case in point. Both countries currently enjoy a positive association and this means that India has ensured that Washington's deal with Male has not impinged on its role as a 'net security provider' in the Indian Ocean and it is actually complementary to India's long-term plans in the Indo Pacific.
With its exclusive naval security presence boosted in the Indian Ocean and with the willingness to ally with other nations, in the spirit of cooperation and collaboration, India is ensuring that it balances its national interests and international responsibilities with ease.