Made locally, disrupting globally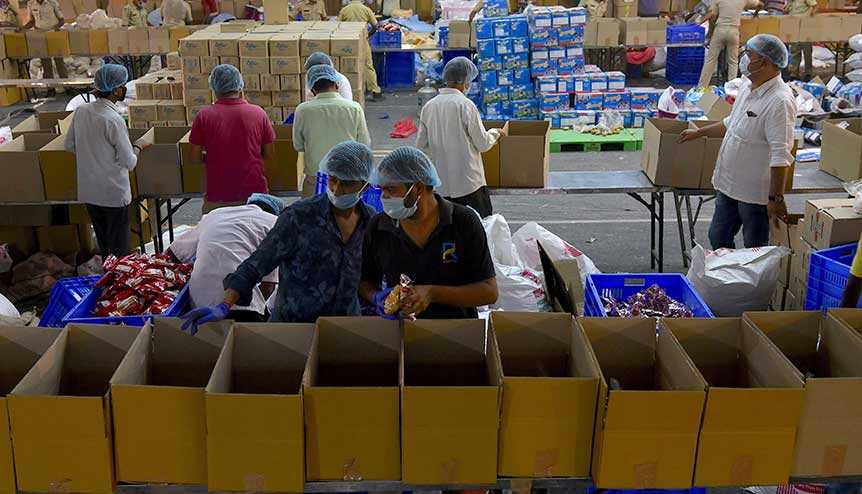 FDI into India has been growing consistently over the years and has been covered extensively by trade agencies and media houses. But what about the investments that Indian companies make abroad? These international ambitions could be an important part of the India growth story. Some introductory data is shared in this article on this topic.
The Prime Minister's clarion call for an Atmanirbhar Bharat or a Self-Reliant India along with the 'Go Vocal for Local' slogan has indeed resonated with certain sections of the business community. The Government has backed this policy with c.$23bn of production linked incentives for global companies to manufacture in India. This is indeed encouraging and has been covered well in this India Global Business (IGB) article. Invest India and Department for Promotion of Industry and Internal Trade have been leading the charge for years now to promote the benefits of investing in India to the world. All this work is bearing fruit as is evident from the sustained positive trends in inbound investment. A recent survey conducted by Confederation of Indian Industries and EY highlighted that India is one of the top 3 destinations for international companies over a 2-3 year horizon.
In addition to inbound and domestic investments, outbound investments from India are an important part of the country's growth story as well. For a long time, the newly opened Indian economy (in 1991) presented enough opportunities for Indian enterprises to grow domestically. This meant that international deals by Indian corporates were far and few between. I remember when a decade ago deals like an investment by the Tata group into Corus Steel or Jaguar Land Rover were extremely rare. Equally rare was news related to Indian brands launching abroad and was limited to only a few large conglomerates like Tata, Mahindra, Bajaj etc.
Have you read?
Atmanirbhar Bharat also means 'Make for the World'
Atmanirbhar Bharat: An initiative to foster entrepreneurship
Post-pandemic, India will need to focus on fast-paced development for building Atmanirbhar Bharat
Millennium Alliance: Enabling Atmanirbhar Startups
India presents swadeshi and 21st century globalisation
Startups showcase India's fabric of unity
The past few years have seen an increased inflow of foreign capital and international conglomerates and a significant improvement in the quality of products and services produced by Indian companies. These aspects, among other factors, have given Indian enterprises the access and the confidence to expand internationally. The tech sector has specifically benefitted from this trend, along with continued activity from some of the more traditional sectors. Indian companies invest overseas either through acquisitions or through investments into international subsidiaries. These investments are further classified by the Reserve Bank of India (RBI) as equity, loans or bank guarantees. Data on India's Overseas Foreign Direct Investment (OFDI) is shared on the RBI's website every month. E.g., data published on October 13, 2020, suggests that in September 2020, Indian companies committed c.$1.5bn (includes equities, loans and guarantees issued) internationally compared to c.$1bn in August 2020. This data also highlights that outbound investments from India, while rangebound between c.$30bn and $40bn, have seen an uneven trend since 2013-14. This is shown in the graph below: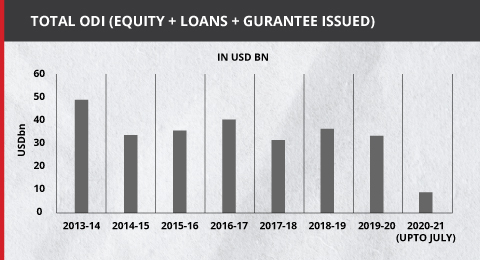 This chequered trend might have been caused by RBI's stringent regulations on overseas investments of a dearth of domestic finance given the Non-Performing Asset (NPA) stress on the Indian banking system. Furthermore, Indian enterprises generally do not have access to large cash reserves or low-interest capital as most other developed economies do. However, that has not dampened the ambitions of the Indian enterprise to scale internationally.
As expected, the technology sector, flush with VC money, has been one of the more active sectors. Within this group, Oyo rooms is perhaps among the most active in the international M&A market. Its acquisitions include Hooters Casino Hotel Las Vegas, European rental brand Leisure Group and Scandinavia based Danamica group among others. In May 2020, Ola Electric acquired a Dutch electric scooter manufacturer Etergo. Before the high profile WhiteHatJr. Acquisition, BYJU's bought US-based Osmo for $120m in 2019. In 2018, one of India's earliest unicorns, InMobi acquired US-based Pinsight Media from Sprint. Among traditional sectors, TVS Motors' acquisition of UK's Norton Motorcycles for £16m in April 2020 caught significant attention.
Given the space constraints, this article could only fit preliminary research on India's outbound deals. As a potential follow up to this, it might be interesting to identify the top sectors Indian companies have been targeting internationally. It would also be interesting to dive deep and look at the specific opportunities in that sector for Indian companies. This would hopefully be useful for an IGB reader potentially looking at international expansion either as an entrepreneur or as a senior executive within their company.