London is determined to remain a top choice for Indian businesses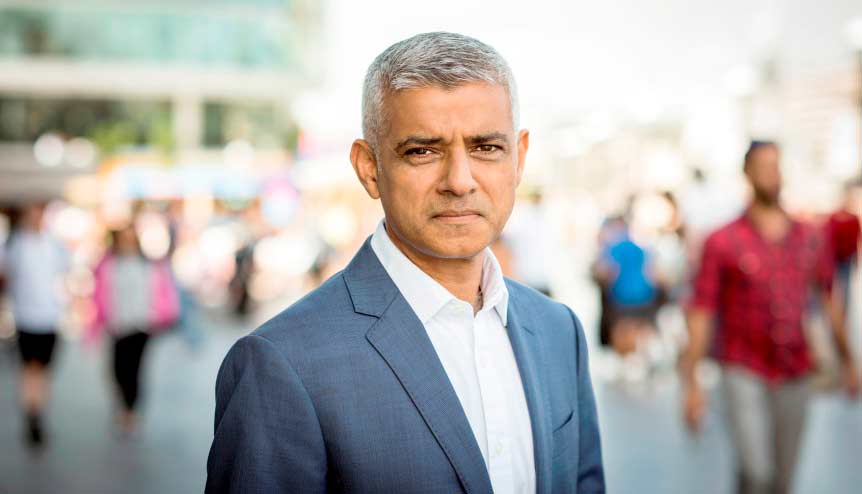 Sadiq Khan, Mayor of London, tells 'India Global Business' about his determination to keep London as the top choice for Indian talent and businesses.
How would you describe your India visit in December 2017 in terms of closer partnerships struck for the city of London?
The longstanding relationship between Britain and India plays a big role in modern London, and the huge contribution of the Indian community to London's success over many decades is part of the fibre of our city. It has played a vital role in shaping the culture and economy of our capital.
There is a strong, enduring bond of friendship and collaboration that exists between Britain and India – and I want this special relationship to grow even stronger. But we can't escape the fact that this relationship has changed: countries and cities around the world are now competing to trade with India and to access India's great pool of talented people. As the Mayor of London, I'm determined to fight to ensure my city remains a top choice for people of Indian origin who want to work, study and do business outside of India.
What are some of the key sectors of collaboration?

I know there is a huge amount we can learn from each other and that there is scope for even greater collaboration. I'm passionate about deepening the relationship we have across a wide range of areas – from trade and business to tourism, technology, education, sport, culture and the arts.
I believe that through a new focus on smart city initiatives, we can not only take big steps forward in creating greener and more sustainable cities, but also transform the way we design public services and deliver infrastructure to improve everybody's quality of life.
In recent years, too often the debate around the relationship between the UK and India has been solely around boosting trade. Of course this is vital, but there are so many other areas where we can work together to speed up innovation and to tackle some of the shared challenges we face.
That's why when I was in India last year I was proud to announce London and Bengaluru will lead a new air quality partnership, with the aim of working with other key cities in India and across the world. To solve these major health and economic challenges, which are becoming ever more common to major cities around the world, it is important that politicians, policy-makers and business leaders create deeper city-to-city partnerships.
What are the kind of transport links London and Indian cities can benefit from?
Shortly before I visited India, Jet Airways become the first international carrier to operate three daily direct flights between London and Mumbai – this is a clear sign that businesses are looking to meet the growing demand for air travel between our countries. This is good news for members of the Indian diaspora living in our city, good news for Londoners who want to visit India as tourists, and good news for London's companies who want to do business with their counterparts in Mumbai and elsewhere in India. I look forward to seeing more and more transport links between London and the great cities of India developing as time goes on.
Is Brexit a big worry among Indian businesses?
Brexit is dominating our political conversations here in London and the rest of the UK – and when I visited India and spoke to business leaders there, it came as no surprise that they share many of our concerns about the future of the UK's economy and its relationships with countries around the world. There is no doubt that Britain's vote to leave the European Union and the British government's misguided approach to visas has caused uncertainty and concerns.
My job is to reassure everyone in India that London remains – and will always remain – open to business, trade and people from the subcontinent. Now, more than ever, I am working to ensure the world knows that London is an outward-looking city that embraces talent and entrepreneurship and welcomes people from all corners of the world.
What steps are you taking to ensure London's supremacy as a financial centre for Indian companies?

Attracting talented people from around the world is part of London's DNA – and this is what the city's businesses come back to time and time again when outlining their concerns about the UK leaving the European Union. We have always been a beacon of entrepreneurship, innovation and enterprise and have welcomed with open arms people seeking new opportunities and looking to be a part of the great London success story.
Ambitious Indian businesses looking to expand internationally should look no further than London and take advantage of our status as one of the world's leading financial centres and Europe's largest technology hub. Since becoming Mayor, I've met many Indian businesses, including leading companies such as Tata, Air India and HCL Technologies.
Not only do we want to attract more investment to London from India and to see more businesses setting up offices in our capital, we want to share ideas and expertise in new and exciting sectors.
I was delighted to appoint Deepak Parekh as the first member of my International Ambassadors Network: as a highly respected Indian business figure, his experience and profile will be invaluable as we build on the excellent relations London already has with India. I was also really pleased to lead a trade mission of 20 business people to India – alongside my Deputy Mayor for Business, Rajesh Agrawal – as part of my International Business Programme, which has secured £120 million of investment and created over 400 additional jobs since I took office.
On a personal note, how would you characterise the significance of your visit to both India and Pakistan? 
Spending time in these incredible, historic countries felt very special to me: my grandparents and my parents were born and raised in India before moving to Pakistan. The welcome I received in both countries was very moving and I'm truly grateful for the hospitality I was shown throughout. The trip was memorable in many ways and will leave a lasting impression on me.