Leicester in extended Covid-19 lockdown amid high Global Indian toll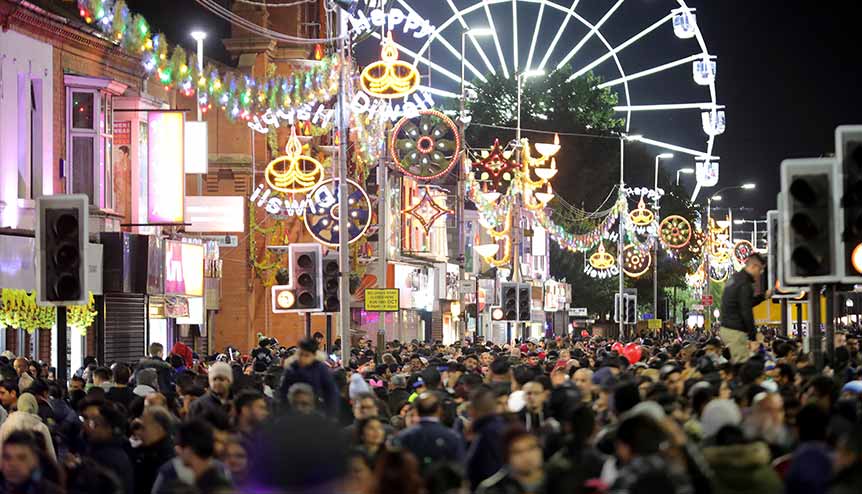 The local authorities of Leicester have expressed "frustration" over reports that it faces up to a fortnight of extra localised lockdown measures amid a flare-up in Covid-19 infections in the region.
UK Health Secretary Matt Hancock told Parliament that the eastern England city with a large Global Indian population will become the first to target of a localised lockdown strategy because it accounted for "10 per cent of all positive cases in the country over the past week". As a result, non-essential shops will close from Tuesday to help contain the outbreak and schools will close for most pupils from Thursday, with a review of the extension to take place in two weeks' time.
Earlier, UK Prime Minister Boris Johnson said he was "concerned" about the city as he confirmed government plans for a "whack-a-mole", or localised stamping down strategy, as the rest of England prepares for a substantial lifting of lockdown restrictions starting from July 4.
"We are concerned about Leicester, we are concerned about any local outbreak. I want to stress to people that we are not out of the woods yet," said Johnson.
Business worries
Local businesses expressed worries at the extended shutdown, with many fearing an even worse financial outcome as they will be unable to open up on July 4 as planned.
Leicester City Council complained about a lack of communication over government plans, which would mean that pubs, restaurants and hairdressers in the city will be unable to open at the same time as the rest of the country.
Leicester Mayor Peter Soulsby said: "Frankly, it's been intensely frustrating. I've looked at this report and, frankly, it's obviously been cobbled together very hastily.
"It's superficial and its description of Leicester is inaccurate and certainly it does not provide us with the information we need if we are to remain restricted for two weeks longer than the rest of the country." 
Hancock told the House of Commons that extra funding will go towards the region to enhance communications and ensure they are translated into all the locally relevant languages, which would include Gujarati – a language spoken by many in Leicestershire.
High risk
The city, famously known for parts where India-born residents outnumber other ethnicities, comes under the scanner as latest official NHS England statistics revealed that 763 people identifying with Indian heritage have died so far in the pandemic, according to data collated until June 25. This continues to reflect 3 per cent of the total deaths officially recorded by the National Health Service (NHS) from coronavirus, followed by those of Pakistani and Caribbean heritage as the second-hardest hit ethnic groups at 2 per cent each. The data reflects that people of Indian heritage are the hardest hit among Britain's ethnic minorities and the largest non-white group impacted in terms of death toll from the deadly virus, which has claimed over 43,000 lives in the UK.
Leicester East MP Claudia Webbe, from the Opposition Labour Party, accused the government of taking a "reckless" approach to lifting social distancing restrictions.
"The government is drip feeding the truth; a local lockdown is on the cards for Leicester – a city where the minority make up the majority; thus a city where its residents are disproportionately at risk from Covid-19. The government's rush to ease lockdown is reckless," she said.
"Whilst there have been delays and inefficient testing data, the reality is clear the rate of infection is high," she said.
The UK's Department of Health and Social Care said it is working with PHE and local bodies "to help prevent further transmission of the virus" in Leicester.
Ethnicity review
The UK government had conducted a review into the disparity in the impact from the coronavirus pandemic among the country's ethnic minority groups and PHE said it is exploring further measures required to address the disproportionately adverse impact on some ethnicities.
As part of some targeted measures, new official guidance was put in place earlier this week which requires pregnant women from minority ethnic backgrounds to be fast-tracked to hospital because of their increased risk of coronavirus.
"While Public Health England is continuing to assess and advise on the impact of the Covid-19 outbreak on ethnic groups, I want to make sure that the NHS is doing everything we can to reach out, reassure and support those pregnant women and new mums most at risk," said Jacqueline Dunkley-Bent, the Chief Midwifery Officer for England.
All hospitals have also been instructed to complete risk assessments for staff who are perceived at being at a higher risk of coronavirus, including those from a BAME background and with underlying health conditions. 
by Nadia Hatink