Kazakhstan has an abundance of investment opportunities for the discerning investor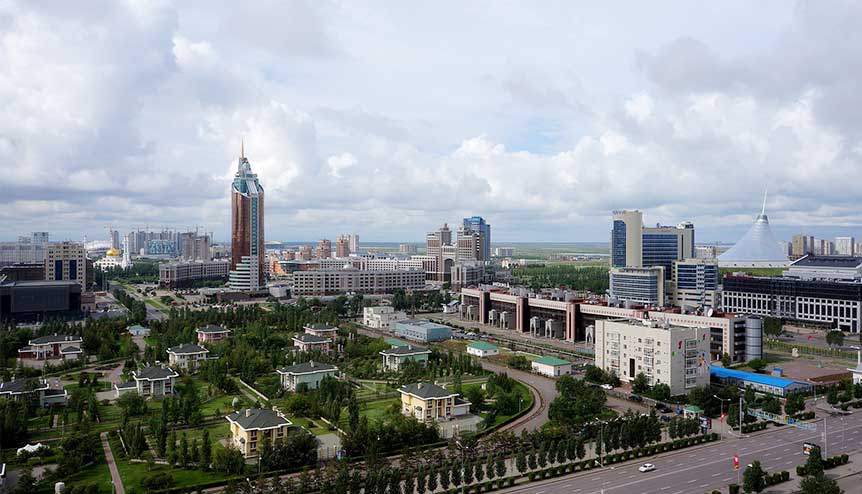 A strategic location, abundant natural resources, political stability and a proactive government looking to simplify ease of doing business are just some of the factors that make Kazakhstan an attractive investment hotspot.
Located in the heart of central Asia, Kazakhstan is the gateway to a marketplace of more than 500 million consumers. In addition, the country is also the point of convergence for several international trade corridors. The largest and wealthiest country in Central Asia, Kazakhstan offers investors a stable political climate, abundant natural resources and a vast, educated and skilled workforce.
Have you read?
India taps Central Asia for energy security
India's outreach to Central Asia still lies through Iran
Air corridors to help fulfill potential of India's ties with Central Asia
India draws attention back to its civil nuclear and uranium mining ambitions
How India's oil sector pulled all stops to counter Covid-19 impact
India could reap benefits from investing in strategic oil reserves
India is shopping for oil assets abroad
Location, Location, Location
Kazakhstan geographical location connects it easily to European, Asian and Middle Eastern markets. In addition, Kazakhstan is a member of the World Trade Organisation (WTO) as well as Eurasian Economic Union, the latter providing free movement of goods, services, capital and labour among member countries. The country is also amidst negotiations to conclude agreements on a free trade zone with India, Singapore, Serbia, Israel, Egypt.
Sectors of investment
Kazakhstan is reputed to have a very good investment climate and several international companies have established their regional headquarters there. In 2019, the country ranked 28th out of 190 countries in the annual rating of Doing Business of the World Bank. The main sectors for investment are:
Energy
Kazakhstan is the largest producer of oil in Central Asia, with the 12th-highest proven crude oil reserves in the world. The country has abundant oil and gas reserves, ranking ninth globally in oil, eight in coal and second in uranium reserves, respectively.
Mining
Kazakhstan has a unique mineral resource base. The World Bank estimates that there are over 5000 unexplored deposits still present in Kazakhstan, valued at over 46 trillion dollars. Kazakhstan is first in the world in explored reserves of zinc, tungsten and barite, second in silver, lead and chromite, third in copper and fluorite, fourth in molybdenum and sixth in gold.
Agriculture
Kazakhstan is also among the global top ten exporters of grain. Kazakh Agriculture Minister Saparkhan Omarov recently revealed that country has harvested of 11.1 million hectares of grain and beans, or over 70 per cent of total sown land this week. According to the minister, the country saw a 4.9 per cent rise in the share of agriculture in GDP, with the grain production expected to reach 18 million tons this year.
Tourism
Tourism continues to be a major source of investment for Kazakhstan. According to OECD, the country saw 8.8 million tourist visit in 2018, an increase of 14.1 per cent from 2017, and 28.5 per cent over five years. Last year, the Government approved The Programme for the Development of the Tourism Industry for 2019-25 with an aim to improve the availability and quality of tourist services and products in order to attract more visitors.
India and Kazakhstan
India was one of the first countries to recognise Kazakhstan as an independent state, establishing firm diplomatic relations in 1992.
Kazakhstan along with the four other stans in Central Asia are an important source of raw materials such as oil and gas as well as uranium. The Modi government has been proactive in building strong strategic ties with each of the five Stans. The two countries have good trade ties. Kazakhstan is India's largest trade and investment partner in Central Asia. The value of trade turnover between Kazakhstan and India amounted to $1.5 billion over first five months of 2020, compared to $577.09 million during the same period of 2019. According to figures released by the United Nations COMTRADE database, the two countries did see a boost in trade with, Kazakh exports to India coming up to US$1.57 billion in 2019. Yet these figures remain below the trading potential between the two countries. Connectivity has long been identified as challenge. Addressing these issues, the two countries have bene working on increasing connectivity, especially through air, with negotiations ongoing over the establishment of air corridors.