J&K will organise its first global investment summit soon says Murmu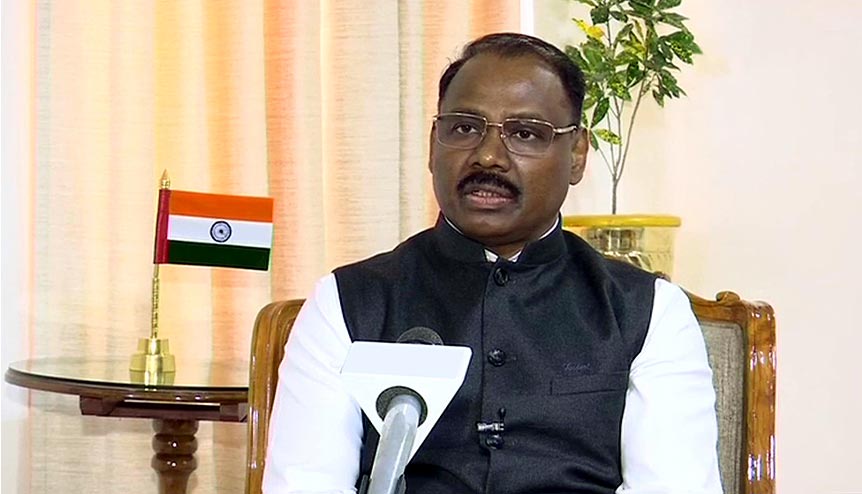 J&K's first ever Lt. Governor, who has since left office, has painted an optimistic picture for a union territory which is embracing the benefits of the centre's unlimited patronage.
As India ushers in a year of peace and tranquility in Jammu-Kashmir and Ladakh, since they received new identities as Union Territories, the first Lt. Governor of the region Girish Chandra Murmu evinced quiet optimism that the two regions would be able to turn a corner sooner rather than later.
Have you read? Away from media glare, J&K, Ladakh are making real progress at last
A year of peace, prosperity, possibilities and opportunities
US support for Modi on Kashmir, opens trade talks
Murmu was replaced on Thursday by former Union minister and three-time BJP MP Manoj Sinha as the new J&K L-G. The former L-G is now set to take over an assignment in New Delhi.
Murmu's remit was largely to ensure that J&K evolved out of a past of instability, violence and the hotbed of terrorist activity, sponsored by non-state and in some cases state actors, to emerge into a developed, progressive, growth oriented and vibrant economy. To this end, he tried to ensure that a broader vision began to take shape for a region which has been referred to by many as simply "Heaven on Earth'.
Murmu had painted out his farsightedness for J&K during a keynote address at the India Global Week #BeTheRevival, which was hosted last month saying, "Kashmir has immense economic potential. We will create an environment for growth and sustainable development."
Murmu assumed office soon after the Indian government issued constitutional changes by revoking Article 370 and Article 35A to bring J&K and Ladakh directly under its fold. The landmark decision shifted the state of play and the narrative in the entire region and the governor's office aggressively pushed an agenda of development and the enfranchisement of democratic institutions at the grassroots level to show a pattern of constant and healthy economic growth.
Return of peace and security
The blueprint, of course, is to create a system where the Kashmiri people have a stake in defining their own future. The return of peace and security is a big component that would enable that.
"In keeping with the vision of prime minister Narendra Modi, we are taking steps to ensure a favourable climate for industry. We have identified several sectors for the industrial and economic development of the state," Murmu stated, pinpointing areas like employment, connectivity, regular electric supply and drinking water for the people that needed to be addressed.
Related Stories: The Kashmir factor in UK-India relations
Modi uses soft power in G7 to disarm critics on Kashmir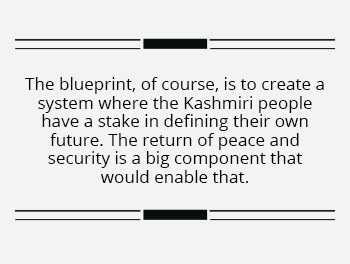 Kashmiri industry needs a resurrection and Murmu did not hesitate to point it out as a crucial factor that would reenergize development. "The government is taking steps to develop state of the art industrial estates; we are using 6,000 acres of government land for this; no agricultural land has been disturbed," he revealed adding, "Technical institutes are being set up to train people in skills required for industrial growth and create avenues for self-employment. We are in the final stages of creating an industrial policy that will be forward looking with tax benefits and other incentives in place."
Support from the government
Murmu endeavoured to ensure that the landmark date of August 5, 2019 did not simply act as an event that afforded a limited vision for Indians and Kashmiris in particular. Reaping the benefits of the government's farsightedness and support is key and he realized that people at the grassroots level, coupled with the efforts of various state mechanisms and the security apparatus on the ground, to provide for their safety and security, have a defining role to play in the birth of a new Kashmiri identity.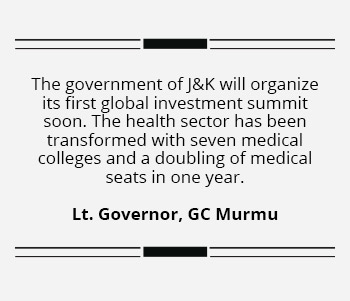 With that as a clear priority the government issued a call to investors to come forward and become agents of change to contribute to the livelihood, progress and well being of the Kashmiris. There are multiple sectors that could benefit from investment in Kashmir as it strives towards economic progress .
"The government of J&K will organize its first global investment summit soon," Murmu revealed, "The health sector, for instance, has been transformed with seven medical colleges and a doubling of medical seats in one year. Interested parties will be assigned individual officers to help with any queries."
Employment and investment
Employment and investment are factors that are enablers to drive the fortunes of the union territory forward. Proactivity of thought and execution is therefore key. To that extent the authorities plucked the low hanging fruit by ensuring that 606 out of the 2,300 projects, that had been parked by the wayside since 2010, have been completed.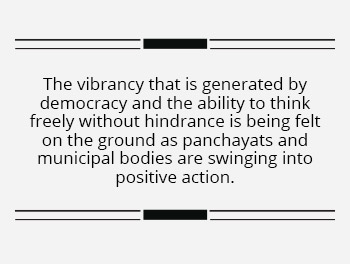 The Kashmiri people are feeling the effects of empowerment as a back-to-village project which had earmarked 20,000 small projects saw the execution of 7,000 of them. Logistically, Kashmir is also feeling the positive effects of connectivity as an average of 1,600km of road projects are being completed annually.
The vibrancy that is generated by democracy and the ability to think freely without hindrance is being felt on the ground as panchayats and municipal bodies are swinging into positive action given that funds generated by the centre are reaching them so that they may activate their plans.
In sum, the people of Kashmir, regardless of Article 370, currently enjoy the same rights as citizens across the country and the government is determined to ensure that these facilities are not taken away from them since they have both constitutional and legal recourse.