Invite to Australia to join Malabar shows India's defiance of China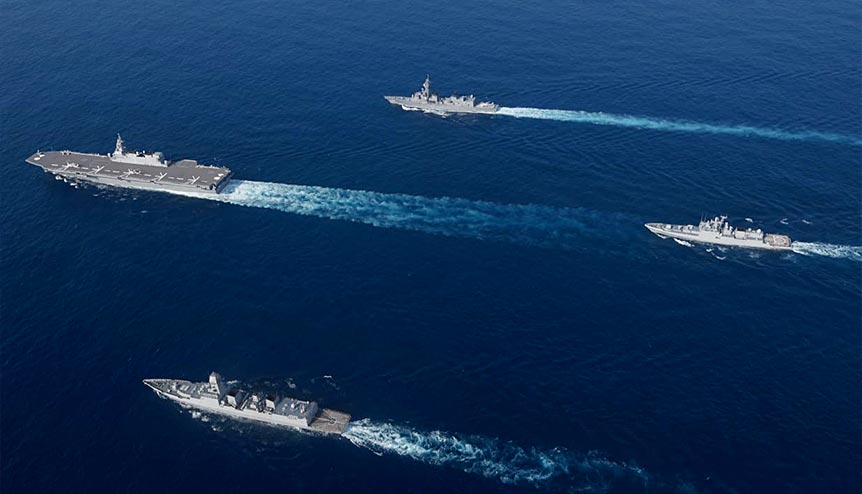 After much hesitation and debate, India finally invited Australia to join the Malabar naval exercise it conducts with the US and Japan. This is intended to send a strong signal to Beijing to stop bullying its neighbours and de-escalate the military crisis it has created in Ladakh.
In a decision that could be the first step towards militarising the Quad – the grouping of India, the US, Japan and Australia, the four large democracies in the Indo-Pacific region – New Delhi has invited Australia to join this year's Malabar naval exercise in the Bay of Bengal and the Arabian Sea.
Our defence cooperation is intended to further these objectives. Both sides welcomed Australia joining the forthcoming Malabar Exercise: RM

— रक्षा मंत्री कार्यालय/ RMO India (@DefenceMinIndia) October 27, 2020
Have you read?
India poised to direct the activities of the Quad
India's strength QUAD-ruples against China
India holds the key to the success of Quad 2.0
Landmark defence pact brings India and US closer than ever
India and US move towards securing the Indo-Pacific
It's B for business as India-Australia come together to forge a new power bloc
India-Australia are the architects of a new World Order
Originally conceived as a bilateral exercise between India and the US, it came to include Japan as a permanent partner in 2015. The Malabar exercise "collectively support a free, open and inclusive Pacific and remain committed to a rules-based international order".
First such exercise since 2007
Originally conceived as a bilateral exercise between India and the US, it came to include Japan as a permanent partner in 2015. Australia had last participated in the Malabar in 2007 but strong protests by Beijing, which labelled the exercise "anti-China", had then stopped this quadrilateral exercise in its tracks.
However, the Indian Navy does conduct bilateral exercises with its Australian counterpart and so, the two forces are not unfamiliar with each other's tactics and procedures.
India seems more willing to assert itself
The military stand-off in Ladakh following the unprovoked aggression by China seems to have forced the Modi government to shed its past diffidence about upsetting China. The official statement issued by India made that quite clear.
An Indian government statement said the partners in the Malabar exercise "collectively support a free, open and inclusive Pacific and remain committed to a rules-based international order".
In response, the Australian foreign and defence ministers jointly issued a statement saying the exercise "will bolster the ability of India, Australia, Japan and the United States to work together to uphold peace and stability across our region".
Read more:
Why US and India need each other to combat terror around the world
India-Japan-Australia supply chain plan to check China's dominance
India is the new go-to entity in the Indo-Pacific
India-Japan ties scale new heights
India asserts itself in the Asia Pacific
China's not-so-peaceful rise bringing Quad nations together
Though neither statement mentions China but the language leaves no room for doubt – it is China that is unilaterally, and against every tenet of international law, claiming almost all of the South China Sea and disturbing the peace and stability of the Indo-Pacific region with its military aggression against neighbours such as India, Taiwan, Vietnam, the Philippines and Indonesia.
This decision by India to invite Australia to join the Malabar exercise is another strong message to Beijing to scale down its aggression across the disputed trans-Himalayan border between the two countries.
It is also being read by New Delhi's foreign policy community as a pushback against the not-so-peaceful rise of an authoritarian China.
US spells out the goals quite clearly
US Secretary of State Mike Pompeo has not allowed diplomatese come in the way of his speaking his mind. "As partners in this Quad, it is more critical now than ever that we collaborate to protect our people and partners from the (Chinese Communist Party's) exploitation, corruption and coercion," he had warned at a meeting of the foreign ministers of the four-nation grouping in Tokyo recently.
Multi-nation democratic front needed
Though India has stopped short of making such belligerent statements, the fact that it did not comment on or dissociate itself from a similar statement made by Pompeo in New Delhi at the end of the 2 + 2 dialogue this week seems to indicate a growing acceptance in India of the need to form a multi-nation democratic front to counter unilateral Chinese attacks on the free world.
Milestone in Indo-Australian bilateral cooperation
At another level, Australia's participation in the Malabar exercise marks another milestone in bilateral cooperation between two of the region's largest democracies. It is also very timely because both countries are facing a concerted but undeclared assault on their geographical, political and economic interests by an increasingly assertive and aggressive China.
"The bilateral relationship is taking off for the first time. I've never seen such comprehensive understanding between the two countries," said Rory Medcalf, Head of National Security College, Australia, at a session on "Partners in Revival: Giving Meaning to Ambition" at the virtual India Global Week (IGW) conclave organised by India Inc. in July. (Disclosure: India Global Business is also published by India Inc.).
Exercise could pave the way for a formal military alliance
A big question playing on many minds is: Will this Malabar exercise be the first step towards forming a NATO-like body in the Indo-Pacific as a bulwark against China?
It is still too premature to comment on this. It is, however, a fact that given the size, economic strengths, technological prowess and military muscle of the Quad nations, it can, if it presents a united front, pose a formidable challenge to Asia's new emerging hegemon, which would rather keep these countries apart so as to be able to bend each to its will.
No wonder Beijing is rattled at what could well be the first chapter of a new iteration of a free and democratic global order.
Podcast: Play in new window | Download