International organisations not fit to handle 21st century crisis says Syed Akbaruddin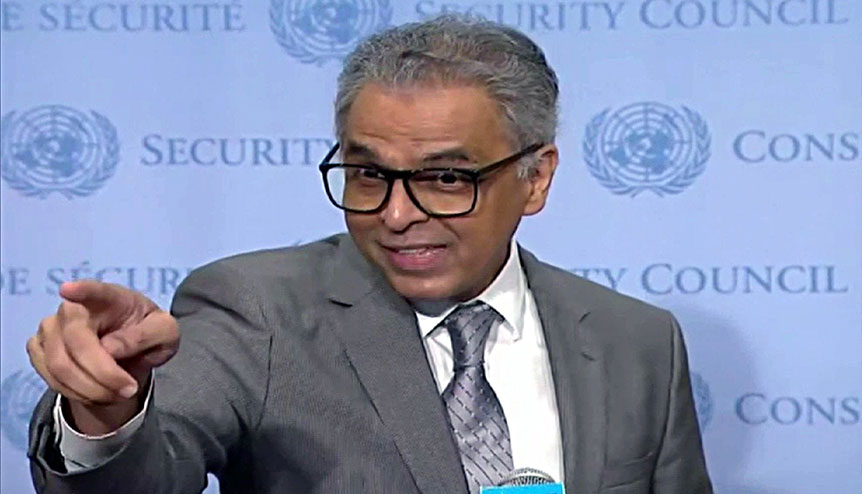 India's former permanent envoy to the UN calls for multilateral organisations to move with the spirit of the times and one important approach would be to adjust and adapt.
Many who have worked with, or remember, Syed Akbaruddin, India's former permanent representative to the United Nations (UN), will recall that he was one of the few Indian diplomats instrumental in taking Indian diplomacy into the realm of twitter during his stint as spokesman for the ministry of external affairs (MEA).
But Akbaruddin's finest moment as his country's official envoy to the United Nations in New York was also India's shining moment in showcasing its foreign service personnel and civil servants on an international theatre.
Akbaruddin and his team have been instrumental in constantly reminding world leaders of Pakistan's sponsorship of terrorism as a state policy and, in taking note of these efforts, the UN declared Masood Azhar as a global terrorist.
Related stories: Terrorism, multilateralism and reforms will dominate India's UNSC agenda
Changing world order sets the backdrop for India's stint at the UNSC
With G7 membership India can lead a new world order into the future
Does the world need the UN or WHO anymore?
When China negotiated, unsuccessfully, on behalf of Pakistan to take the latter's protest on the issue of Article 370 to the Security Council, Akbaruddin and his team once again successfully maintained India's sovereign position and rights.
Following China's initiative, where Beijing and Islamabad came out embarrassed by the UNSC's decision to favour India's position, Akbaruddin came out to conduct a memorable press conference to detail New Delhi's position and proceeded to school a throng of partisan journalists with a refined tutorial in Indian diplomacy.
"We have moved move from an age of cooperation to an age of competition, even confrontation. Hence, multilateral organisations are not measuring up because they were built with cooperation in mind." – @AkbaruddinIndia, Former, Indian Ambassador to UN, @mygovindia #BeTheRevival pic.twitter.com/AwYjf378fk

— India Inc. (@IndiaIncorp) July 10, 2020
A tutorial in diplomacy
A savvy and well-versed Akbaruddin had the media eating out of his hands by thwarting queries on Kashmir, Article 370, state sponsored terrorism and matters related to minorities by reinforcing his country's sovereign position. His quotes like "I am a newcomer to this game," and "please cut me some slack," disarmed the media and drove India's point home with the effectiveness of someone sliding a stiletto to the heart. It was soft diplomacy at its finest and the interaction at the UN was beamed into billions of homes back in India making Akbaruddin a rock star among diplomats.
Now retired from public service Akbaruddin still retains his polished sureness and ability to say the right thing in any situation. As a high value speaker at the India Global Week (www.indiaglobalweek.com) #BeTheRevival: India And A Better New World, Akbaruddin took part in an enlightening session titled Damaged Goods: A Relevance Crisis for Multilateral Institutions. Other guests at the high-powered panel were Ashok Malik, Policy Advisor, Ministry of External Affairs, India; Tanya Spisbah, Director, Australia-India Institute, New Delhi and Richard Moore, Director General, FCO. The discussion was effectively steered by the BBC's Ben Thompson.
In these troubled global times cooperation should have been high on the agenda between international organisations but this is not the case. Organisations tasked with addressing specific international problems appear to be more fragile than ever. Thus, it is fair to state that multi-lateral institutions are losing their relevance at a time when the world needs them the most.
Commenting on this Akbaruddin stated, "The Covid-19 crisis has put all of us under the magnifying glass. Human frailties of institutions and organisations are pretty evident. Sadly, international organisations do not appear to be fit for the purpose of handling a 21st century crisis. They perform below par and when most needed many of them are missing except on the fringes and some seem to be sick, others are ailing and still some are hanging to their lives by a mere thread. While their structures remain intact the limitations of their capacities, inadequacies of their authority and their diminishing role is pretty evident. Multilateral organisations have been a collateral damage of Covid-19 but this was in the making for some time. The shortcomings are now visible and obviously we need to address them."
Need for collective action
On the need for organisations working together for the common good given that there currently so many differences on the world stage that people are no longer shamed into action, or the collective action of a group, Akbaruddin was queried on whether there is still such a thing as the common good.
He argued that the concept of a common good was the very underpinning of all international cooperation – whether multilateral, bilateral, or unilateral. The difference, according to Akbaruddin is that the world has moved from an age of cooperation to an age of competition, or even confrontation. This was one among many reasons why multilateral organisations today are not measuring up – because they were built with the goals of working in a cooperative manner.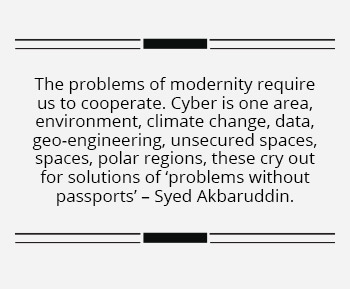 "What we today have is two of the largest countries pulling in different directions" he stated. "We have the US which has walked out on, by my reckoning, 12 multilateral plurilateral arrangements, or treaties, and this is not a small number. On the other hand, we have another country like China trying to work the system to the detriment of the others. So obviously we have a conflict of interest there and therefore you are not going to get the cooperation that was underpinning the plans that a multilateral organization stood for.
"That said the problems of modernity require us to cooperate. Cyber is one area, but I could mention others – environment, climate change, data, geo-engineering, and what about unsecured spaces, spaces, polar regions, all these cry out for solutions of 'problems without passports' and we will require that cooperation. Whether these are the systems that will lead us there, or whether we require new systems is the issue at debate. We will require international cooperation. Countries like India, for instance, will require more and more cooperation."
New structures, fresh priorities
The emergence of new structures and fresh priorities have become cyclical in nature. Breaking down barriers and walls and then building them again have become the norm on the international stage as priorities and cooperation between countries are dynamic and constantly shifting.
Akbaruddin agreed to this premise to state that such phenomena was due to the fact that, "Institutions are a reflection of the world as it was when they were created. Nobody foresees the future and so, in some ways, the UN and its multilateral agencies have done a good job because they have proved to be resilient. Its predecessor, the League Of Nations, did not even last 20 years. But that said, that's not an answer to the needs of people who have great hope in them. It's good for intellectuals to say things that occurrences are cyclical and we will overcome them gradually and on the one hand we are used to quick upgrades on an iphone – It takes a mere 5 minutes to upgrade an iphone!"
Quick decisions and faster actions
Focusing on the fact that people today are in the habit of making quick decisions and taking even faster actions, Akbaruddin stated, "I am not saying that everyone must be like the iphone – It is therefore important for international institutions to move with the spirit of the times. And that spirit of the times requires a willingness to adapt and adjust. That adjustment can be around issue-based coalitions. It need not be the end point, but it can be the catalyst."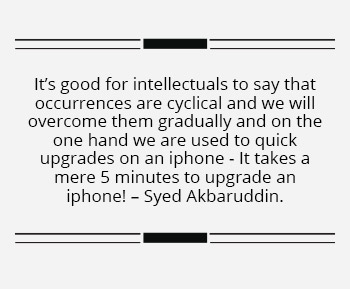 Focusing on India's decision to take a leading role on many international issues and coalitions Akbaruddin commented, "We have the international solar alliance, then we have an initiative where the UK and India are working on disaster resilient infrastructure. These issues have specific, issue-based impacts. Everybody requires cross boundary cooperation and when ready these issues could move to a broader platform for legitimacy. But we will need to work in smaller groups, get things in order and then move to larger groups.
"The problem now is we will need smaller groups which are more diverse than they were ever before. It was ok for the G7 to be the catalyst for change, but today there are new countries with the capabilities, desire and willingness to be helpful in that process – Brazil, India, South Africa and Australia now need to be in that group."