Innovation is the answer to India's challenges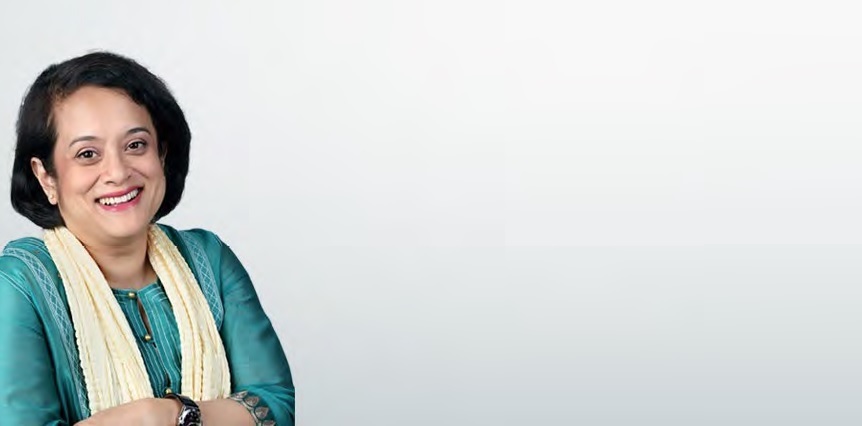 As Managing Director for South Asia and Vice-President, Sales & Marketing Group, of Intel Corporation, Debjani Ghosh is responsible for establishing new growth areas for the US-headquartered tech giant in the region. She works with governments and industry in South Asia to establish policies and initiatives that help accelerate the adoption of technology in the region, especially as an enabler of inclusive growth and development.
Two years into the Digital India, what is the experience of tech collaborators like Intel?
For nearly two decades now, Intel has been committed to digitally transforming India into an empowered society and knowledge economy with a focus on education, skill development and innovation. Now, with the government's vision for a digital India, we've got a higher impetus to drive the next wave of computing among non-urban users, and make an impact at the grassroots level. Our experience shows that public private partnerships and local innovation are two of the key components to achieve the Digital India goals.
Over the last two years, we have collaborated with the government for multiple initiatives, one of the key ones being the creation of a blueprint for the digitisation of non-urban India. As a part of this, in 2015, we announced our flagship first-time PC user campaign, Ek Kadam Unnati Ki Aur [One step towards progress], to deliver PC access and digital skilling for non-urban citizens. Till date, we have touched the lives of 500,000 citizens across 11 states in the country, through 100 Unnati Kendra digital learning centres.
In addition, innovation – more specifically, a local, sustainable innovation ecosystem – is needed to address the country's challenges. With 18 years of strong and consistent growth in engineering-focused R&D in India, we are committed to delivering high-end and advanced engineering work involving significant innovations across chip design, graphics, platform and software for cloud, datacentre, devices and IoT markets. These technologies have enabled us to create a community of Indian innovators across age groups, wherein hundreds of prototypes and a few real solutions have emerged from initiatives such as the IoT Labs, Intel India Maker Lab, and the Intel & DST Innovate for Digital India Challenge, to incubate and accelerate technology solutions developed by Indian makers.
Last mile connectivity, especially in remote areas, remains a big problem in India. How can the government overcome this?
Last mile connectivity is not a problem that the government can and must solve alone; the industry has an equally critical role to play. We must realise that Digital India is a pyramid – the strength of its superstructure will depend on the base, and to create this base, a strong public private partnership across three areas, is the need of the hour.
First, a strong base will be crystallised with the successful completion of the national fibre-optic project, which will on-board first-time internet users onto the network of a digitally connected India. Just as important as this project, is the industry's rollout of 4G network. Jointly, this would enable the delivery and scale of cloud as a utility to every citizen, creating access for over one billion citizens to on-demand e-governance and digital services in healthcare and education. Indigenous data centres, cloud-powered services, and connected devices will serve as the end-to-end platform to deliver and deploy these citizen-centric services. This will also generate data, analyses and insights to drive further innovation, releasing new services and businesses back into our economy.
In parallel, there has to be a collective realisation that a transformative impact at the macro-level will begin by creating a digital footprint at the grassroots. For this to happen, industry, academia and government must come together to be the catalyst behind driving the government's Digital India vision and bringing about scalable change through technology access in the non-urban and rural areas.
Finally, fostering a culture of local innovation that helps India develop tech solutions relevant for its non-urban regions, will help address issues related to last mile connectivity, as they come up with solutions that cater to local problems. To achieve this, there is a need to inculcate a temperament of innovation in our education system that would enable local solution thinking to solve India's problems.
How deep is Intel's commitment to Digital India? In which specific areas are you participating?
For almost two decades now, Intel has been committed to digitally transforming India into an empowered society and knowledge economy. Our commitment for Digital India can be broadly categorised into the following three focus areas:
Accelerating Innovation – There is a need to build a local, sustainable innovation ecosystem to address the country's challenges. We have been committed to delivering high-end and advanced engineering work involving significant innovations across chip design, graphics, platform and software for cloud, datacentre, devices and IoT solutions. These technologies are also available to makers, for whom we are fostering innovation opportunities at every level, from schools to colleges, from entrepreneurs to enterprises with initiatives such as the Atal Tinkering Labs, the Internet of Things Labs, the Intel & DST Innovate for Digital India Challenge, and the Intel India Maker Lab.
Building Solution and Ecosystem Leadership for the Backend Infrastructure – As part of our growth strategy, Intel is moving away from a hardware-driven infrastructure approach to a software-defined approach. This will enable customers such as the Government of India, to build solutions and lay the foundation for a digital infrastructure in the country. Big data analytics, cloud and HPC will accelerate through government initiatives such as smart cities and UID.
Skill Development & Capacity Development – Inclusive growth is the key to India's digital development. Every citizen has to have access to the basics like education, healthcare, and financial services. To achieve this, we have been trying to increase relevance and digital know-how for the population.
More than 80 lakh citizens have been trained in the country across skill development and capacity building initiatives; Our flagship initiative for 2016 – 'Ek Kadam Unnati Ki Aur' has been a great learning experience, taking us to exciting new markets and tapping new demographics.
What is the status of Intel India Maker Lab initiative? Can we expect any breakthrough in hardware development in India?
In August 2015, we set up the Intel India Maker Lab to help start-ups accelerate the creation of new products and solutions by providing them infrastructural, technological and mentorship support. 17 start-ups have been utilising the lab facilities for projects in the areas of education, sports, health, agriculture, BFSI and e-governance across IOT, cloud, and client compute. Of these, nine these start-ups have already launched their products in the market; five have their products ready and are moving to customer trial stage, and the remaining three are in the design stage.
Some prominent start-ups from the first batch include Avench, Aerxlabs, and GreenOcean, among others.
Aerx Labs: Aerx Labs' core product portfolio includes Flight Simulators. Its model is to leverage standard Intel® Core™ i7 socketed boards & boxed CPUs from channel and apply their domain knowledge in aircraft systems to integrate complex mechanical, electronics and software elements to create the flight simulator. (www.aerxlabs.com)
Avench: Avench has integrated Intel's Next Unit of Computing (NUC) platform along with Wi-Fi module & storage to build a Content Access Point which is used for enabling 50 simultaneous HD video stream users for education & transportation verticals. (www.avenchsystems.com)
Green Ocean Research: Green Ocean Research has built a medical diagnostic platform using Intel® Edison Board to monitor multiple parameters such as BG, Pulse oximetry, BP etc. (www.greenocean.in)
Talk us through the genesis of the Intel-Department of Science & technology Innovate for Digital India Challenge.
The Intel and DST Innovate for Digital India Challenge with support from MeitY and MyGov, was announced in 2015, and aimed to foster a culture of innovation by encouraging Indian citizens to develop customized and localized technology solutions to solve local problems under Intel's aegis of platform architecture, prototype incubation, and technology mentorship. Currently, six of our top 10 teams have achieved what we call the mind-to-market philosophy, by taking their solutions not just to the Indian, but even the global market.
Our top three winners were:
Jayalaxmi Agrotech, an end-to-end solution, with a user-facing app that delivers information about 20 crops in regional languages and audio-visual content, for the benefit of uneducated farmers. The data is delivered through a local server (Agripole) based on Intel® Edison. The solution is being used by 7400 villages, downloaded via 300 Agripoles, reducing input costs by 14 per cent and increasing profitability by 17 per cent. The company has secured 3 Fortune 500 clients and is currently even deployed in Ghana, Africa.
Asha+, a low-cost, handheld, 'point of care' device which tracks and monitors patient health levels remotely to allow millions of geriatric, post-op and rural patients to check their vital stats at home. This 7-in-1 device has had success in trials for both clinical and commercial use, and is currently in talks with healthcare clients in Sweden.
T-Jay*, a hand-glove that battles epilepsy with a wearable device that detects and diagnoses epileptic fits before they occur for real-time intervention. It reduces diagnosis duration from 45-60 minutes to real-time within seconds.
Building the momentum of the inaugural challenge, we announced Intel Digital for India Challenge 2.0 this year. Intel India Maker Lab will also be available to the top 10 winners of this Challenge, and have access to infrastructure, tools and technology and mentorship. We will continue to focus on the maker market in India as that is the key to ensure sustainable technological solutions to the local problems faced by country.
Intel recently launched three initiatives to accelerate digital literacy at the grassroots level; are you targeting any particular numbers?
In May this year, we announced our intent to launch the Challenge 2.0, which went live in early September, and have received 800 applications as of the deadline, well over our target of 500. We recently identified the top 10 teams that are already in the accelerator phase, and we will have our next set of winners by early next year.
On the same day, we had launched EK Kadam Unnati Ki Aur, a blueprint for India's digitisation, as part of which 100 Common Services Centres across 11 states were to be converted into 'Unnati Kendras' or digital training and PC experience centres. We have achieved this even before the timeline we set out for ourselves, and as of today, made the experience of personal computing real for more than 500,000 local citizens. This effort is a part of the larger goal to make India a knowledge economy. While the rapid penetration of mobile phones has accelerated content consumption, our recent research with KIMRB and ISB shows that to progress towards becoming a knowledge economy, larger screens, such as those on the PC, drive higher content creation and productivity, enabling citizens to contribute to the country's economic growth.
What's in it for Intel?
Our global virtuous cycle of growth complements the Digital India initiative. India is a key market for the mothership, both in terms of engineering talent as well as business. For Digital India to succeed, India must have a strong backbone of data centers and cloud computing that becomes the engine for all the offerings needed to connect all citizens with education, healthcare and other essential services.
Digital India is likely to be the world's largest cloud deployment and its success will be determined by the ability to develop an e2e platform connecting the government and citizens to the cloud. And that aligns perfectly with the Intel strategy outlined by our global leadership where we believe the cloud is the most important trend shaping the success and future of the connected world.
Our DNA lies in making amazing experience possible through technology, and as India is poised for its digitization, we see a very clear alignment between our business strategy and the value addition we can create here. Though technology has been adopted very well in silos, the entire nervous system of the country's technology ecosystem needs to be connected for a real Digital India to take shape.
This has been a journey of enlightened self-interest for us, because India gives us the opportunity to create long term markets, which is what we do well, world over. In India, we are committed to make technology accessible, a win-win situation for us, from a business stand point, and for India, from a digitization perspective.
How long will it take for Digital India to start showing concrete results – creating jobs, delivering telemedicine, distance education and government services?
Digital India is already showing results. You can't observe them by reading a report, but rather by touring towns and villages across India to observe how technology is changing lifestyles. It is the most rewarding feeling to talk to people in non-urban India, and hear how technology has helped them earn more for their families or to do more with their education and jobs, and to feel that we have played a part in making that possible.
Our most recent data shows that 500,000 citizens have walked-in to the Unnati Kendras since the launch of the first center in Telangana 6 months ago. Nearly half (46per cent) are learning how to use a computer to access educational content and over a quarter (27per cent) are using PCs for entrepreneurial activities and creative expression. One-third (33per cent) of these walk-ins are students and youth aged between 18-25 years and nearly one-fourth (22per cent) are women.
What are your future plans in India?
The Indian government's Digital India vision is about using technology to create a smart infrastructure to deliver government services to citizens in real time as well as encourage makers to create indigenous solutions to address local problems. We have the assets and the experience to power every segment of this new smart and connected world, from the edge to the cloud, resulting in a robust, secure and high performance infrastructure that can improve the lives of over a billion plus people. By leveraging out our expertise in 5G, HPC, artificial intelligence and machine learning space, we will continue to power smart infrastructure in the spaces of smart cities, agriculture and transportation.
Finally, we will continue to work with the government in India and local ecosystem players to accelerate Digital India and Make in India initiatives. Our focus area remains the digital empowerment of citizens, to create citizen access and impact, and to lead development of customized solutions for India through makers and PC devices.