Indo-Pacific: India's factor markets hold back full integration with region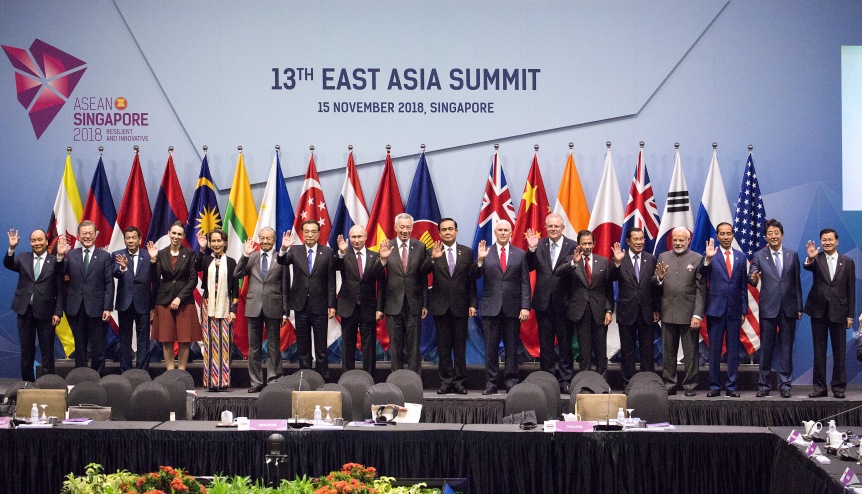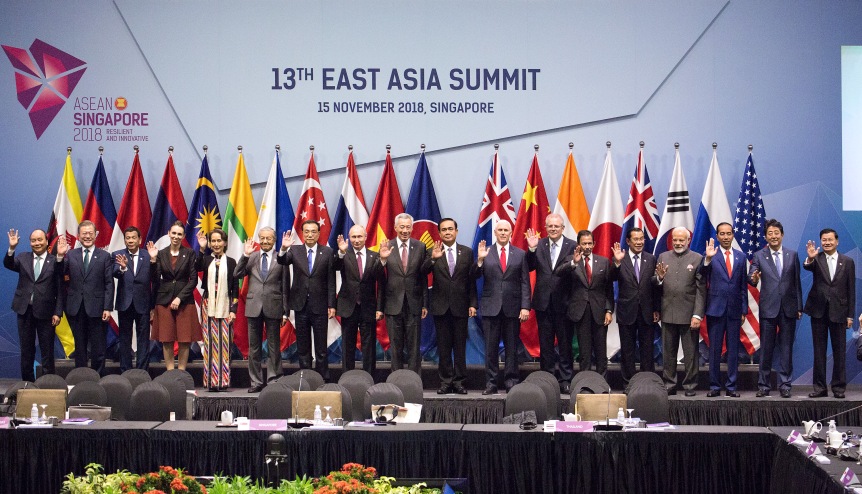 India has close economic and strategic ties with the ASEAN, Japan, South Korea, Australia and New Zealand. But the new government will have to overhaul the country's land, labour and capital markets for the relationship to reach its full potential.
Even as India's elections were winding their way to a final denouement, the Indian Navy was conducting drills in the disputed South China Sea, claimed in full by China, with the navies of the United States, Japan and the Philippines.
India's Narendra Modi government, which has made normalisation of relations with China a top foreign policy priority, has simultaneously made balancing Beijing's strategic rise in its neighbourhood a major geopolitical goal.
Hence, it's increased diplomatic and economic outreach to countries in the Indo-Pacific – stretching from the Arabian Sea to the Indian Ocean and the Pacific encompassing the 10-nation ASEAN bloc, Japan, Australia, New Zealand and South Korea – what Japanese Prime Minister Shinzo Abe has famously christened the Arc of Democracy.
Protecting the sea lanes
India has, time and again, repeated its commitment to every nation's right to free and unfettered access to the world's oceans, which, the entire free world acknowledges, in a necessary pre-requisite for increased global trade and shared economic prosperity.
The primary goal is to increase economic and trade ties with countries in the region. The geo-strategic engagement with the US, Japan, Australia – including the on-again-off-again discussions on the Quadrilateral comprising these countries and India – and others is the means to that end.
Deeper ties with ASEAN
The Modi government's Act East foreign policy thrust took a decisive and tangible turn last year when he invited 10 heads of states or governments of the ASEAN countries to be chief guests at India's 2018 Republic Day parade – the first time that so many world leaders – from Brunei, Cambodia, Indonesia, Laos, Malaysia, Myanmar, Philippines, Singapore, Thailand and Vietnam –attended the annual Indian show of its military might and cultural diversity.
Singapore and Vietnam, two of India's closest allies within the ASEAN, have long urged India to play a more assertive role in the region even as four of the 10 ASEAN members – Vietnam, Brunei, Malaysia and the Philippines – are directly affected by China's unsubstantiated claims over their territorial waters in the South China Sea.
It is in this context that New Delhi has upgraded its relationship with ASEAN to a strategic partnership and has, in recent years, sought to deepen its defence and strategic relationship with Vietnam.
But closer ties and deeper economic engagement with ASEAN is not without its risks to India. In 2017-18, bilateral Indo-ASEAN trade grew an impressive 14 per cent to more than $81 billion, but landed India with a trade deficit of about $13 billion.
So, a closer economic integration as enunciated in the ASEAN-India FRA, while desirable in the long run, can cause pain for Indian manufacturing companies in the short term.
However, with more Chinese mobile phone companies now setting up components manufacturing facilities in India and Korean major Samsung doing the same for mobiles and other electronic items with the aim of making India a manufacturing hub for these items, the country is likely to attain competitiveness in a number of products in the near future.
India can then become a net supplier of these products across the huge ASEAN market.
The Delhi-Tokyo tango
Among all global leaders, India's Modi and Japan's Abe share, arguably, the warmest personal relations and this chemistry have rubbed off on bilateral relations between the two countries.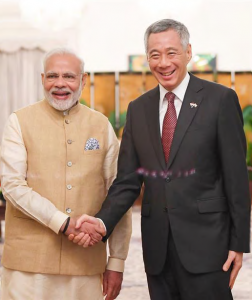 Japan has emerged as one of India's closest strategic and economic partners over the last couple of decades. Modi and Abe have promised to raise this relationship to the next level by recognising, according to the joint statement issued at the end of summit meeting in Tokyo last year, "the unparalleled potential for development of relations between the two countries". They also reiterated that the two countries should work in tandem to establish a rules-based world order.
The two Prime Ministers agreed to upgrade their annual 2 + 2 dialogue involving the foreign and defence ministers on the lines of the one India has initiated with the United States. Currently, this dialogue is held at the level of the junior ministers of the two departments.
India and Japan have mega plans to develop infrastructure across the Indo-Pacific in order to offer countries in the region an alternative to the Chinese Belt and Road Initiative (BRI) that saddles poor nations with disproportionately large loans, compared to the size of their economies, at high interest rates, which they have been unable to repay. The way out of this debt trap for these countries is to hand over important strategic assets to China.
A fact sheet issued by the two countries at last year's summit said "Japan and India believe that all development cooperation must be carried out in an open, transparent and non-exclusive manner and based on international standards including respect for sovereignty and territorial integrity of nations, responsible debt financing practices, and in alignment with local economic and development strategies and priorities".
The list of projects they propose to cooperate on include the development of LNG infrastructure in Sri Lanka, railways, roadways and bridges in Bangladesh, education, electrification and housing in Myanmar and healthcare in Kenya.
Japan is also helping India upgrade its own creaking infrastructure. It is the lead partner in the $90-billion Dedicated Freight Corridor connecting New Delhi with Mumbai, as well as the $15-billion Bullet Train project between Mumbai and Ahmedabad.
However, the pace of progress on the project and initiatives agreed to by the two leaders has been slow. The problems are mainly on the Indian side – meandering land acquisition processes and a much-reformed but still long-drawn environmental clearance procedure. These are challenges that the next government in India will have to tackle.
Kimchi and khichdi do mix
Last year, Kia Motors, South Korea's second largest automaker, announced its plan of setting up a $1-billion auto assembly plant in Andhra Pradesh. Kia Motors will begin work on building the factory soon.
Then, India's largest engineering and construction company, Larsen & Toubro (L&T) announced that it had entered into a $700-million contract with the Ministry of Defence to make and supply one hundred 155 mm/52 calibre tracked, self-propelled artillery guns to the Indian Army.
The technology for the guns will be provided by South Korea's Hanwha Tech Win. This will mark the entry of the Indian private sector into the domestic manufacture of offensive weapons systems.
These announcements mark a deepening of the economic engagement that began in the 1990s with the entry into India of four till then practically unknown South Korean brands – Samsung and LG in home appliances and electronics and Hyundai and Daewoo in automobiles.
Hyundai, which has fought its way to the second position in the market, has helped nurture and build a small car manufacturing eco-system in India, along with Japanese rival Suzuki. Its factory near Chennai produces more than 600,000 Made in India cars, 40 per cent of which it exports to markets around the world.
It has created linkages with India's burgeoning small and medium (SME) sector and built up a base of suppliers, vendors and service producers that have helped India emerge as the small car hub of the world.
South Korea has been aggressive in betting on India's economic and strategic potential. Bilateral trade has grown more than 40 per cent since 2009, and South Korean companies such as Samsung, LG and Hyundai are among the most respected brands in India.
The two countries are now looking at ways to expand their strategic partnership in areas where there are considerable synergies. India's Look East and Act East policies and its efforts to increase its global heft dovetail nicely with South Korea's policy of diversifying its overseas markets and balancing the strategic matrix in Asia.
India has also deepened its trade relationship with Australia and New Zealand, although it the strategic and geopolitical element that has emerged as the most important component of India's ties with the former.
Challenges ahead
There was a report in The Economic Times recently that spoke of Japanese and Korean companies, looking for an alternative to China, wanting to invest $50 billion in India.
But India's antiquated labour laws, its still labyrinthine land acquisition processes and the high cost of capital in India are acting as impediments to the flow of this investment.
The next government will have to pay attention to reforming India's factor markets – land, labour and capital. This will not be an easy task.
All three will challenge the political will of the government as there are entrenched special interest groups – farmers, trade unions and the powerful status quo lobby – that are firmly opposed to them.
Despite the massive possibilities and the warm bilateral relationships, India will find it difficult to fulfil the full potential of its close geo-strategic embrace of the Indo-Pacific without these reforms.