India's transport infrastructure: Running on renewables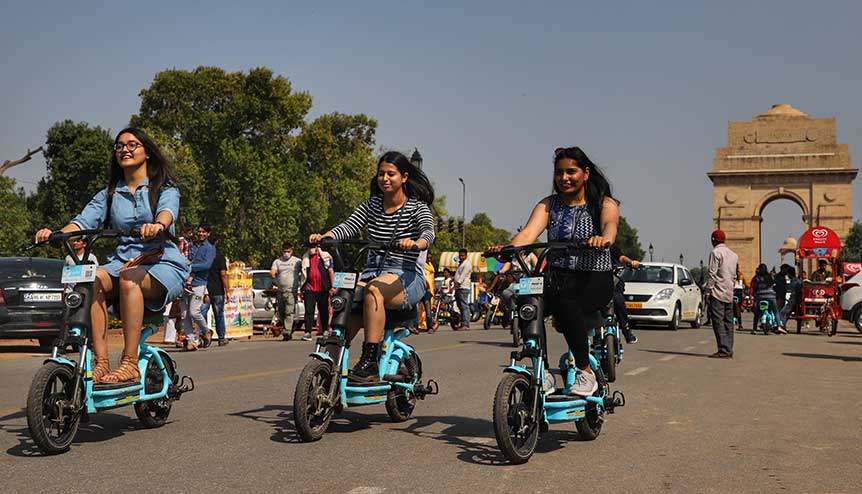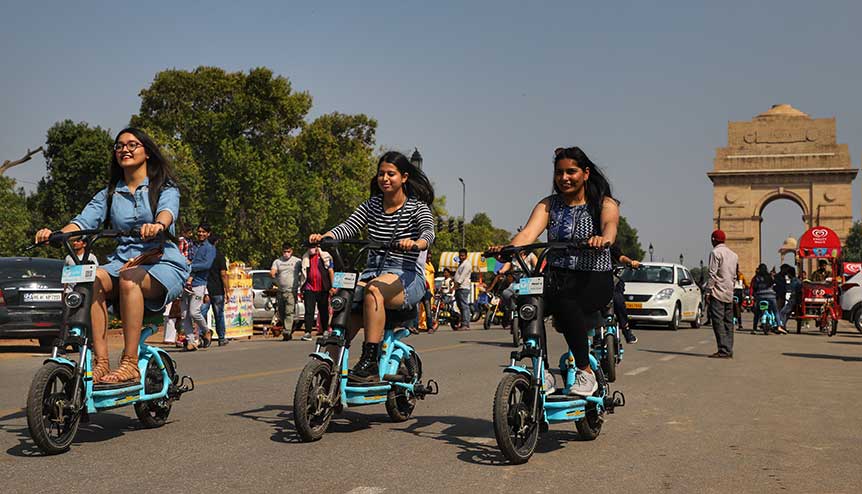 The inauguration of Indian Navy's largest solar power plant last week and an industry-wide appeal to scale up electric mobility show that India is well on the road to a 100% switch from fossil fuels to electric power by 2030.
Imagine Chandni Chowk in 2030.
One of the busiest network of streets and bylanes in the heart of the Indian capital New Delhi, usually full of blaring car horns, the billowing smoke from vehicle exhausts and the general air of toxic pollution all around.
Except that by 2030, if all goes according to plan, there will be no vehicular pollution in Chandni Chowk – or anywhere in India's major cities for that matter.
While India has made massive strides in the energy sector in recent years, the Narendra Modi government has set the target of converting all cars to 100% electric vehicles by 2030, a move described by experts and officials as ambitious and inspiring.
The target is not just based on the increasingly toxic levels of air in India's metro cities, but also on the assessment of future vehicular traffic and car sales.
The number of vehicles on Indian roads is set to grow to more than 550 million by 2030 – and how India traverses the road ahead will determine whether it will stumble or leapfrog into the future of transport. Norway – which has been a global pioneer of clean energy – has not only offered valuable knowhow to India but has also been full of effusive praise for the way the government has set its sights on green transport infrastructure.
Focus on energy security
"The target of 100 percent EVs by 2030 set by the Indian government is both ambitious and inspiring… The switch from fossil fuels to electric power will be beneficial for India's energy security, Indian manufacturing, local air pollution and the reduction of greenhouse gases. Right now, India has the opportunity to leapfrog transport infrastructure based on fossil fuels and choose to develop green transport solutions," said Nils Ragnar Kamsvåg, the Norwegian Ambassador to India.
With the kind of scalability and volume that the Indian transport sector enjoys, it's possible to completely transform the market for green transport solutions and usher in a new age of zero emission transportation in India, say analysts. Led by Prime Minister Modi, the government of India has been focusing on implementing wide-scale reforms towards a secure, affordable and sustainable energy system to power India's transport infrastructure and lead to robust economic growth.
Boosting energy efficiency
Even outside the renewable sector, the country has made huge improvements to ensure full access to electricity, bringing power to more than 700 million people since 2000. It is pursuing a very ambitious deployment of solar and other renewable energy and has boosted energy efficiency through innovative programmes such as replacing incandescent light bulbs with LEDs under the Ujala scheme.
Under Prime Minister Modi, the country is also addressing serious health problems caused by air pollution for its major cities, providing 80 million households with liquefied petroleum gas connection (under the Pradhan Mantri Ujjwala Yojana scheme), thereby reducing the exposure from biomass cooking stoves – which is a major cause of acute respiratory diseases.
The efforts have drawn praise from the highest quarters of global leaders.
"India's achievements in the energy sector in recent years have been outstanding… India is introducing important energy pricing reforms in the coal, oil, gas, and electricity sectors which are fundamental to further opening the energy market and improving its financial health. It is taking significant steps to enhance its energy security by fostering domestic production through the most significant upstream reform of India's Hydrocarbon Exploration and Licensing Policy (HELP) and building up dedicated oil emergency stocks in the form of a strategic petroleum reserve. The scale of these achievements is hard to overstate," according to Dr Fatih Birol, Executive Director of the International Energy Agency (IEA).
E-rickshaws and CNG cars
From e-rickshaws to CNG-driven cars and an inter-connected network of charging stations, several projects are already underway to streamline India's green transport infrastructure network.
But India has also embraced sustainability in the unlikeliest of places – the Indian Navy, which recently inaugurated its largest solar power plant with a capacity of 3 MW in Kerala.
"Sustainability in transport infrastructure is a trend that has been in the focus of militaries across the world with an increased attention on operational efficiencies and reduction of the environmental impacts of daily operations. These were outlined as a part of the Indian Navy's Environment Conservation Roadmap (INECR), when it pledged 1.5% of its 'Works' budget towards Renewable Energy generation and planned 24 MW of solar power generation projects," said Mathew George, aerospace and defence analyst at GlobalData.
Local industry capability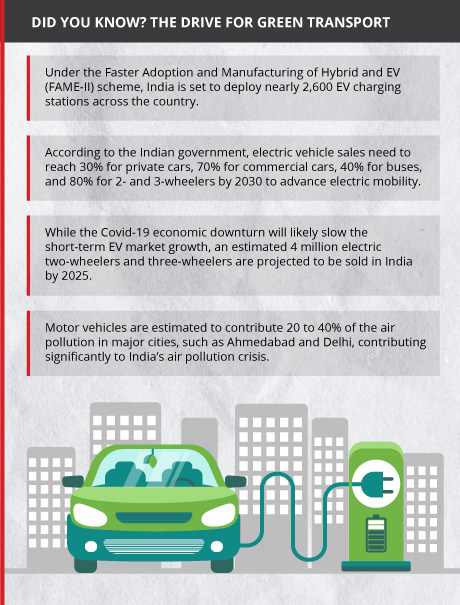 "This is the second announcement on sustainability made by the Indian Navy within a span of three days with another solar plant of 2 MW inaugurated in Mumbai on July 20. Both plants showcased and highlighted the use of a 100% indigenous components. The potential of renewable energy isn't just limited to shore-based naval operations. The Indian Navy has previously adopted solar as a power source for systems on the INS Sarvekshak auxiliary ship. Autonomous operations decoupled from the vagaries of national power supply, and the development of local infrastructure to reduce the dependence on any external influence is the other goal here. The effects here are to highlight indigenization and local industry capability while also focusing on the reduction of environmental impacts of the Indian Navy," George said.
The move follows the government's initiatives at all 12 major domestic ports across India to switch to renewable energy to meet their entire power requirements – making India the first country to have all government-owned ports running on solar and wind energy. Work is underway for installing almost 200 megawatt solar and wind power generation capacity at the ports, almost 150 mw of which will be solar power and 50 mw wind power generation capacity. The capacity could be ramped up to 500 mw in the next few years.
Key to stronger post-pandemic economy
According to IRENA, a rise in global economic prosperity has led to a surge in car sales – as a result the transport sector is responsible for a third of global energy demand and one-sixth of global greenhouse gas emissions.  It is also the sector with the lowest penetration of renewable energy: in 2016 only 4% of energy consumption in the transport sector came from renewables.
And in 2017, a KPMG survey of more than 1,000 automotive executives from around the world found that most agreed the strong influence on the market exerted by the Paris Agreement on climate change could cause the share of electric mobility to rise to up to 30% of global automotive production by 2023.
That prospect – along with the economic disruption brought along by the Covid-19 outbreak – has prompted a diverse group of business, civil society, and academic leaders in India to highlight how electric mobility is critical to rebuilding a stronger post-pandemic economy in India.
Specifically encouraging the state governments of Gujarat and Telangana to adopt and implement their draft electric mobility policies, the coalition said that investing in the larger automotive and electric vehicle (EV) market, specifically through strong economic and policy drivers to rapidly scale-up charging infrastructure, is vital to India's COVID-19 economic recovery, as well as, to achieve India's national goals on electric mobility, air quality and climate change.
The proposals gain currency thanks to the strong set of signatories – which include Mahindra Electric and Tata Motors; Energy Efficiency Services Limited (EESL); a group of EV industry leaders and startups such as Bounce, Lithium Urban Technologies and Sun Mobility, along with industry groups such as Confederation of Indian Industries (CII)-India Green Building Council (IGBC) and India Energy Storage Alliance (IESA).
As India strives to build a robust renewable transport infrastructure, it can take heart from the fact that renewables are now cost-competitive with conventional fuels in many contexts. Indeed, IRENA's REmap reports show that renewables could as much as quadruple within the transport sector by 2030 and go even further by mid-decade. This is driven by a strong business case for renewables, with private sector companies leading the way in many cases. As Thierry Lepercq, Vice-President Innovation, Research and Technology, ENGIE put it: "Electric mobility is not just a vision, it's business. We're making money."