India's ties with Israel will acquire a new definition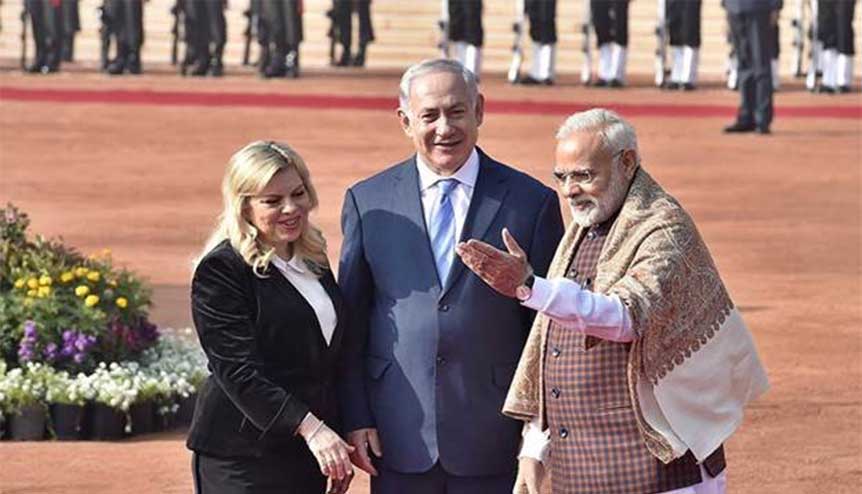 With the Arab World reestablishing diplomatic links with Tel Aviv the opportunities for New Delhi, to engage across multiple platforms, now appears to be limitless given its fruitful associations with Israel and multiple Arab states.
One of the countries whom India can count on as a reliable and strategic partner when it comes to highlighting the principles of Prime Minister Narendra Modi's 'Make in India' concept is Israel.
Bilateral ties between the two nations have been simply getting better and sustainable with the passage of time. The crux of this relationship maybe aligned towards the vertical of defence but there is a bipartisan unanimity in both countries towards extending all bonds further.
Read more:
The Abraham Accord between Israel and the UAE is a boon for India
Realising the potential of the India-UK-Israel trade triangle
Under Modi, India's ties with Israel, Palestine no longer a zero-sum game
Massive room for growth in Indo-Israeli trade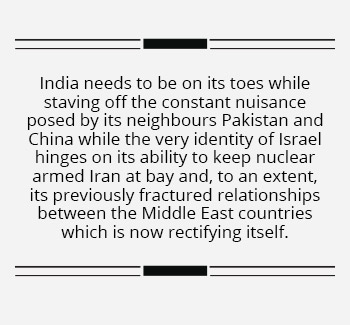 Modi has de-hyphenated India's relationships with Israel, Palestine
The strategy employed by both countries in strengthening their defence capabilities is also in contrast – India needs to be on its toes while staving off the constant nuisance posed by its neighbours Pakistan and China, while the very identity of Israel hinges on its ability to keep nuclear armed Iran at bay and, to an extent, its previously fractured relationships between the Middle East countries which is now rectifying itself thanks to the signing of the Abraham Accord between the UAE, Israel and Bahrain. The world watches if powerful Saudi Arabia will also follow suit. Oman is also preparing to sign a peace agreement with Tel Aviv to ratify its already positive ties in an official capacity.
Wonderful to catch up with true friends of India, of India-US relations and India-Israel ties.
Thank you @Conf_of_Pres @BnaiBrith @AJC_Asia @jfederations @Hadassah @IsraelBondsNews @WorldJewishCong @AIPAC @ADL pic.twitter.com/ZfmRsjFkGN

— Dr. S. Jaishankar (@DrSJaishankar) September 24, 2019
Scaling up of age old bonds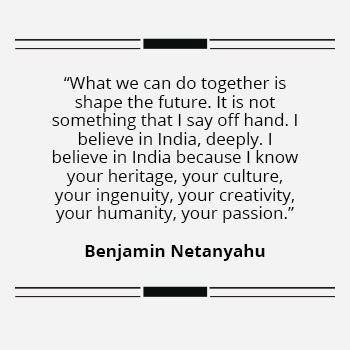 In the meanwhile, the friendship between Indian prime minister Narendra Modi and his Israeli counterpart Benjamin Netanyahu has ensured that the texture of these bonds only gets stronger and possesses the potential to be scaled up over a period of time.
Commenting on this affiliation Israeli prime minister Netanyahu had said, during his six-day trip to India in 2018, "What we can do together is shape the future. It is not something that I say off hand. I believe in India, deeply. I believe in India because I know your heritage, your culture, your ingenuity, your creativity, your humanity, your passion which is exemplified by Prime Minister Modi to change the world for the better. We are your partners and I came here to say today, Prime Minister Modi, thank you for believing in Israel the way we believe in India."
More to read:
The Israel-Palestine tightrope
India-Israel: A three-pronged partnership
Israel has emerged as a hub for deep-tech start-ups
The Road Ahead: Opportunities and challenges for India and Israel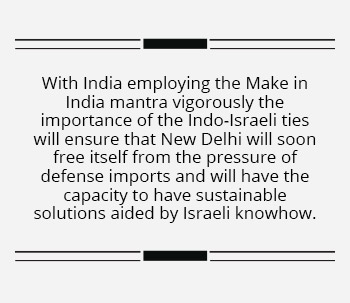 India and the UAE seek to enhance commercial ties
Modi became the first sitting Indian prime minister to visit Israel in 2017 but the two nations started forging the bonds of friendship when Modi took office in 2014, widening commercial cooperation beyond the long standing defence ties. Modi invited investments from Israeli companies. Bilateral trade jumped from $200 million dollars in 1992, when the two countries opened diplomatic relations, to $4.16 billion dollars in 2016, largely in favour of Israel. The two countries signed agreements on cyber security, oil and gas, space, science and technology and film production.
Gains for Make in India project
With India employing the Make in India mantra vigorously the importance of the Indo-Israeli ties will ensure that New Delhi will soon free itself from the pressure of defense imports and will have the capacity to have sustainable solutions aided by Israeli knowhow to create a mutually profitable eco-system of joint ventures which will enable and empower India companies to produce at home. With one eye having always been focused towards orchestrating a strategic thrust towards Asia, which would include cultivating productive relationships with Vietnam, South Korea, Singapore or Japan, Tel Aviv is acutely aware that no other nation provides it with the scope, extent and shared interests as India does for Israel.
The nuts and bolts of India's ties with Israel are delicate and yet durable just like the joint ventures between the two country's defence companies involving sensitive technology and know-how.
India-Israel-US links through defence
Israel's ministry of defence acknowledges the huge level of collaboration between the defence industries of the two countries and this strategic cooperation has actually aided India to strengthen its links with the US, following decades of dependence on former partners the Soviet Union and currently Russia.
Still more to read:
From India's farms to the UAE's tables
UAE, Saudi to make India a food security hub
What makes UAE a hub for Indian start-ups?
Modi's strategic tango with Arab states paying rich dividends
Pramit Pal Chaudhuri, Distinguished Fellow and Head of Strategic Affairs at the Ananta Aspen Centre, a leading Indian think tank, spoke to Indian Global Business, in its March 2nd edition, saying, "Israel is a provider of a large number of niche military technologies and equipment such as drones and radar technologies. In many of these, it is second only to the US but is a much easier partner to do business with in terms of paperwork. Israeli firms also specialise in providing force multipliers such as advanced electronics and missiles on Russian fighters and tanks, especially as Russia falls behind in these areas.
"The next generation of military cooperation is starting to emerge in which the emphasis is on co-production and co-development. The Brahmos cruise missile is, in effect, a joint project of India, Russia and Israel. The Barak anti-missile system now being deployed on all Indian warships is a bilateral effort. Similar projects are being considered in other areas as well."
India, the effective mediator
On the unique nature of India's West Asia policy Pal Chaudhuri commented that, "It is a bundle of bilateral relations which does its best to keep from being entangled with each other. This allows it to have good relations with Israel, Iran, UAE and others without any of them protesting. But this also means India cannot serve as a mediator between the various rival parties of the region – a role it also does not seek. It has supported other peace initiatives like the Oslo accord, but only when both sides asked it to do so."
Another illustration of the durability of the India-Israel association has been that India has successfully dehyphenated its links between Israel and Palestine despite its bonds with the former being larger and deeper. This notable bit of statesmanship was orchestrated by Indian prime minister Narendra Modi who visited Israel and Palestine on separate trips to ensure that New Delhi received support from both governments on this policy and managed to retain a rapport with both states who are opposed to each other.
With the Arab world finally softening its political and ideological stance on Tel Aviv and reestablishing links with the Israelis the opportunities have suddenly been thrown open for all like minded partners who have a foothold in the door to commerce and trade with all stakeholders. In this case, India enjoys deep associations with the UAE and Israel, as it does with Bahrain, Oman and Saudi Arabia (as and when it decides to offer Tel Aviv the hand of friendship). India has much to gain especially in the field of healthcare, food security, tourism, education, defence security, cyber security, IT and artificial intelligence.
Focus shifts to startups
In disruptive times like this, when the world is in the grip of the Covid-19 virus, the key to success lies in adaptability and agility. This is where the value of the quintessential startups showcases itself. There will be much too gain for multiple parties to engage with Israel in the startup ecosystem.
The UAE economy will do well to engage with India and Israel in the field of startups. Israel and India both have vibrant angel and venture capital ecosystems and both lay claim title to the title "start-up nation." But Israel's number and size of investments in the start-up sector is much larger. In the first half of 2019, Israeli tech companies raised $3.87 billion across 254 deals. At present, there is minimal cross-pollination between India and Israel. Anthill Ventures of Hyderabad and the Tata Group have set up funds or invested in tech start-ups in Israel. Israeli investors like JVL have similarly selectively put money into Indian firms. At present, however, both tend to look to capital sources in the West rather than each other. If the UAE opens up for the business of startups then the opportunities such a decision could afford for India are limitless.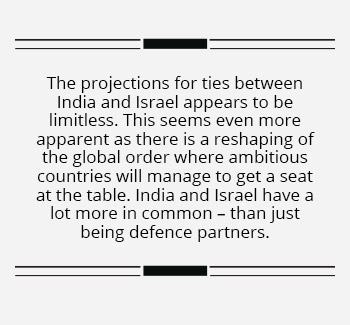 If one were to look into the future the projections for ties between India and Israel appears to be limitless. This seems even more apparent as there is a reshaping of the global order where ambitious countries will manage to get a seat at the table. India and Israel have a lot more in common – than just being defence partners – and this is underlined by the fact that both entities are vibrant democracies.
With the Arab world opening its arms to Israel, India suddenly finds itself at the forefront of every meaningful issue that is common to all stakeholders and, given its strengthening ties with countries across the GCC and Middle East, there are no zero sum games. The deft leadership of prime minister Narendra Modi and the approach of his government has put that issue beyond all doubt.