India's tech sector takes centre stage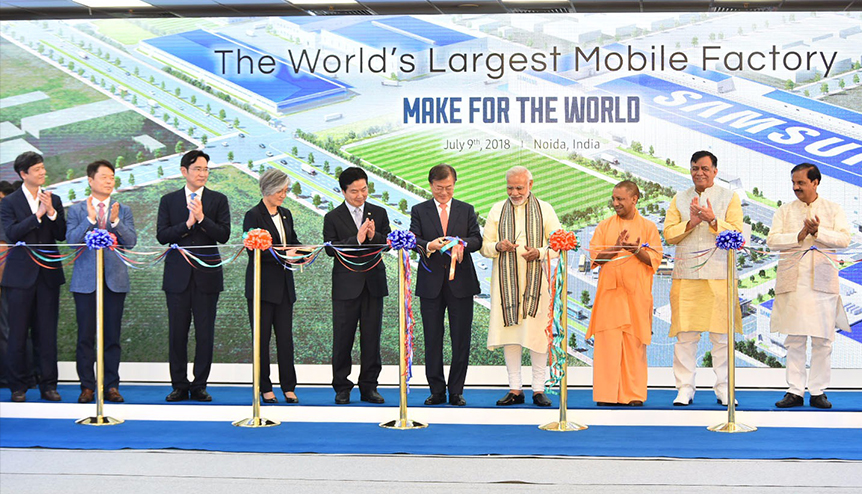 The country's technology and cyber space segment has seen a lot of activity in recent weeks.
Samsung opens its biggest store in India
Samsung Electronics Co Ltd opened its biggest mobile store in the world in India as it tries to take pole position in the world's second-biggest smartphone market amid fierce competition from Chinese brands.
The South Korean tech giant's roughly 33,000 sq ft store in the southern tech hub of Bengaluru will help it extend its lead in India over global rival Apple Inc, which has yet to open any flagship stores in the country.
Samsung opened the world's biggest smartphone plant outside Indian capital New Delhi just two months ago.
"India is an extremely important market," Mohandeep Singh, senior vice-president, mobile business at Samsung India was quoted as saying. The company plans to open more such stores in some of India's top 10 cities.
"These stores…will really help us further consolidate our share as we move forward," Singh said.
The new store will feature Samsung mobile devices but also showcase its consumer electronics products and latest innovations. It will also house a service centre for phones.
Microsoft to train Indian women in cyber security
Software major Microsoft and Data Security Council of India (DSCI) launched a programme to train 1,000 women in cyber security for free over a period of next three years. Under the program 'CyberShikshaa', 1,000 science and engineering graduate women between the age group of 20-27 belonging to a family with an annual household income below Rs 500,000 will be trained in cyber security.
Anant Maheshwari, President, Microsoft India, said: "As India leapfrogs into the next phase of growth, we see a multi-fold growth of digital assets. This increases the need for an enhanced cyber security infrastructure and advanced security solutions. This will lead to the next wave of jobs."
The first phase of the programme will be rolled out across Noida, Patna, Hyderabad and Mohali.
The CyberShikshaa curriculum will comprise an interactive, 4-month training course with a combination of theory, case studies and practical hands-on projects managed by a group of training partners led by Centre for Development of Advanced Computing (C-DAC), a company official said.
It will also include mentoring sessions and workshops with industry leaders, soft skills training and technical sessions by Microsoft employee volunteers. Campus interviews will be organised for students on successful completion of the course.
Flipkart acquires Israeli analytics firm
Online retailer Flipkart has now turned overseas to make tech acquisitions. The homegrown player has acquired an Israel-based analytics company Upstream Commerce in a bid to deliver real-time pricing and product analytics to their sellers.
Post the buyout, the 20-member Upstream Commerce team, while a part of Flipkart, will continue to work out of Israel. This will also make Israel one of Flipkart's global centres for future data science work.
Kalyan Krishnamurthy, CEO, Flipkart, said: "With the Upstream acquisition, we will now have tech and talent presence across Asia, US and Israel, some of the key global hubs for innovation."
Flipkart already has an office in California to tap into the tech talent in the Bay Area.
Anil Goteti, head of marketplace, Flipkart, said: "The company uses data science and analytics to provide insights to e-commerce platforms across the globe.
"We believe this acquisition will strengthen our already existing capabilities of providing insights to our sellers on both selection and pricing."
The integration of this technology onto the Flipkart platform is expected to take place in the next few months.