India's real estate sector fights back to life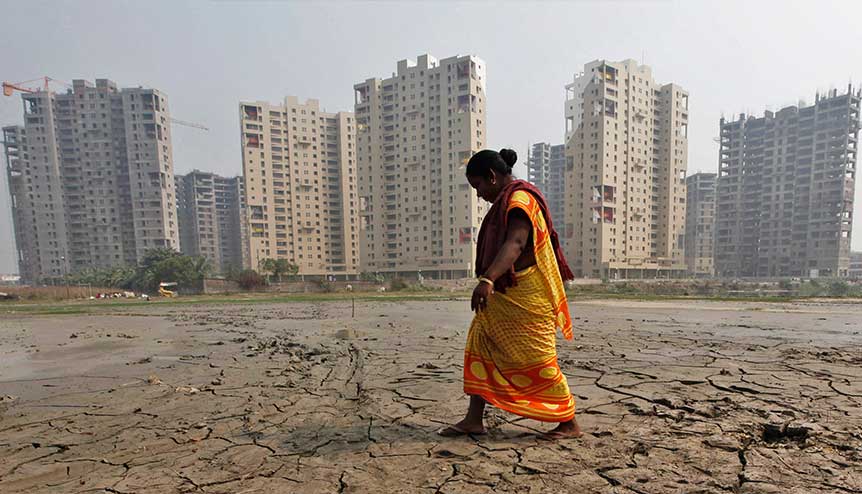 New home sales are rising in Mumbai and NCR riding on reduced stamp duties and falling interest rates. Then, the proposed Model Tenancy Law is expected to further boost investment in rental housing stock.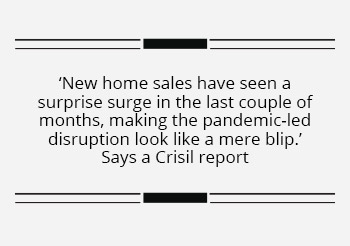 There's good news coming from yet another important sector of the Indian economy. The real estate sector, which has been lying dormant for several months stretching back to the period before Covid crippled the Indian (and global) economy, is once again showing signs of life.
A recent report by Crisil India, the domestic arm of global ratings agency Standard & Poor's (S&P's), said in a recent report: "New home sales have seen a surprise surge in the last couple of months, making the pandemic-led disruption look like a mere blip. Indeed, units sold in Mumbai and the rest of Maharashtra are 1.1-1.3 times higher compared with January this year." Mumbai is India's most important real estate market, accounting for 29 per cent of all-India sales by value.
Read more:
India's real estate sector adopts largest remote working experiment
The Indian property sector is rumbling for a push forward
UK real estate set to pitch for high net worth Indian investments
Sectors in which NRI investors can make money in India right now
The second-most important market, the Delhi-National Capital Region (NCR), too has reported a dramatic 40 per cent improvement in sales in the July-September quarter compared to the previous sequential quarter, which was badly hit by the nationwide lockdown, according to a leading property brokerage portal.
Cautiously optimistic
These two markets are often used as proxies for the Indian realty sector. "We are feeling cautiously optimistic about the residential market, driven by sales volumes in Mumbai and Delhi. A combination of favourable factors such as low mortgage rates, attractive prices combined with developers' lucrative payment plans together reinforce the longer-term potential of the sector. For end users, the next 12 months are ideal to buy a house," said Ramesh Nair, CEO and Country Head, India, JLL, a leading property consultancy firm.
Looking at conditions created by the pandemic, we introduced an affordable rental housing initiative. We created the Real Estate Regulation Act. This has transformed the dynamics of the Real Estate sector.

Also, this has made it more customer-oriented and transparent: PM Modi pic.twitter.com/vxesSdkcMG

— BJP (@BJP4India) November 17, 2020
Stamp duty cut helps revive sentiment
This improvement in market sentiment is largely due to the reduction of stamp in key markets across the country. For example, the Maharashtra government has cut stamp duty on property sales from 5 per cent to 2 per cent up to December 31, 2020 and 3 per cent between January and March 2021, to provide a fillip to property sales. Mumbai is the capital of the state.
Likewise, Karnataka, in which India's Silicon Valley Bangalore is located, has reduced stamp duty from to 3 per cent for properties priced between $28,000 and $48,000. The stamp duty was 5 per cent earlier.
More to read:
Modi's radical tech reforms are a gamechanger for India's BPM industry
Modi's reforms, future growth sets off mother of all bull runs in India
Indian steel producers riding high on revival of demand
India to spend $27 billion over 5 years to boost manufacturing
India has a unique advantage in the digital manufacturing age
High stamp duties – i.e., the amount the state government collects as taxes on the purchase and sale of property – are one of the factors inhibiting the growth of the real estate market in India. It is also responsible for generating massive amounts of unaccounted money in real estate transactions as buyers and sellers declare artificially low prices for the purpose of registrations and pay/receive the rest in cash.
Interest rates at multi-year lows
Another factor that is helping the sentiment is falling interest rates. Mortgage rates charged by most lenders have fallen below 7 per cent for the first time in more than one-and-a-half decades. It was in double digits till the middle of last year. A Crisil study estimates that a 1 per cent decline in mortgage interest rates improves affordability by 6 per cent.
Then, realtors, who are sitting on huge unsold inventories, are offering 3-7 per cent discounts, in addition to across the board price cuts, deferred payment plans and other freebies to attract buyers.
Still more to read:
Real estate opportunities in India are going to be unbelievable
2020 Indian real estate – limping back to a functioning liquidity cycle
India's food industry is expanding into successful sub-sectors
Sitharaman opens up all sectors to pvt sector, addresses bankruptcy laws; healthcare and online education
India ready to replace China in several export-oriented sectors
Affordability has improved 35 per cent
As a result, affordability across India's Top-10 cities has improved by up to 35 per cent over the past five years. "A favourable, buyer-centric market has created an opportunity for first-time homebuyers and fence-sitters as well as resale flat buyers. Renewed interest of non-resident Indians in sales is also being observed," says the Crisil report.
As per Census 2011, there are 11 million vacant houses in Urban India. While the Modi govt works on a tenancy law to push for utilisation of these vacant homes – our ability to buy a new home has deteriorated in the last 4 years as per @RBI's survey across 13 cities. #HomeBuyers pic.twitter.com/ushpB3LaRj

— DataBaaz (@databaaz) July 15, 2019
Model tenancy law on the anvil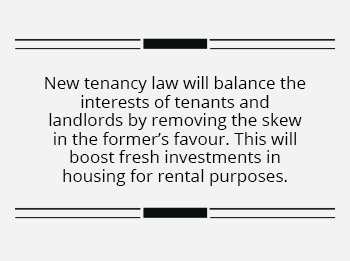 In further good news for the real estate sector, India's Housing and Urban Affairs Secretary Durga Shanker Mishra told the media that the government will soon come out with a Model Tenancy Law to boost the sector.
At present, many house owners are reluctant to rent out their houses as rental laws in most states are stacked heavily in favour of tenants, making it difficult for landlords to retrieve possession of rented houses if their tenants go to court.
Not surprisingly, people are reluctant to invest in rental housing. As a result, about 11 million housing units are lying vacant across the country.
Balancing landlord-tenant interests
The new tenancy law will balance the interests of tenants and landlords by removing the skew in the former's favour. The removal of these anomalies is expected to provide a boost to investment in housing for rental purposes and further improve the reviving fortunes of the real estate sector.
Rising tide lifts all boats
This will come as good news to an Indian economy that is showing signs of life after a bruising first couple of quarters this financial year. The real estate industry has backward and forward linkages with more than 250 upstream and downstream sectors such as steel, cement, paints, electricity cables and fittings, furniture and furnishings, glass, home décor, transport, etc.
Just as a rising tide lifts all boats, a revival in the real estate sector will improve the growth prospects at all these sectors, thus, setting in motion the virtuous cycle of demand, consumption and growth across the economy.