India's quest for clean-air tech spawns corporate innovation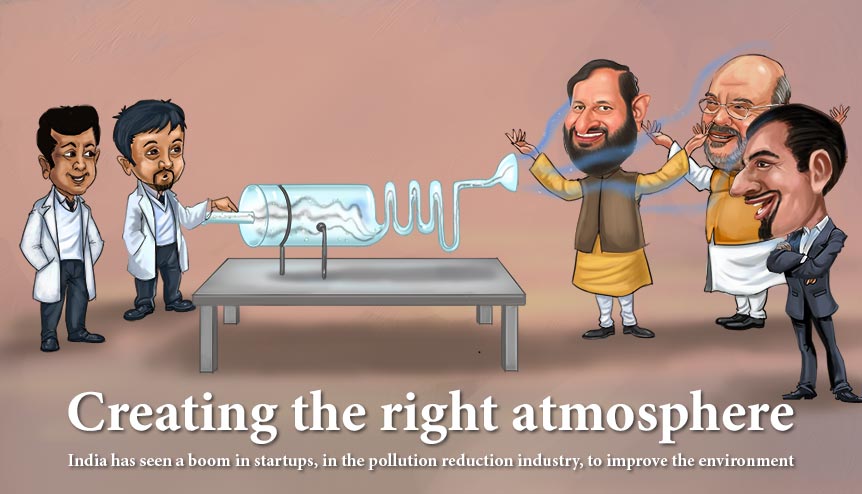 Companies and start-ups rush to develop products and ideas that could be game changers in India's battle against toxic air pollution as the coronavirus infection rages.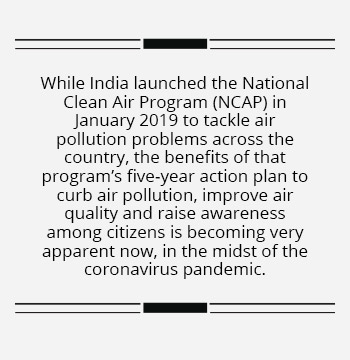 Last week, residents of Delhi and its neighbouring National Capital Region (NCR) towns began preparing for what is to them an annual ritual in October.
It's not the onset of autumn or the waning of the coronavirus but something called GRAP.
That acronym stands for Graded Response Action Plan – tough new measures to combat air pollution, and has been in effect for three years in Delhi and NCR. Starting from October 15, diesel generator sets have been banned in Delhi and the NCR towns of Noida, Ghaziabad, Greater Noida, Faridabad, and Gurgaon, while pollution control authorities have begun night patrols to check for dust and industrial emissions, as well as the burning of stubble and waste. Civic agencies in the Indian capital have rushed to roll out mechanised sweeping machines amid frequent sprinkling of water on roads.

The reason behind this sudden surge of activities every October is simple: autumn marks the season when Delhi begins gasping for breath, a situation that becomes more acute as the months turn to winter.
Read more:
Scotland university ties up with India to study river pollution
Benefits set to flow from UK-India water partnership
India's transport infrastructure: Running on renewables
BPO industry set to impact small towns of India
UK-India Tech Partnership takes an innovative approach
Pollution rises in New Delhi every autumn
With air quality reaching "unbearable levels" every autumn mainly in northern India, schools are routinely shut, flights diverted and people asked to wear masks, avoid polluted areas and keep doors and windows closed.
New Delhi and 13 other Indian cities feature on a list of the world's 20 most polluted, and it is estimated that more than a million Indians die every year because of air pollution-related diseases. Industrial smoke, vehicular emissions, burning of trash and crop residue, and construction and road dust are the major contributors.
But all this was before the coronavirus pandemic struck.
Even during the prolonged periods of Covid-19 lockdowns, Indian scientists observed large-scale improvement in air quality, along with water quality and biodiversity with dramatic reductions in noise pollution due to reduced industrial and human activities.
But now they are deeply worried that the deteriorating air quality in key Indian cities could make the COVID-19 situation even worse.
One of the most common symptoms of severe coronavirus cases is breathing difficulty. And doctors say that if the ambient air suddenly becomes more toxic, it might lead to a surge in fatalities of people who become infected by the virus. The focus has thus moved to simultaneously combating two major health challenges that both assault the respiratory system and can lead to brain damage, respiratory problems and early death.
More to read:
Getting fit for a post-Covid World – India's huge privatisation programme
Global convergence and cooperation needed to address climate change
India is getting back into action – Piyush Goyal
Can India provide much-needed leadership on climate change?
Now is the time to be investing in the EV ecosystem
While India launched the National Clean Air Program (NCAP) in January 2019 to tackle air pollution problems across the country, the benefits of that program's five-year action plan to curb air pollution, improve air quality and raise awareness among citizens is becoming very apparent now, in the midst of the coronavirus pandemic.
"The current crisis has shown us that clear skies and breathable air can be achieved very fast if concrete action is taken to reduce burning of fossil fuels," Sunil Dahiya, head of the Centre for Research on Energy and Clean Air which has been tracking air pollution levels during the coronavirus pandemic in India, told the BBC.
Fresh impetus for start-ups
But even though the lethal combination of toxic air and a toxic virus remains a critical concern in the months ahead, the situation is also likely to provide a further impetus to tech start-ups and the pollution reduction industry – which is already a $15 trillion opportunity. With the indoor air quality monitoring market – which is still in its nascent stages – estimated to reach $4.63 billion by 2022, India has seen a boom in recent years of startups developing innovative products, technology and solutions to curb the menace of air pollution.
Many of them have developed products and ideas that could be game changers.

Bengaluru-based Ambee, for example, is an environmental intelligence startup that provides data about hyperlocal air quality which is accessible to developers, consumers, health researchers and media companies. It uses proprietary data and analytics to help end-users make informed decisions or take preventive measures in a situation of severe environmental distress.
The IIT Madras-incubated startup AirOK, on the other hand, works on air quality products and services and deploys industry-specific technologies to control pollution in residential as well as industrial environments. With tools linked to a network of air quality sensors, AirOK can generate meaningful insights about what kind of air people are breathing in various environments.
Clairco is yet another shining example of Indian innovation in tackling air pollution and promoting clean-air tech. The Internet of Things (IoT) startup enables air quality monitoring and purification through dedicated equipment, using low drag air filters which can be retrofitted to any type of air conditioning and turned into air purifiers.
Innovation should pick up the pace
The looming crisis of clean air is only going to add to the pace and scale of such innovation in India – with companies already starting to get involved in tackling air pollution, motivated by the opportunity to innovate in clean technologies, sustainable products and clean-air solutions, and project an ethical CSR image for the world to admire.
Still more to read:
Prime Minister Narendra Modi's new 'One Sun One World One Grid' vision
Start-ups propelling India to its Renewable Energy Vision 2022
Challenges and opportunities in India in turbulent times
A plastic-free India can be achieved only on mission-mode
Sustainable Indian enterprises could help make the world a better place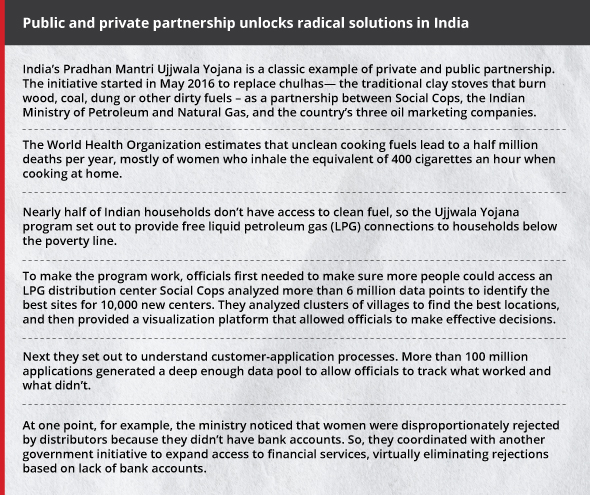 The urgent quest for clean air has captured the imagination of countries, corporations and fund managers alike.
The Confederation of Indian Industry is mobilizing business leaders to commit to reducing air pollution, buoyed by the commitment of other countries and companies around the world to clean-air technology. In London, Google is helping to build the world's largest network of air pollution sensors to measure neighbourhood-level air quality, while New Delhi is planning a record-breaking smog tower to battle the annual toxic mess.
Capital to support clean air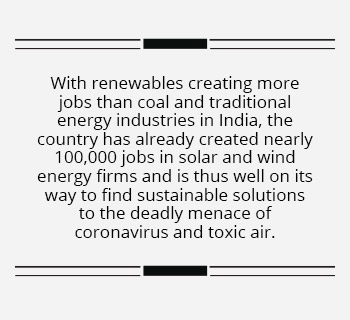 Asset managers around the world are designing solutions that mobilise investment capital in support of clean air, while the IKEA Foundation is helping to increase the level of funding for collaborative air pollution philanthropy. In London, the Ultra-Low Emission Zone has already reduced NOx emissions by one-third – demonstrating how quickly we can see improvements when leaders in politics and business show ambition and leadership.
With renewables creating more jobs than coal and traditional energy industries in India, the country has already created nearly 100,000 jobs in solar and wind energy firms and is thus well on its way to find sustainable solutions to the deadly menace of coronavirus and toxic air.
Podcast: Play in new window | Download