India's national education policy could offer collaborations with the UK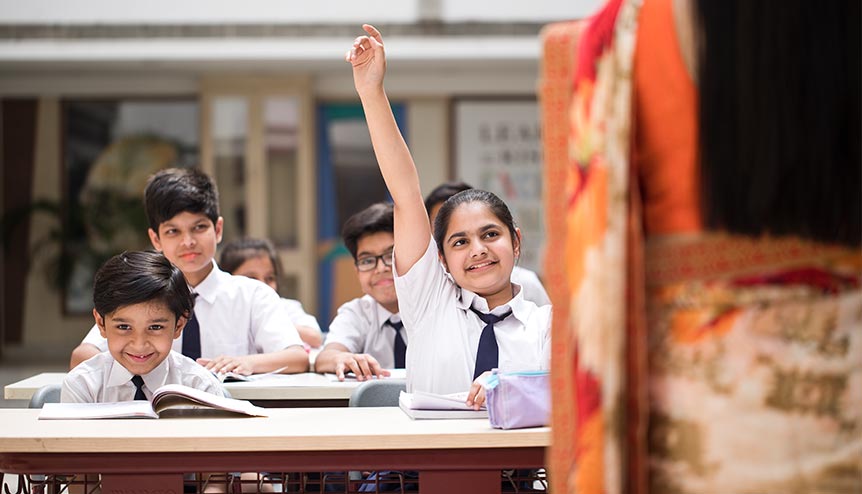 Education is a vital pillar on which the foundation of India's aspiration of becoming a $5 trillion economy in the next decade shall be built, writes the former deputy chair of the British Council.
In July 2020, the Government of India announced a new National Education Policy (NEP) that aims to make the Indian education system more contemporary, and one that contributes directly to transforming the country, with emphasis on skills training, providing high-quality education to all, and making India a global knowledge superpower. The policy has also recognised the importance of integrating humanities in the mainstream and taking a multi-disciplinary approach.
Have you read?
Covid-19 has dramatically changed the education landscape across the globe
New Education Policy to make India's youth future-ready
India to lay out the red carpet for foreign universities
Education is a vital pillar on which the foundation of India's aspiration of becoming a $5 trillion economy in the next decade shall be built. It will have to ensure that its youth are suitably qualified to contribute to the country's economic growth. By 2030, India will have as many as 140 million youth of college-going age.
Foreign universities can operate in India
To meets its aspirations, India will need to partner with countries like the UK. The UK higher education institutions are suitably placed to play a role in India's endeavour. UK universities policies to expand their international engagement and India embarking on the largest reform of its higher education sector in a generation, makes it a complementary partnership.
The New NEP has responded to a longstanding demand by foreign universities. They will now be able to operate in India. This move will add ease for students who would like to seek foreign education at an affordable cost. According to various global surveys, cross-border education is beneficial for the economy and brings wider level of global awareness, cultural perceptive, and competitiveness. The role of international collaboration is absolutely critical to peace, security and prosperity in our global world. Foreign collaborations enable local institutes to design their curriculum in alignment with international pedagogy and offer a diverse portfolio of subjects and specialisation to students.
Also read:
Sitharaman opens up all sectors to pvt sector, addresses bankruptcy laws; healthcare and online education
A vision to provide high-quality, personalised education across the world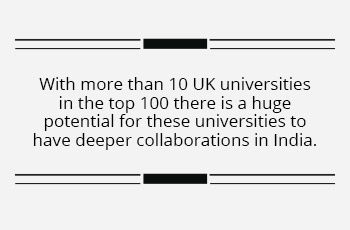 Education at the heart of creating real impact on the ground
The move will allow 100 top global universities to operate in India and provide quality education and raise standards of India varsities as well. With more than 10 UK universities in the top 100 there is a huge potential for these universities to have deeper collaborations in India. Some of these universities are already involved in Research & Development, Faculty Development as well as Executive Education Programmes.
Turning to Edtech
The British Council through programmes like Internationalising Higher Education (IHE) and UK-India Education and Research Initiative (UKIERI) has been actively facilitating collaborations between the two countries. The IHE facilitates policy dialogues and partnerships, promotes scholarships, student mobility and alumni engagement. UKIERI aims to enhance educational links between India and the UK by supporting partnerships across all thematic areas.
More to read:
How the pandemic is fuelling India's edtech platforms
Reimagining learning: Growth of EdTech Start-ups in India
Prince Charles backs new education bond for India
The case for investing in education in India
While announcing the new NEP, Union Information and Broadcasting Minister Prakash Javedkar said, "It is a new education policy for the 21st century." The new policy's focus on providing students flexibility and furthering digital education is timely and much needed reform. There are new growth opportunities which await the EdTech sector.

With special emphasis being placed on online and digital education in the policy, there is scope for several EdTech companies in the UK to venture into the Indian market. London alone has 580 EdTech Start-ups and there is a larger number across the UK. These companies have proven products and services that the learning process far more interactive, accurate, and engaging.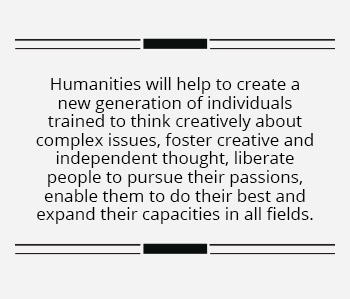 21st century poses some real challenges for us. How we educate current and future generations is critical. We live in a complex social and political world, where predictability horizons are shortening all the time. Patterns of learning with the advent of new technologies are changing. The policy aims to build an education system which equip individuals with skills and qualities which will enable them to respond to ever increasing demands. With growing emphasis on skills training, important as they are, humanities can be relegated or downplayed.
The policy also encourages the growing demand for humanities and art, as India moves towards becoming the third largest economy in the world. Recognising the importance of Humanities, the new policy has integrated humanities with STEM enabling students to choose whichever education path they wish.
Humanities will help to create a new generation of individuals trained to think creatively about complex issues, foster creative and independent thought, liberate people to pursue their passions, enable them to do their best and expand their capacities in all fields, produce individuals who will approach the world with a more balanced perspective who will create jobs and programmes with a sense of social responsibility.
The new education policy has a laudable vision, but its effectiveness will depend on its implementation and the partnerships that India will forge with international universities and technology providers. It will also depend on integration with other policy initiatives of the Government like Atmanirbhar Bharat, Start-up India, etc. The education policy is an enlightened step in the right direction.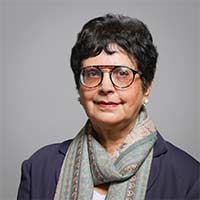 Baroness Usha Prashar CBE, is the Chair, FICCI UK Council and former deputy chair of British Council.