India's Kisan rail will propel the rural economy ahead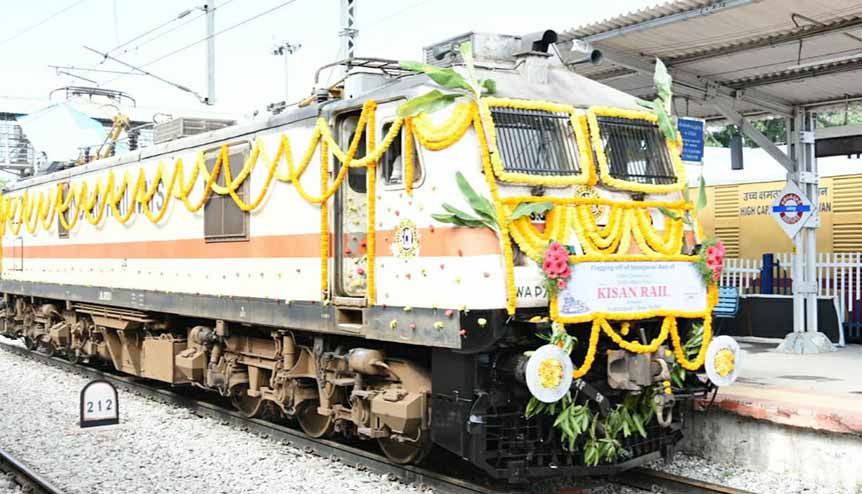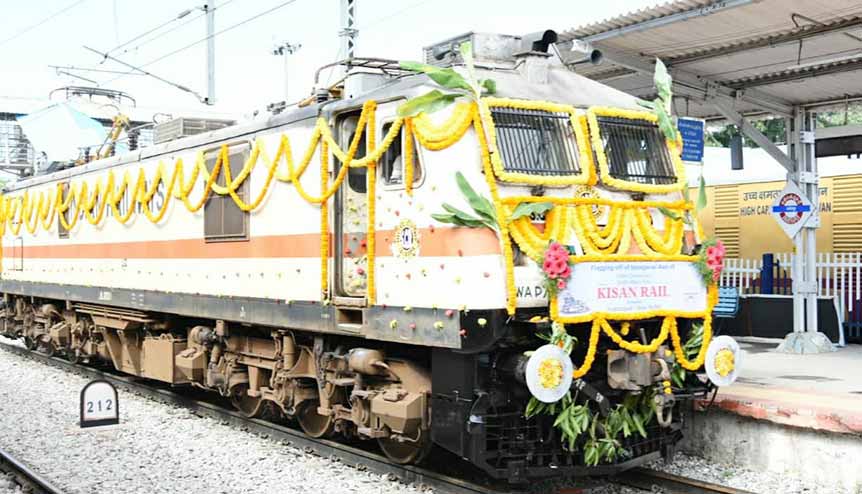 The recently launched railway for farm goods addresses critical problems of storage and market accessibility for India's farmers.
India's farmers had a reason to cheer on 9 September 2020, as India's second Kisan train was flagged off from Anantpur in Andhra Pradesh to Adarsh Nagar in New Delhi. This, the second Kisan railway to be launched, marks another step forward towards implementing the recent spate of reforms introduced by the Modi Government for the Indian agricultural sector. The rail service was announced in the Union budget this year and is designed to cover a distance of 2,150 km to transport fresh agricultural produce to important consumer markets across India. The inaugural Kisan rail was flagged off from Deolali in Nashik to Danapur in Bihar on August 7. The second rail is the first of its kind in Southern India, and is designed to improve supply chains in line with the reforms announced as part of Atmanirbhar Bharat initiative.
Have you read?
The lights are shining in rural India
New Agriculture Infrastructure Fund has greater transformative potential than 1991 reforms
Agritech platforms are the need of the hour to protect Indian agriculture
AI pilot projects in agriculture should be expanded to farms across India
From India's farms to the UAE's tables
A new chapter in connectivity
While the impact of Covid-19 continues to sweep across the country, India's agricultural sector has been experiencing a huge boom. Farmers have reported a bountiful harvest due to abundant rainfall, with the Ministry of Agriculture and Farmers' Welfare (MoAFW) increasing its production forecast by almost one million tonnes to a record 107.2 million tonnes for the 2019-20 marketing year. The sowing of Kharif (autumn/ winter crops sown in summer) also saw an all-time high in acreage, with an expected bumper harvest. Easy access to markets and robust storage solutions, however, have continued to pose a serious problem to Indian farmers, especially small holder and marginal farmers, who make up nearly 86 per cent of the Indian farming community. According to some experts, Indian farmers reported losses of up to 50 percent depending on the product and location during the lockdown due to a supply chain disruption. Research by Mckinsey found that around 60 per cent of food loss and waste in India happens between the field and the end-consumer.
On the right track to addressing agri grievances
The Modi government has actively taken steps towards providing improved infrastructure and connectivity to farmers in a bid to facilitate fair prices and sales. Digitally, e-Nam, a common digital trading platform, has integrated over a thousand wholesale mandis (local markets) to create a unified national market for agricultural commodities. The government is also fast-tracking the integration of e-NAMS to FPOs and warehouses through the use of a transport aggregator mobile app, called Kisan Rath.
Read more:
Rural-Women Entrepreneurship: Shaping New India
Rural India drives the boom in Indian e-commerce sector
Connectivity makes the Indian farmer App-solutely successful
The government must ensure the well-being of the farmer and the consumer
Rural Bharat leads India in digital growth
Physically, the Pradhan Mantri Gram Sadak Yojana (PMGSY), which was launched in 2000, has so far constructed over a 120 thousand km of rural roads. The third phase of the initiative aims to upgrade the existing roads alongside building 7000 km of new roads. The Kisan railway just another step-in helping farmers with market access by transporting fresh produce in bulk at a cheaper rate in order to help farmers find fair price for their produce.
At a recent event, Minister of Railways and Commerce, Piyush Goyal said, "Barely a month after we started Kisan Rail, the same train which was carrying 94 tonnes goods is now carrying more than 350 tonnes. This means that if the facility is provided, people are going to use the service."
Most important, is that the Kisan Rail addresses storage solutions via the integration of cold storage containers within its design, which will help establish a seamless national cold supply chain of meat, milk, and fish. A multi commodity train, the rail also carries a variety of fresh vegetables and fruits, in addition to dairy and animal products. All of which provides a crucial first step towards reducing waste and losses for Indian farmers.