India's economy weathers Covid-19 storm better than others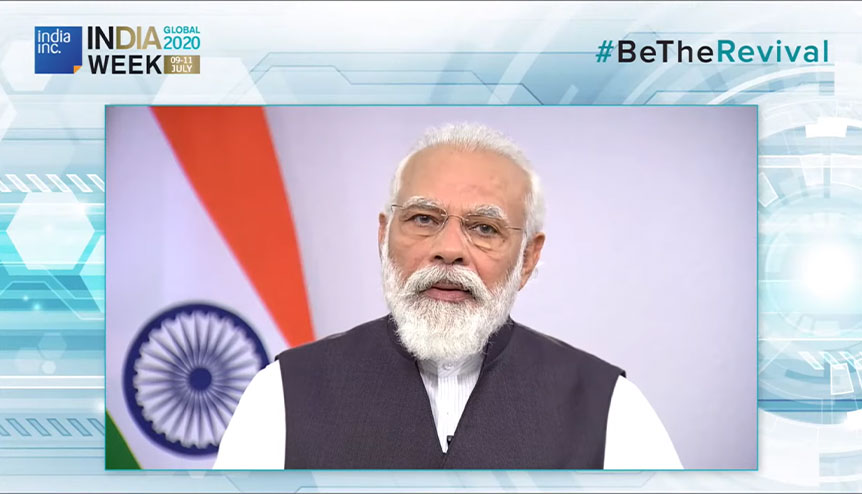 Addressing the India Global Week 2020, India's Prime Minister Narendra Modi highlighted that some elements of revival in the green shoots of the Indian economy puts India in a much better position compared to others once the pandemic starts to subside and life returns to normalcy.
"Indians have the spirit to achieve what is believed to be impossible. No wonder that in India, we are already seeing green-shoots when it comes to economic recovery," Prime Minister Modi said in his inaugural speech at 'India Global Week' 2020.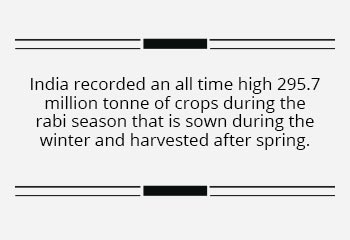 The most robust part of the Indian economy are those linked to agriculture. India recorded an all time high 295.7 million tonne of crops during the rabi season that is sown during the winter and harvested after spring. Procurement of wheat from farmers by government agencies touched an all-time record figure of 382 Lakh Metric Tonnes (LMT) surpassing the earlier record of 381.48 LMT of 2012-13. Procurement of minor forest produces (MFP) under the MSP for MFP Scheme in 16 states also hit a record-breaking of Rs. 79.42 crores.Predictions of a normal monsoon this year and bumper kharif crop on the back of record sowing also auger well for a sustained revival in agri-led sectors for the rest of the year. As on 19th June, farmers have sown 13.13 million hectares of kharif crops, 39 per cent higher than corresponding period of last year. 

"This is our second highest June sales ever. The timely arrival of the south-west monsoon, combined benefits of a record Rabi crop, Government support for Agri initiatives and very good progress in the sowing of the Kharif crop have led to positive sentiments among farmers," said Hemant Sikka, President – Farm Equipment Sector, Mahindra & Mahindra Ltd. 
Indian Manufacturing gets its skates on 
The rub-off effect is also visible in the FMCG sector. Aided by the increased demand in rural parts of the country, FMCG industry is expected to shrug off the slowdown in the first quarter, recover the losses and log a 4-5 percent growth by the end of this fiscal. 
Two wheelers have provided a silver lining as well. Aided again by good growth in rural markets, companies like Hero MotoCorp and TVS registered better than expected sales in June. Hero MotoCorp dispatched over 450,000 units to its dealerships during the month. This was nearly 27 percent lower than the tally in June 2019 but it was more than 90 percent of the tally in February, the last pre Covid month. TVS Motor company also mirrored this trend with overall sales at 198,387 units, 33.23 percent lower than June last year but at over 84 percent of February's tally.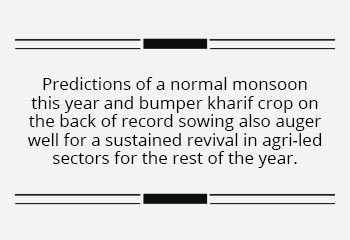 "Sales of over 4.5 lakh two-wheelers in a highly disrupted month is also a clear signal of the resilience of the Indian economy to be able to revive in the face of any adversity. This has vindicated our strong belief in the robust fundamentals of the Indian economy," said Dr. Pawan Munjal, chairman & CEO, Hero MotoCorp. 
Other indices point towards similar trends. India's PMI manufacturing and services showed lower contraction in May at 30.8 and 12.6 respectively over April (27.4 and 5.4 respectively). Electricity consumption too saw lower contraction in growth rates from (-) 24 per cent in April to (-) 15.2 per cent in May to (-)12.5 per cent in June (till 21st June). 
Infrastructure sector booming 
Total assessable value of E-Way bills picked up by a massive 130 per cent in May 2020 (Rs. 8.98 lakh crore) compared to April 2020 (Rs. 3.9 lakh crore). Consumption of petroleum products, a major indicator reflecting consumption and manufacturing activity in the country, increased by 47 per cent from 99,37,000 metric tonnes in April to 1,46,46,000 metric tonnes in May. As a result year-on-year contraction in consumption growth was much smaller at (-)23.2 per cent in May against (-)45.7 per cent in April. In June, growth in consumption is expected to be much higher. 
Similarly, railway freight traffic has improved by 26 per cent in May (8.26 crore tonnes) over April (6.54 crore tonnes). It is in sync with growth in movement of goods on National Highways. Average daily electronic toll collections increased from Rs. 8.25 crore in April, 2020 to Rs. 36.84 crore in May, rising more than 4 times. In the first three weeks of June, it has improved further to Rs. 49.8 crore. 
"The landing will not be as hard as anticipated. Rebound is faster than what most of us thought would be. The economy may see a shallow U-shaped recovery," says KV Kamath, former chairman of ICICI bank.