India's construction industry set for a rebound in 2021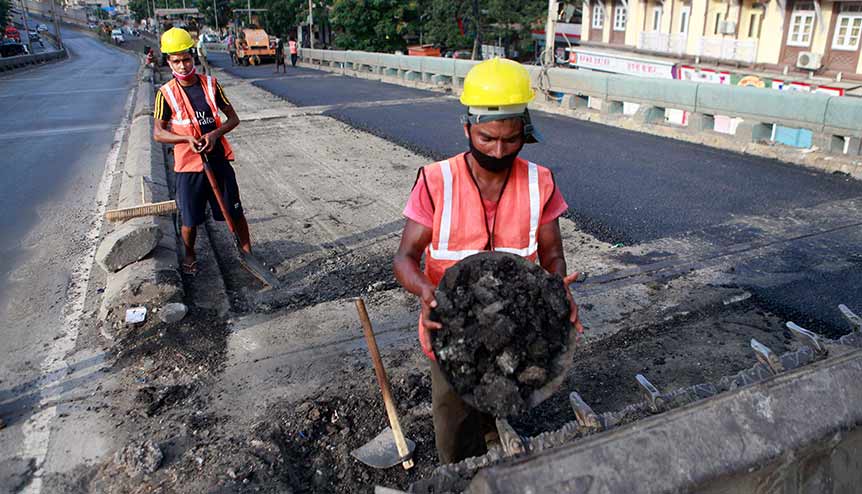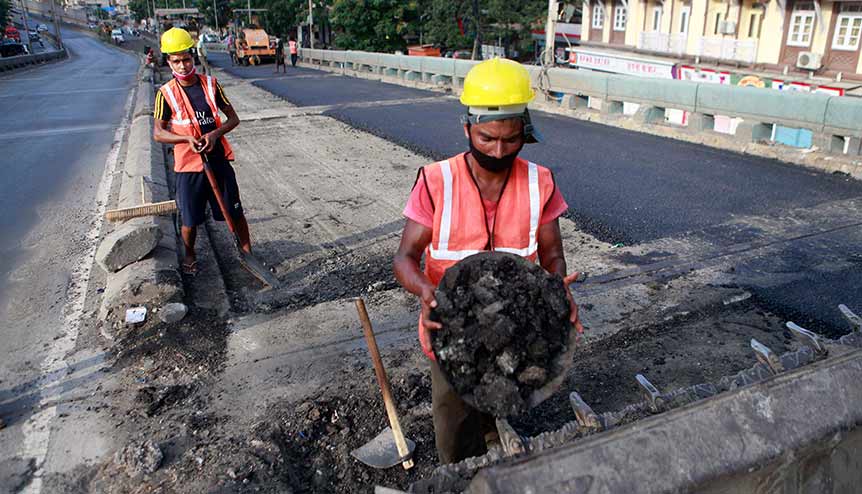 Poised to be the world's third largest by 2025, now would be the time to invest carefully in long-term construction stocks as the sector prepares to resume a strong trajectory of growth once the current COVID crisis subsides.
A combination of factors such as the global scramble to move supply lines from China, a raft of government housing schemes, a large captive market and massive pent up demand due to Covid-19 restrictions will drive India's construction industry to make a strong recovery in 2021, according to economists and analysts.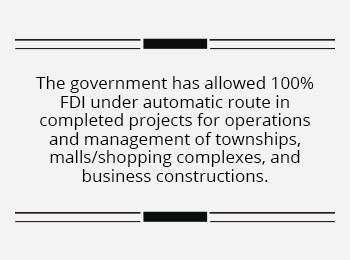 With the Indian government recently boosting the National Infrastructure Plan and announcing the Affordable Rental Housing Complex (ARHC) scheme along with other investments in the industrial segment in a renewed push towards 'Atmanirbhar Bharat', the forecast for 2021 therefore opens up exciting investment opportunities in construction stocks with a medium to long term horizon.
With the Coronavirus weighing heavily on economic activities and consumer sentiment in India, the pandemic-driven realities of 2020 have hit the sector like never before: driven by the unprecedented contraction of 50.3 per cent in real terms in the second quarter, the construction industry is expected to shrink by nearly 15 per cent this year.
Read more:
India, Afghanistan and Iran amidst the new Great Game
Energy security and India's growing ties with Myanmar
India and Central Europe could be poised to rediscover their old business partnership
India is strengthening its bonds of friendship with the African continent
Nepal resets links with India through petroleum projects
Growth pegged at 11.6%
But thanks to the factors mentioned above, along with lower base and cheap labour costs, the construction industry is expected to post a sharp rebound and grow by at least 11.6% in 2021, according to several forecasts. That trend is also in sync with the overall pattern of Indian economic growth for the next 12 months – according to the Asian Development Bank, the Indian economy, after a deeper-than-expected contraction in the current fiscal, will make a strong rebound in fiscal year 2021-22 with its gross domestic product (GDP) surging by more than 8 per cent as mobility and business activities resume widely.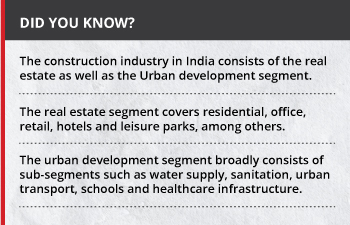 That assessment is great news not just for India's headline GDP growth, but also for the country's construction market – which is expected to emerge as the third largest globally by 2025, with output expected to grow on average by 7.1% each year, as per estimates by Invest India. If those numbers alone are not lucrative enough, then consider that the government has allowed 100% FDI under automatic route in completed projects for operations and management of townships, malls/shopping complexes, and business constructions.
Current constraints for public sector
But that strong trajectory of growth can resume once the current crisis subsides.
Construction activities continue to remain disrupted across the country with labour shortage at project sites exacerbating the situation for private players already grappling with multiple issues such as liquidity crisis, rising project costs and dwindling demands.
"The industry is expected to remain subdued for the remaining part of the year as the COVID-19 situation continues to worsen across most of the country, thereby adversely affecting the industry from both supply and demand side," said Dhananjay Sharma, construction analyst at Global Data.
The public sector, which accounts for much of the investments in the infrastructure segment, including in electricity, water and sewage utilities, is constrained by a widening fiscal deficit situation due to lower revenues and higher social expenditure during the Covid-19 crisis.
More to read:
India draws attention back to its civil nuclear and uranium mining ambitions
India and Nepal: Picking up the pieces
States compete for far-reaching labour reforms in India
Infra upgrade in Andaman Islands to push Modi's Act East policy
Indian investors are circling the Dubai property market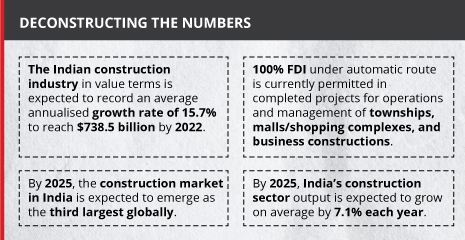 According to GlobalData, the federal fiscal deficit in the first four months of the current financial year has already reached 103% of the budgeted target for financial year 2021, with the full year fiscal deficit now expected to cross 7.5% of the GDP. Moreover, due to the lower revenue generation and higher expenditure, the debt to GDP ratio is expected to rise from 70% in the 2020-21 fiscal to more than 80% in 2021 as per market consensus. "On the private side, investment in hotels, restaurants, malls, theatres and cinema halls, offices, and educational buildings is likely to suffer in the short-term as these sectors have been heavily affected by the COVID-19 crisis," said Sharma.
Navigating uncharted waters
However, there's a much brighter outlook if investors look at the medium-term horizon.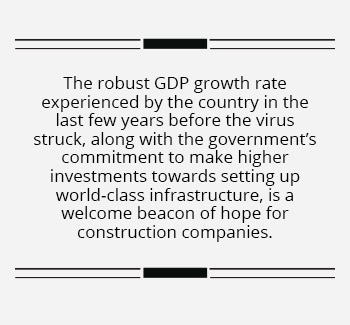 The robust GDP growth rate experienced by the country in the last few years before the virus struck, along with the government's commitment to make higher investments towards setting up world-class infrastructure, is a welcome beacon of hope for construction companies – who will be among the first beneficiaries of such investments and will deliver sustainable long-term growth.
For construction companies, faster project execution capabilities and access to key construction machinery or equipment will be crucial factors for success and determine their growth rates and profitability margins. Even as the construction equipment industry's revenue soars beyond an estimated $5 billion, some construction companies are actively seeking to purchase their own equipment to tackle rising costs and protect margins.
How the construction industry as a whole navigates the uncharted waters it finds itself in will remain the key to a full-fledged and robust recovery by 2021 – a year in which it should be able to look back and triumphantly claim that the coronavirus pandemic was, after all, just another brick in the wall.