India's ambitious RE target by 2030 offers investors a massive opportunity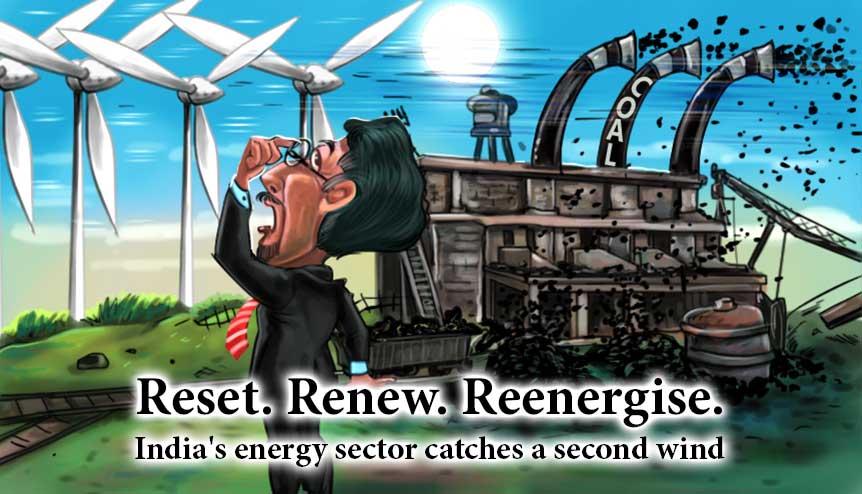 Prime Minister Modi has set a very stiff target for RE generation capacity. This will call for humungous amounts of investments and offer foreign and domestic investors a chance to bet on the India growth story.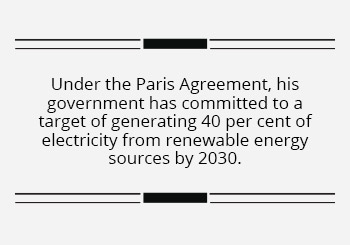 India's renewable energy (RE) capacity is expected to cross 100 GW (1GW = 1,000 MW) this year and the country looks on course to meeting its target of achieving 175 GW generation capacity from RE by 2022.
That's isn't the only ambitious target Indian Prime Minister Narendra Modi has set. Under the Paris Agreement, his government has committed to a target of generating 40 per cent electricity from non-fossil fuel sources by 2030. At the United Nations Climate Action Summit in September last year, he said India was setting an RE generation capacity target of 450 GW by 2030.
Have you read?
Ocean wave energy: A significant renewable energy and manufacturing opportunity for India
Start-ups propelling India to its Renewable Energy Vision 2022
Why India is the new hotspot for renewable energy investors
India's transport infrastructure: Running on renewables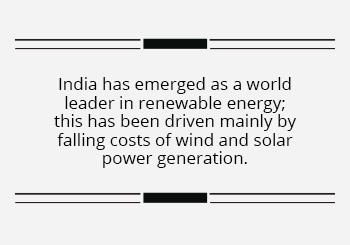 Collaboration with US key to India diversifying energy basket away from fossil fuels
At present, India has a total RE capacity of 88 GW (as on July 31, 2020), according to the Ministry of New and Renewable Energy (MNRE). Of this, wind power has the largest share of 38 GW (10.2 per cent of India's total generation capacity), solar power accounts for 35 GW (9.5 per cent), biomass 11 GW (2.7 per cent) and small hydro 4.7 GW (1.3 per cent). That adds up to 23.7 per cent of India's total installed power generation capacity of 372 GW.
Falling costs driving RE adoption
Historically dependent of coal and other fossil fuels to generate power, India has, over the last five years, emerged as one of the world leaders in adopting renewable energy. This has been driven mainly by falling costs of wind and solar power generation.
According to data from global research firm Wood Mackenzie, India has the lowest renewable energy cost in the Asia Pacific. The levellised cost of electricity (LCOE), a key metric in the industry, for solar power was $38 per megawatt hour (MWh) in 2019, about a seventh cheaper than thermal energy, which has traditionally been the cheapest form of power in India. The cost of wind energy in India is comparable to that of solar power.
Solar power costs fall to less than 3 cents per unit
According to a study by India's TERI and US-based think tank Climate Policy Initiative, the cost of generating solar power in India, now at a little over 3 cents per kWh will fall as low at 2.5 cents per kWh by 2030 on the back of new technological breakthroughs.
Wind power still has the largest share in India's RE pie
In India, solar energy has grabbed a disproportionate share of media attention. But wind power still has a larger share of the RE pie in India, albeit by margin that has fallen progressively over the past few years.
This was made possible by the stellar performance of states like Andhra Pradesh, Gujarat, Tamil Nadu and Karnataka. Other states like Madhya Pradesh, Rajasthan, Maharashtra, Telangana and Kerala have also played a big role in adding fresh wind power generation capacities since Modi announced his target of 175 GW.
As in solar power, the wind power sector has also seen a dramatic fall in tariffs. Experts feel India's wind energy capacity is just scratching the surface and that it still offers massive potential for growth. Official estimates put India's onshore wind energy potential at more than 300 GW. Initial estimates measure the wind energy potential of the Gujarat coastline alone at 106 GW and Tamil Nadu at 60 GW.
I applaud India's decision to take forward the @isolaralliance in the form of One Sun, One World, One Grid. I commend India's plans for a World Solar Bank that will mobilize $1 trillion of investments in solar projects over the coming decade: #UNSG @antonioguterres at #DSML2020 pic.twitter.com/OjqcbURnri

— United Nations in India (@UNinIndia) August 28, 2020
Global RE leadership gives India strategic leadership
The Modi government's commitment to RE, and his – and then French President Francois Hollande's – initiative to launch the International Solar Alliance (ISA) has given New Delhi a leadership position in the global fight against climate change. It has also resulted in a first – the ISA is the first multilateral body, comprising 122 nations, including Japan, the UK, Netherlands, Saudi Arabia, the United Arab Emirates (UAE), to be headquartered in India.
This is another step in India's journey from being merely a model global citizen and a rule taker to emerging as a major voice at the global high table as a rule maker.
The primary objective of the alliance is to work for efficient exploitation of solar energy to reduce dependence on fossil fuels. The launch of the ISA is a strong signal that India is now ready and willing to shoulder the leadership of the fight against global warming and climate change.
German Chancellor Angela Merkel visited a solar powered subway in Delhi, during her visit to India in 2019. The subway, Dwarka Sector 21 Metro Station, has the largest rooftop solar plant in the city powered by a German company's panels.
Huge opportunities for businesses globally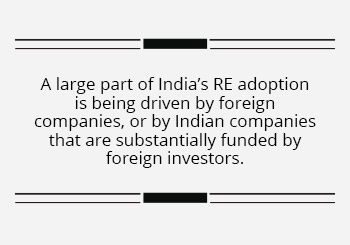 A large part of India's RE adoption is being driven by foreign companies, or by Indian companies that are substantially funded by foreign investors. This is increasing the world's stake in the Indian economy and is helping connect India more closely to the global economy and its supply chains.
The ISA aims to facilitate the investment of $1 trillion in solar assets and related capabilities around the world. This is throwing up massive business opportunities for businesses and consultancies in the UK, the rest of the EU, the US, Japan, Korea, India and the rest of the world.
The investments and research generated by the ISA will help improve the lives of billions of people around the world and help protect hundreds of millions from the ravages of climate change.
Besides being good for business and global employment generation, it will also generate goodwill for India, which can, in future, emerge as a key strategic asset.
Read more on:
India powers ahead with UK in pursuit of energy efficiency
India's clean energy reforms make it a role model for other developing nations
Modi's Houston meeting with CEOs to enhance India's energy security
The sustainable energy sector holds opportunities for collaboration
Energy efficiency is absolutely vital to economic growth
Challenges ahead
India's RE ambitions face some major challenges as well.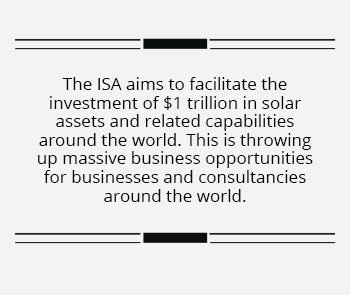 The most important is the political risk of newly elected regional parties cancelling contracts entered into by their predecessor governments in the states. Private power producers have challenged many such arbitrary cancellations and the high courts of various states are dealing with these cases. The federal government has also written to the states to desist from such politically motivated actions, but the final word is still awaited on this issue.
India will have to ensure the legal sanctity of contracts entered into by state governments, regardless of the party in power. Failing this, investors, especially foreign investors, will be wary of allocating their investment dollars to India's RE sector.
Then, discoms run by state governments often drag their feet on signing power purchase agreements, thus, affecting cash flows of generating companies. This impacts the viability of otherwise good projects. Several discoms have also been delaying payments due to the wind power developers and some have also been tardy in procuring the power generated. The federal government, though, is aware of these problems and has held several meetings with the concerned stakeholders to sort out these issues.
Unless these issues are sorted out, the viability of this sector will be open to question.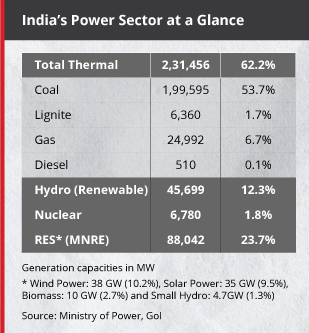 The problem of intermittency
There is a key difference between power generated by thermal and hydro plants on the one hand and wind and solar plants on the other. The former can generate power 24×7 if required. Wind and solar power, however, can only be generated when wind flows are available and when there is sunlight.
That is why, wind and solar are called intermittent power and this can affect the stability of the Indian power grid as the country lacks sufficient "balancing power". The sudden withdrawal from the grid of large volumes of solar power after sunset and wind power when the winds stop could destabilise electricity supply all over the country. Thermal plants cannot ramp up fast enough to make up for the deficit. The only two technologies that can ramp up fast are hydro and nuclear, but India lacks the capacity in both to sufficiently balance the withdrawal of solar power.
One way out of this problem is to adopt batteries in a big way to store RE but the technology is still not sufficiently developed and it could take another five to six years for utility scale battery storage technology to be financially viable.
The path ahead
Despite these challenges, the prognosis for the future seems positive for the Indian RE sector. With growth rates likely to pick up next year, from the Covid-induced slowdown, demand for energy will continue to rise. Given India's commitments under the Paris Climate Pact, that will spell good news for the RE industry.
Podcast: Play in new window | Download