India's ambassadors of brand success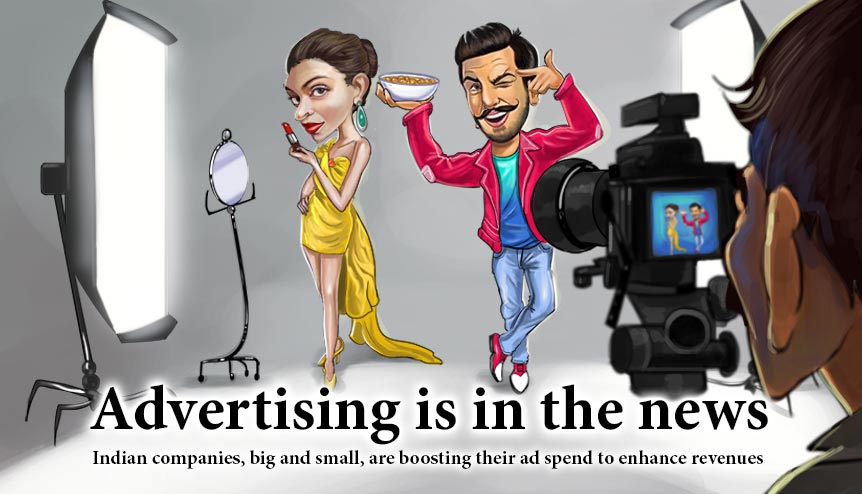 The coronavirus pandemic has failed to dent the excitement and exuberance of brand advertisement in India – with companies big and small rushing to muscle up their marketing spend and translate them into revenue critical to compensate for the Covid-19 slump.
Mahendra Singh Dhoni, Amir Khan, Virat Kohli, Akshay Kumar, Shahrukh Khan and Ayushmann Khurrana.
Byju's, IPL Dream 11, MRF, Flipkart, Himalaya, JSW Paints and so on.
From the above list of Indian celebrities and their brand endorsements this season, it seems clear that the coronavirus pandemic has failed to dent the excitement and exuberance of brand advertisement in India – with companies big and small rushing to muscle up their ad and marketing spend and translate them into revenue critical to compensate for the Covid-19 slump.
Read more:
Dip in smartphone imports has a nice ring to it
Apple, Samsung take the E-com route to boost consumption
Why India is ready for the global leap in innovation
Hyundai pioneers digital innovation to drive seamless customer engagement
The pandemic might have opened up a huge export market for India – Skills
Dhoni's Chennai Super Kings might be struggling to win their matches at the Indian Premier League this season, but India's former Captain Cool tops the list of celebrities in terms of recall value, according to a survey conducted by the Indian Institute of Human Brands (IIHB).
IPL – supreme marketing success
IPL itself is a story of supreme marketing success this season – although it's being played in the United Arab Emirates this year. The sports arm of Reliance Industries Ltd, IMG-Reliance, has closed 36 deals worth a staggering $45 million across multiple brands and franchises for the 13th edition of IPL – raising a record revenue estimated to be double of the agency's last year's earnings.
The marquee deal for IMG-Reliance's growth trajectory for this year has been Dream11's title sponsorship of $30 million with the IPL. The Mumbai-based company has exclusively represented Dream11 on its BCCI & IPL related partnerships and also assisted them in securing cricketers as part of their activation plans. This is in addition to facilitating six team deals with Mumbai Indians, Chennai Super Kings, Delhi Capitals, Kings XI Punjab, Rajasthan Royals & SunRisers Hyderabad.
More to read:
Reimagining learning: Growth of EdTech Start-ups in India
Why India leads the way with sustainable innovation
India's app ecosystem is on the cusp of change
Indian film industry comes of age
Role of start-ups and innovators in Atma Nirbhar Bharat Abhiyan
"The brand partners have consistently appreciated our strategic insights, our knowledge around the assets and most importantly, our ability to find a fine balance between rights holders & brands, to make the partnerships impactful for all parties," said Nikhil Bardia, head of sponsorship sales and talents at IMG-Reliance.
But even as the pandemic rages and caseloads increase every day in India, what is triggering this rush of aggressive marketing and brand positioning despite talks of an economic contraction?
Micro-businesses remain positive
GoDaddy's 2020 Global Entrepreneurship Survey sheds some light on the possible reasons in India.
According to the survey, micro-businesses were found to remain positive despite the coronavirus setbacks – so much so that 60 per cent of the very small business owners in India said that despite the slowdown and negative impact brought on by the pandemic, they were confident their businesses will continue to grow. The latest marketing push by a wide cohort of brands must therefore be seen in the framework of their efforts to boost the confidence of entrepreneurs, especially the SMEs, and encourage them to have a strong digital presence and identity.
It's for this reason that GoDaddy has launched a mega ad campaign featuring its current brand ambassador Dhoni, deploying the power of his brand to go deeper into smaller markets where there is rapid digital acceleration. "Our aim is to help small business owners to build integrated online solutions. While one commercial talks about the need to get a website to take business online, the other focuses on the need of a domain name. Both are narrated quirkily," Nikhil Arora, managing director of GoDaddy India, told Brand Equity.
Mobile ad-spend to rise by 38% next year
The positive outlook comes amid forecasts that mobile ad spending will rise by 38% in India over the next year, according to the latest New Normal – India and Southeast Asia: 2020 Report by InMobi.
Although the report found that marketers are looking to spend their budgets with 60% planning to focus on performance-based campaigns with ROI linkage due to the pandemic, more than 66% of them said they were looking to bolster their digital ad budgets as consumer behaviours have moved measurably during this time.
Still more to read:
Start-ups add a new tune to India's space jam
India's food industry is expanding into successful sub-sectors
India will still be the fastest growing major economy in the world
Indian sugar industry is posting sweet export numbers
Indian companies might not see major supply disruption
Digital ad spending is estimated to rise 33% over the next 12 months, while 87% of marketers surveyed were looking to increase their spending by up to 40% on in-app advertising. The tangible shift to outcome-based advertising is evident in the majority of marketers (60%) spending less than 40% of budgets on brand initiatives, although 12% said they would spend up to 100% of budgets on performance campaigns.
Omni-channel a powerful tool
Despite the digital focus, many marketers conceded that omni-channel approaches remained a powerful tool to address customers in real-time.
"The dominant growth factor of digital comes from the proliferation of smartphones, backed by cheap data plans, that has shifted a significant amount of digital ad spends to mobile advertising," said Nawal Ahuja, co-founder and director of Exchange4Media Group.
"The mantra for most brands and digital agencies this year is 'mobile first' and this sentiment is reflected in the growth projections for mobile ad spends. By the end of 2020, advertising spends on mobile devices is expected to grow by 41% to reach a share of 52% of the overall digital advertising market, overtaking spends on desktop.
Consumer glued to their mobiles
Spends on mobile devices are projected to reach a share of 64% of digital ad spends by 2022, as marketers target consumers glued to their mobile device. While growth of the digital medium has lived up to expectations, the challenges for the industry still remain the same – the lack of a common digital measurement system, data privacy, ad frauds and viewability concerns," Ahuja remarked in the Digital Advertising in India 2020 report prepared by the Dentsu Aegis Network.

"India being a diverse country, digital will keep growing, especially with the rise of content platforms and its availability in multiple languages powered by the growth of 3Vs. From a predominantly 'at home', 'urban', 'English print' & 'TV' consuming market, the Indian media consumer evolved to include 'on the move', 'rural' & 'regional' counterparts, experimented with digital media in the early 2010s', adopted social media in middle of the decade and started consuming digital videos voraciously after 2016," said Tushar Vyas, president, growth and transformation – GroupM South Asia.
Indeed, with all the tech advancements transforming digital advertising and India's resilient economy driven by a spirit of dynamic and frugal innovation, the ad and marketing industry remains in an extremely positive mindset about future prospects and that's ultimately what reflects in the campaigns headlined by Dhoni, Shah Rukh, Virat Kohli or Akshay Kumar.