Indian toy story: Let the games begin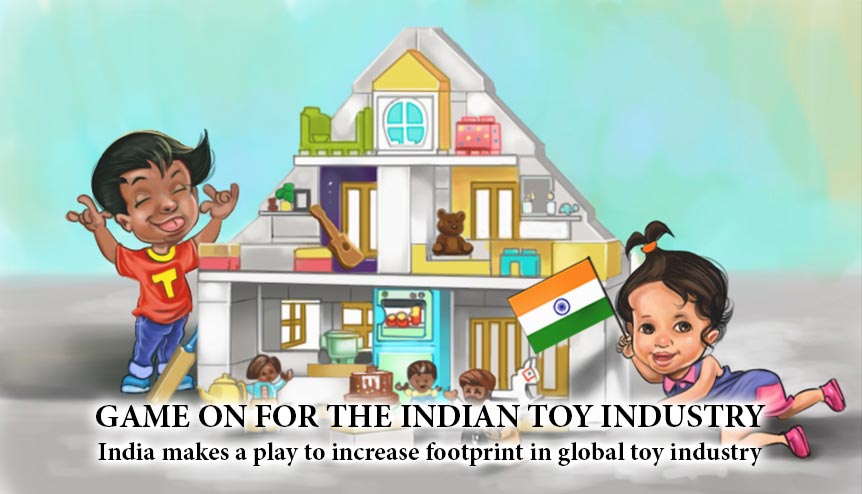 The rich heritage of Indian toys can be traced back to the Harappan civilisation. As modern consumer habits move back towards locally-made, quality products in post-Covid world, PM Modi's call to "team up for toys" makes solid commercial sense in a country where half the population is under the age of 25.
Rattles, spinning tops, skipping ropes, wooden dolls or Chaturanga, the predecessor of chess – these traditional Indian toys and dozens more have shaped millions of childhoods for generations and helped kids develop vital motor skills as well as thinking capabilities. 
The glut of cheap and mechanical toys that started with the liberalisation of the Indian economy overran this traditional market in a matter of years, plying far-flung corners of India with a deluge of low-quality Chinese imports and jeopardizing the growth of the indigenous toy industry. While young India happily played with these versions of shiny battery-driven robots, fancy toy cars and other electronic gizmos, the Quality Council of India found in a December 2019 survey that 67% of such imported toys were unfit and dangerous for kids.
Read more:
After Make in India, it's now Move to India
Right time for India to push for greater FDI inflows
Luring manufacturing from the dragon's den
Unfair to criticise Modi govt for raising import tariffs
Wage Code Bill signals Modi government's determination to reform Indian labour laws
Habits hit by Covid-19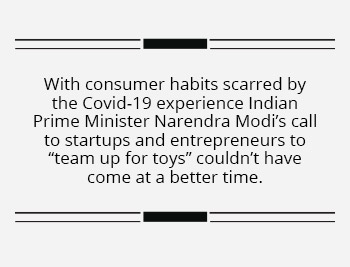 But now, with consumer habits scarred by the Covid-19 experience and rapidly embracing safer, locally-produced quality products, Indian Prime Minister Narendra Modi's call to startups and entrepreneurs to "team up for toys" couldn't have come at a better time. 
"Our country has so many ideas, so many concepts; our history has been very rich. Can we make games based on that? I call upon the young talent of the country – make games in India and make games based on India too. It is said that let the game begin! So, let us start the game," Modi said in his monthly Mann Ki Baat address to the nation on Sunday. 
Let us team up for toys.

We are working to ensure youngsters get access to more (Indian made) toys…

Also highlighted the interesting views of Gurudev Tagore on what toys should be about. #MannKiBaat pic.twitter.com/JDaSYqo4UV

— Narendra Modi (@narendramodi) August 30, 2020
Driven by a huge consumer base and with around half of the total population under the age of 25, India's toy industry has seen a rapid growth, brimming with a wide array of modern toys. Yet, its share in the massive $90 billion global toy market remains miniscule, though India boasts the artisanal skills and ability to become a hub for the industry. 
A drive to reinvigorate India's toy industry, as Prime Minister Modi said, not only provides a fertile foundation for creativity but also makes solid commercial sense for budding entrepreneurs. 
"You will be surprised to know that the global toy industry is worth more than ($90 billion). Such a big business but India's share is very little in this. Now, just spare a thought for a nation which has so much of heritage, tradition, variety, young population, will it feel good to have such little share in the toy market? We can do two things through toys – bring back the glorious past in our lives and also spruce up our golden future. To my start-up friends, to our new entrepreneurs I say team up for toys. For everybody it is the time to get vocal for local toys," Modi said. 
More to read:
Indian market all set for a good growth curve
India has a unique advantage in the digital manufacturing age
The Medical Devices Bill will be a game changer for Indian manufacturing
Ocean wave energy: A significant renewable energy and manufacturing opportunity for India
Indian manufacturing: The road worth taking
Traditional toys help with child growth 
The reason to get vocal for local, however, is not just for supporting Indian toymakers, but also the children themselves. 
As has been noted by several child psychologists and behavior theorists, traditional toys have had a seminal impact on the way that children learn, providing for imaginative play, teaching patience, perseverance and logical thinking as well as practical "problem solving".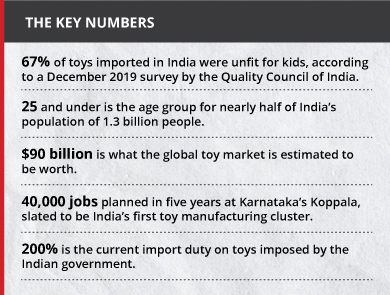 "Electronic toys may be labeled 'educational' when they are not, so parents should be cautious when choosing which toys to buy. Young children need to learn how to socialise and interact with others, which they learn through social play, not through an app on a tablet. Traditional toys are important to developing language interactions, pretend play and problem-solving," says Dr Debra Counts, a pediatrician and clinical psychologist at the Herman & Walter Samuelson Children's Hospital at Sinai, Baltimore. 
Plus, instead of creating eyesight, hearing and postural problems, these traditional toys actually help with a child's healthy physical growth. 
But a combination of factors and evolving trends have swayed the Indian market away from conventional to electronic and high-end toys – a world inhabited both by Legos and Barbie dolls as well as cheap, toxic and unsafe items rather than wooden building blocks or traditional cloth puppets. 
Chinese toys might be cheaper, but… 
Ironically, India's strong economic growth has also led to more disposable incomes for the average consumer and dramatically altered spending patterns – resulting in a major shift towards battery-operated toys and plush play items. Add to this a booming online retail sector due to the rapid evolution of smartphones and other digital media, and the metamorphosis of the Indian toy market is complete.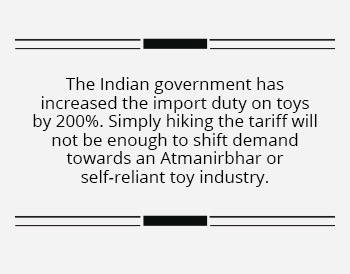 It's this mindset, more than anything else, that Prime Minister Modi is exhorting to change. 
While the Indian government has increased the import duty on toys by 200% and made toy quality certification mandatory in order to revive the indigenous industry, simply hiking the tariff will not be enough to shift demand towards an Atmanirbhar or self-reliant toy industry, unless there's a holistic assessment of preferences for consumers habituated for long to cheap Chinese toys. 
When Desi brands went global 
As Amul, Maggi and Thums Up are today successful examples of Indian brands gone global, some TLC for advertising and marketing would definitely help Indian toy makers and brands fight the battle of perceptions, as will focused government support in both educational and commercial sectors. 
Prime Minister Modi recently chaired a meeting aimed at boosting India's share in the global toy trade in which China is the largest manufacturer and exporter. A concerted effort to develop toy manufacturing clusters is already under way – including in places like Channapatna in Karnataka, Kondaplli in Andhra Pradesh, Thanjavur in Tamil Nadu, Dhubri in Assam and Varanasi in Uttar Pradesh. 
Still more to read:
India: An emerging global manufacturing hub for the auto industry
Investing in manufacturing in India
How far has India come in its flagship manufacturing drive?
The Modi govt is walking the talk of loosening control over PSUs
Why India-UK partnerships are booming amid the Covid-19 pandemic
Indian states step on the gas to attract FDI
In line with PM @narendramodi 's vision of #VocalForLocal & boosting toy manufacturing, Koppala will have India's first toy manufacturing cluster. With the eco-system to support toy cluster in place, this 400 acres SEZ will have top-class infra & generate 40,000 jobs in 5 years. pic.twitter.com/xFOJbo5Z4H

— B.S. Yediyurappa (@BSYBJP) August 30, 2020
The growth of toy manufacturing clusters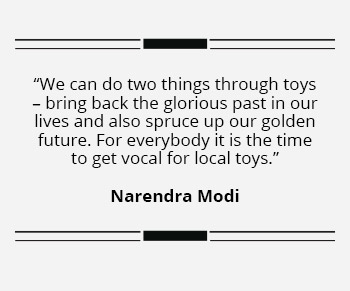 As Karnataka Chief Minister BS Yediyurappa tweeted recently, the city of Koppala is one perfect case study. "In line with PM Narendra Modi's vision of Vocal-For-Local and boosting toy manufacturing, Koppala will have India's first toy manufacturing cluster. With the eco-system to support toy cluster in place, this 400 acres SEZ will have top-class infra and generate 40,000 jobs in five years," Yediyurappa tweeted. 
Similar efforts are on to develop the corresponding consumer segment as well. Although Maharashtra currently represents the largest consumer base in India, Tamil Nadu, Karnataka, Gujarat and Delhi are also fast emerging as major markets.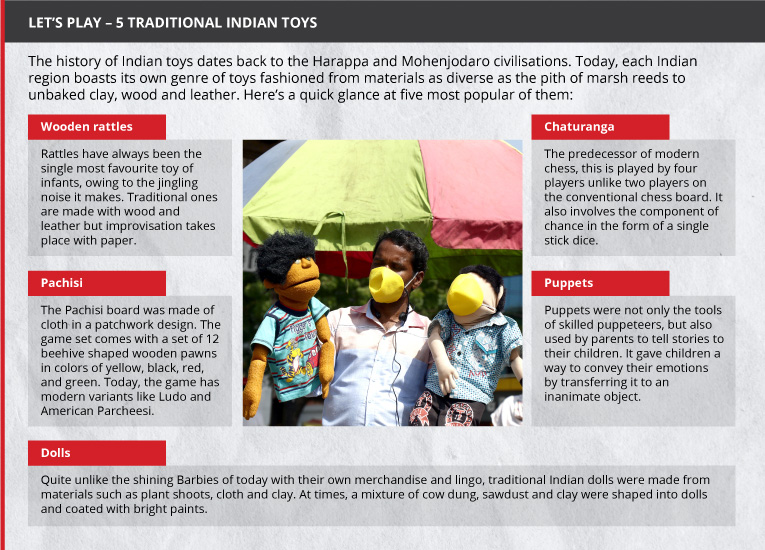 From Grand Theft Auto and a variety of other gaming apps to the lure of McDonald's Happy Meal toys to remote-controlled helicopters and robots, today's children are being raised on a platform of toys that leave little to imagination. Even though weaning consumers off this toxic (and mostly Chinese) model of toys won't be an easy task, with the right support from the government and manufacturers, India's rich heritage and skilled craftsmen can drive unprecedented innovations in the toy and gaming industry. 
Whether it's the traditional indoor games, indigenous wooden toys or even brand new computer games and apps based on history, India's toy industry today stands on the cusp of an explosive opportunity – and with a bit of re-imagination, gaining rapid momentum for the sector in the ensuing months will become a child's play.