Indian telecom, tech and data beckon global investors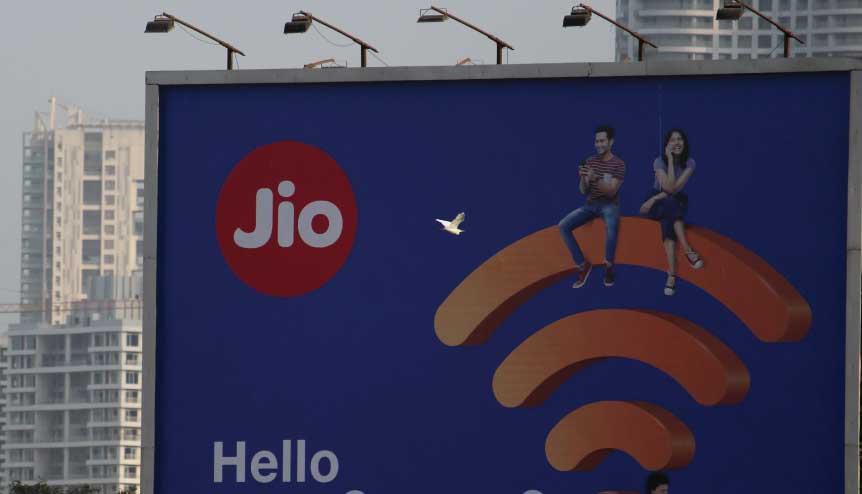 The recent expressions of investment interest in Reliance, Vodafone Idea and other companies mark the stamp of confidence that global investors have in India and its tech, telecom and data sectors.
When the world is hopefully out of the clutches of what US President Donald Trump calls 'a very bad gift from China' by next year, it would have officially entered the Zettabyte era.
Don't be alarmed – it's not yet another deadly virus from dubious wet markets located right next to secret bioweapons labs experimenting with bats.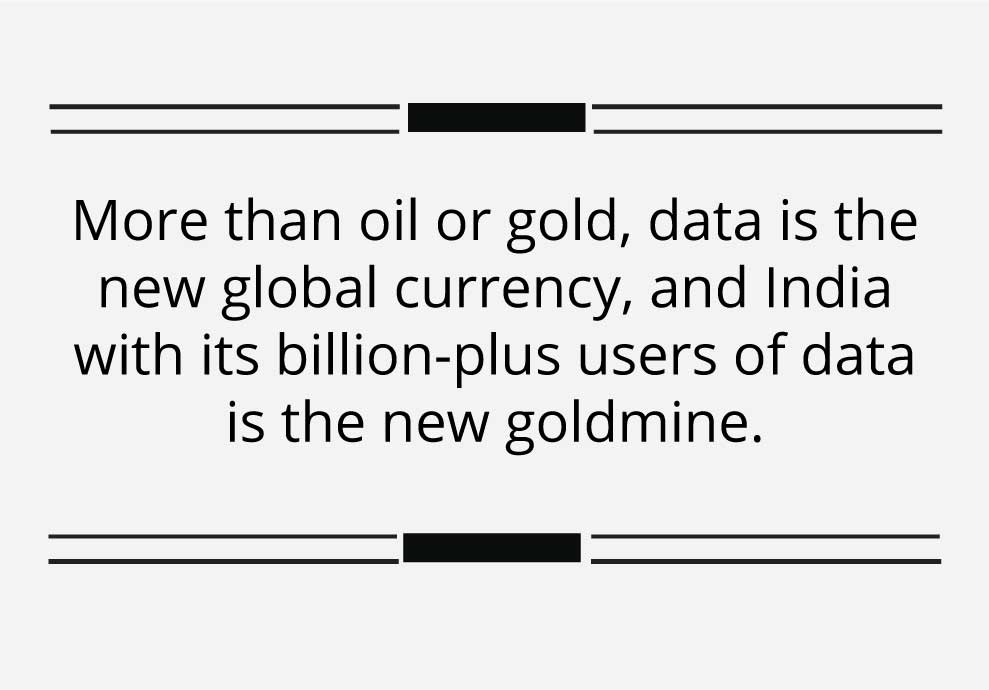 Instead, the Zettabyte Era is where the world's future lies – the domain of data, technology and Internet of Things (IoT).
A zettabyte, by the way, is 1,000,000,000,000,000,000,000 bytes – and Cisco's Global Cloud Index has estimated that the world will be producing data worth 847 times that number by next year.
More than oil or gold, data is the new global currency, and India with its billion-plus users of data is the new goldmine, with potentially everlasting supply.
Darling of global investors
This is the precise reason why, weeks after Facebook acquired nearly 10 per cent stake in India's Reliance Jio platforms, two more US giants are reportedly in talks to invest in the Indian market – as is the second largest state investor in Abu Dhabi. According to three sources who spoke to Reuters, Abu Dhabi state fund Mubadala is in talks with Reliance Industries about investing around $1 billion in the Indian conglomerate's Jio platforms.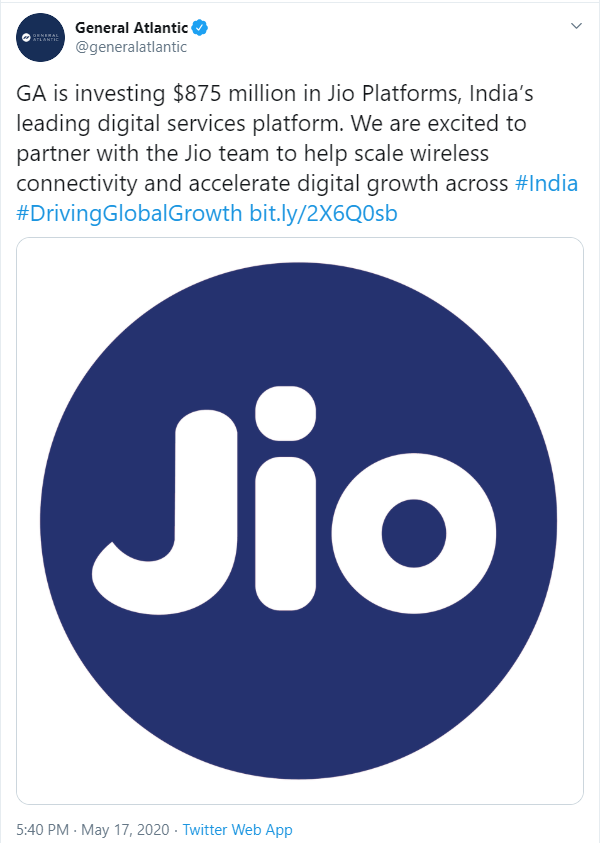 India's Mint newspaper reported on Thursday that Microsoft is also in talks to buy 2.5 per cent of Jio Platforms for $2 billion. Talks between Reliance and Microsoft had been on since the two companies announced a cloud computing tie-up last year. Reliance is looking to sell roughly 20 per cent of Jio platforms through all the private placement deals, according to sources who spoke to Reuters. The three-and-a-half-old telecom operator is India's biggest with more than 388 million subscribers, and has raised $10.3 billion in the last couple of weeks from Facebook and US privacy equity firms Silver Lake, KKR, General Atlantic, and Vista.
India moves to digital
Twitter is separately also in talks with Mumbai-based Reliance to invest more than $1 billion in the digital start-up, which houses music and movie apps as well its telecoms venture Jio Infocomm.
While Reliance has clearly emerged as the darling of global investors in recent times, Google meanwhile is considering buying a stake of about 5 per cent in Vodafone Idea, the second largest telecom operator in India.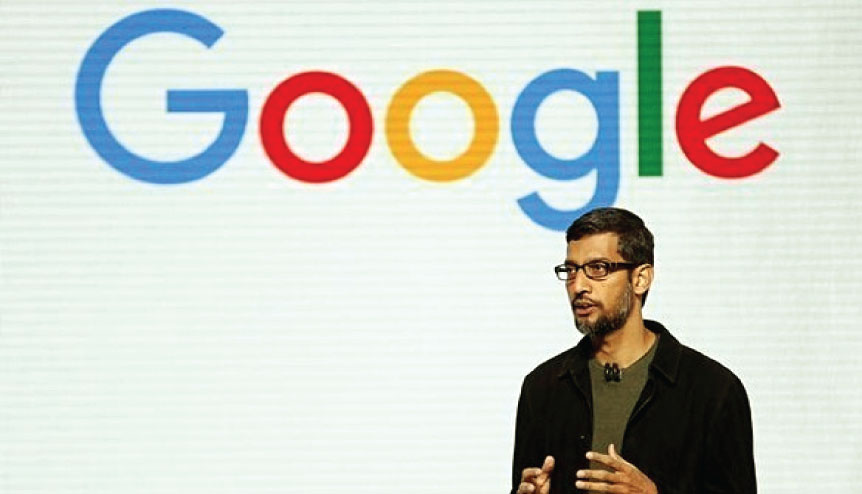 According to Financial Times, Google has also held talks with Reliance Jio platforms. If the Mubadala deal goes ahead, the Jio platforms investment would be its largest in an Indian company. Mubadala is the second-biggest state investor in Abu Dhabi after Abu Dhabi Investment Authority (ADIA), managing about $240 billion in assets. Reliance plans to wrap up a bulk of the private fundraising by the third quarter of 2020 and then explore a potential public listing in the United States in 2021. "Investors are betting on Jio being the infrastructure for India's shift to digital, and becoming a local mobile champion in a country dominated by foreign players like Facebook/WhatsApp and Google," Axios's Dan Primack recently noted.
Lucrative market
All companies involved in the due diligence and negotiations have predictably refused to confirm the potential investments – but the investments clearly mark the stamp of confidence that global investors have in India and its tech, telecom and data sectors.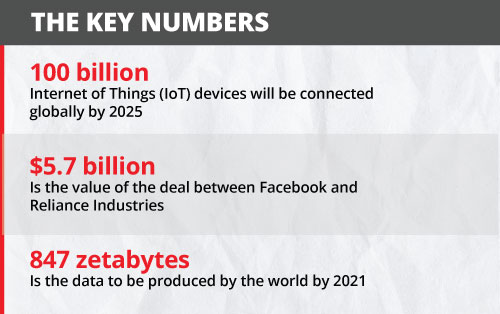 According to Cisco's estimates, more than 100 billion Internet of Things (IoT) devices will be connected globally by 2025, churning out zetabytes of data. And every time we use our mobile phones, access our social media accounts or complete an online form, we will be generating data too.
With a 1.3 billion-plus population and increasingly simplified investment norms, it's no wonder that India has fast emerged as the global battleground for American and Chinese companies as well as Middle Eastern sovereign wealth funds looking for stable investments and lucrative profits. About half a billion Indians came online in the last decade, with just as many still living offline. Indeed, tech investors looking for massive returns and tech giants looking for new markets have fewer places to turn than ever before. China has been difficult to access and suffers from a trust deficit in the post-Covid business paradigm. India is therefore the biggest available prize on the planet.
Leveraging their strength
Indian companies are also using the opportunity to leverage the gigantic database for other commercial ventures. After entering into the massive $5.7 billion deal with Facebook, Reliance Industries has begun piloting its new commerce venture JioMart on WhatsApp. JioMart has the advantage of its own telecom user base and the massive reach of the Facebook-owned WhatsApp platform to transform the Indian retail landscape.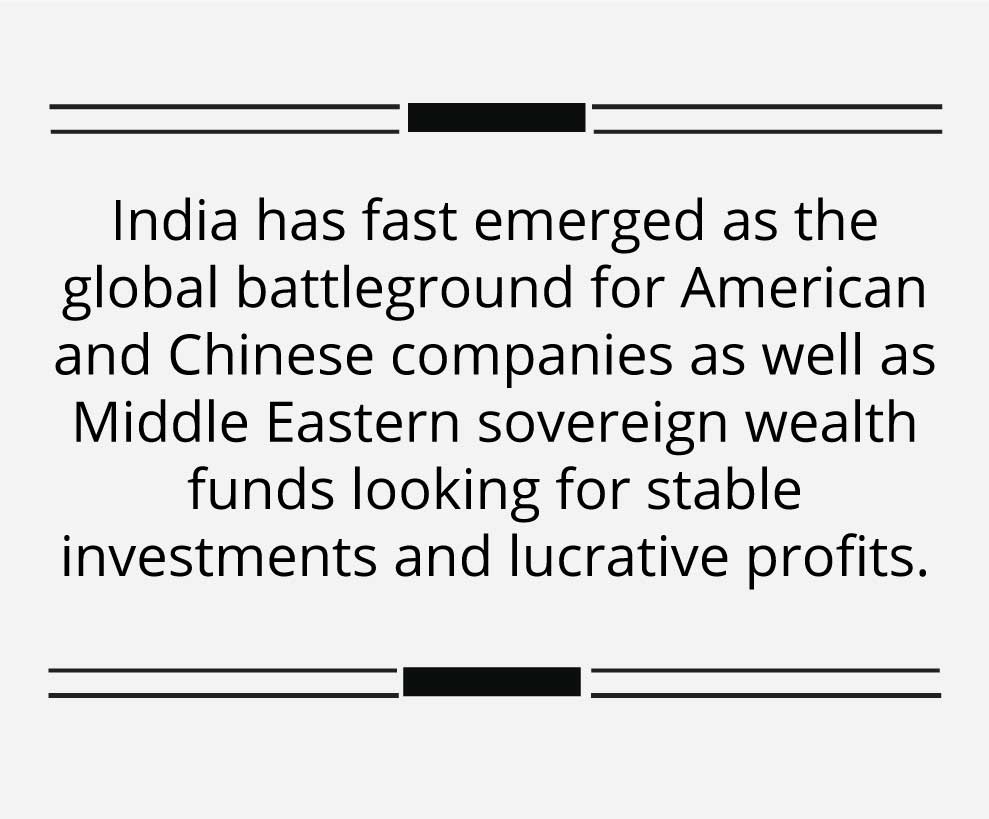 "Recently, JioMart tested its grocery ordering system through WhatsApp in the suburban areas of Mumbai, giving a glimpse of one of the many services Jio and Facebook can offer," said Hrishabh Kashyap, Retail Analyst at GlobalData.
With two popular communication platforms working together, consumers can interact with nearby stores online to place an order, allowing the retailer to retain its customers through digital association. "The pandemic might just have given the necessary push to the massive physical retailer network in India by forcing the retailers to go digital in order to sustain their businesses and thereby insulating them from the even more rapid shift online," says Kashyap.
Similar scope of investments and innovations galore in India – and the opportunities are only likely to grow rapidly in the post-Covid era, mirroring the dawn of the Zettabyte era.