Indian steel producers riding high on revival of demand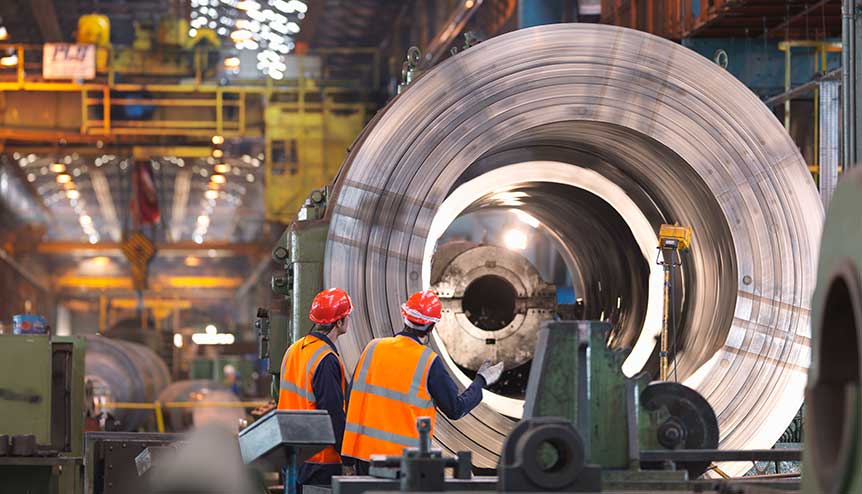 Several downstream sectors such as auto, white goods, real estate and infrastructure are pushing up demand for steel in India. Prescient investors who spotted this trend early are reaping the rewards of a massive inflation in the values of their portfolios of steel stocks.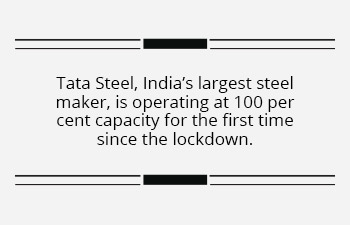 The auto sector is buzzing with activity once again as dealers stock up cars in anticipation of a demand revival this festival season. White goods companies are also scrambling to fulfil orders from big dealers who are expecting pent-up demand to explode over the next three months. Then, lower mortgage rates and falling housing prices are fuelling a slight recovery in the long dormant real estate sector. And a concerted effort by the government to push fresh infrastructure building activity in a bid to jump start India's Covid-hit economy is gathering pace.
Have you read?
Farmers may rescue Indian economy this year
The credit culture is changing in India
The resurgence of the Indian economy can give investors the ride of their lives
India's economy and fiscal position is set for a sharp rebound
Bet big and bet long in the Indian economy
Indian economy doomsday predictions are highly overstated
BSE Steel Index up 40 per cent over last six months
All of this is beginning to have a positive impact on the sales – and the bottom lines – of metals, and specifically, steel companies. This is also showing up in the BSE Steel Index, which soared 50 per cent from 6,106.11 on April 23, 2020 to 9,265.44 on September 2 this year. It was at 8,617.16 on October 22, a 40 per cent improvement over its level six months ago.
Livemint.com, a leading financial daily quoted T.V. Narendran, Managing Director and CEO of Tata Steel, India's largest steel maker, as saying the company was operating at 100 per cent capacity for the first time since the lockdown. India's second-largest private sector steel company JSW Steel, controlled by billionaire Sajjan Jindal, recorded a 15 per cent rise in flat steel production while crude steel output was up 5 per cent year on year and 6 per cent sequentially.
Rural prosperity a big driver of rising steel demand
A large part of this demand is driven by prosperity in rural India, which is expected to witness back-to-back bumper harvests of last year's winter crop, this year's summer crop and the winter crop early next year.
Many people, especially those outside India are often oblivious to the fact that though agriculture comprises only about 16 per cent of the Indian economy, rural India, which is largely dependent on farming and allied activities, accounts for 46 per cent of the country's economy.
A happy combination this year of a bountiful monsoon, deep and far-reaching farm sector reforms announced by the Modi government and record procurement of food grains is leading to a dramatic rise in rural consumption. The fact that the Covid-19 pandemic has largely spared rural India is giving it additional bounce, which means it is almost fully open for business.
Read more:
The lights are shining in rural India
Rural India drives the boom in Indian e-commerce sector
Rural-Women Entrepreneurship: Shaping New India
Rural Bharat leads India in digital growth
From India's farms to the UAE's tables
Modi certifies that the farmer is India's economic super-hero
India's farm sector reforms are a pathbreaking step forward
Connectivity makes the Indian farmer App-solutely successful
Agricultural sector supports consumption boom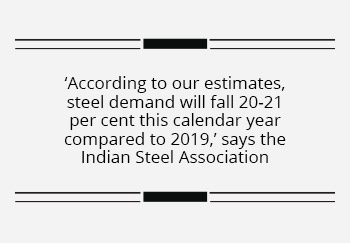 The total pay-out to farmers for procurement of grains so far this year is $12 billion. Then, the Modi government's universal basic income for marginal farmers has infused another $2.5-3.0 billion into the rural economy.
Rural prosperity is critical for Indian industry as it accounts for almost 100 per cent of the demand for fertilisers and tractors, more than 50 per cent of the demand for two-wheelers, including both bicycles and motorbikes, and leather goods, about half the consumptions of fast moving consumer goods, more than 40 per cent of the demand for steel and cement and a significant proportion of the sale of automobiles, garments and apparel, televisions, mobile phones and a host of other products and services.
So, a good monsoon, which leads to an increase in rural prosperity and purchasing power, affects not only the farming community but also the entire economy value chain that sustains India's fast-growing urban population.
Demand revival, supply disruptions pushing up prices
Despite this spike in demand, localised disruptions in logistics in various states, however, is hurting small steel producers and creating shortages in the supply of both raw materials and finished products. This, coupled with a revival in demand, is leading to a surge in steel prices at the retail end of the market.
This is boosting the top and bottom lines of big steel makers with well-oiled national logistics operations.
Steel majors riding high on stock markets
As a result, the price of Tata Steel has shot up a little more than 50 per cent from Rs 270.35 on April 23 this year to Rs 409.95 at the close of trading on October 22. JSW Steel has done even better, more than doubling in value from Rs 159.95 to Rs 325.75 during this period.
Overall picture still challenging
But despite these rosy numbers, the year as a whole will not be a very good one for the Indian steel industry. "According to our estimates, steel demand will fall 20-21 per cent this calendar year compared to 2019. Last year, domestic demand for finished steel was about 102.6 million tonnes (MT); this year, it is expected to be 81-82 mt. From January to June, we lost about 15.3 MT of demand. We expect that from July to December, demand will fall by another 5-6 MT compared to 2019," said Arnab Hazra, Deputy Secretary General, Indian Steel Association, to the media.
For the moment, though, the steel industry and investors who were prescient enough to spot this trend early, are making hay while the sun shines brightly on the sector.
Podcast: Play in new window | Download