Indian states step on the gas to attract FDI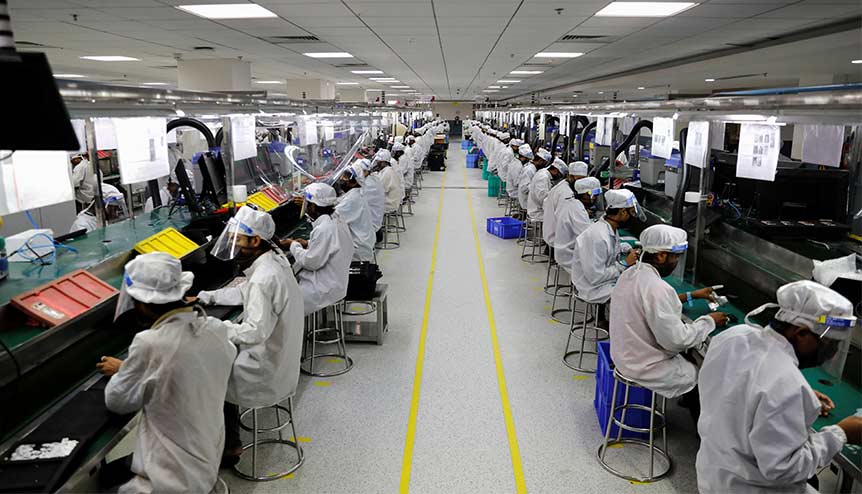 Gujarat, Haryana, Andhra Pradesh, Karnataka and others are offering foreign investors a slew of incentives such as refund of state taxes, exemption from land taxes and even tailor-made solutions to fit the requirements of each company to make themselves more attractive as investment destinations.
The Modi government's new $6.6-billion production-linked incentive (PLI) scheme to attract mobile phone manufacturers like Apple, Samsung and a host of others to set up shop in India has met with an overwhelming response. This is expected to double the proportion of value addition in India to 35-40 per cent and enable the country to produce smartphones worth $100 billon by 2025 and generate additional exports of a quarter of that figure.
Have you read?
India is the world's second largest maker of mobile phones
Atmanirbhar Bharat also means 'Make for the World'
Indian telcos' revenue grows strongly defying coronavirus: Fitch
Smartphone companies are dialling up plans to set up a presence in India
Reliance's 5G ambitions provides alternative to a tainted Huawei
FDI flows to depend on states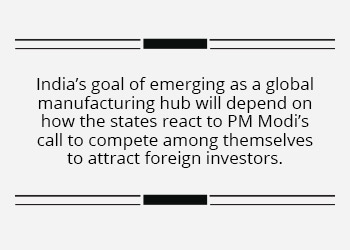 Many experts feel India's goal of emerging as an alternative to China as a global manufacturing hub will depend on how the states react to Prime Minister Narendra Modi's call to compete among themselves to attract foreign investors in the wake of the Covid-19 pandemic and the US-China trade war.
"We are talking to hundreds of foreign companies looking to de-risk their global supply chains from over-dependence on one country and many of them are keen on investing here. But FDI will finally flow to the states that offer them incentives and a business environment that is comparable to what our peer nations offer," said a senior government official who is closely related to the efforts to attract FDI into the country.
Read more:
States compete for far-reaching labour reforms in India
Bold reforms now could set India on a high growth trajectory
Covid-19 pandemic offers a bigger opportunity for India than the 1991 reforms
Rural India drives the boom in Indian e-commerce sector
Luring manufacturing from the dragon's den
Special industry clusters to attract FDI
India has identified 10 clusters across nine states which, the government is hoping, will be able to attract FDI from companies in identified sectors. It is providing tax breaks and other incentives to promote these clusters as alternative global manufacturing hubs in some identified sectors. The cluster in Hyderabad, which has a large concentration of drug companies, will be sold as a viable global hub for pharmaceuticals and vaccines, while the one in Noida and Greater Noida in Uttar Pradesh will be promoted as a centre for global electronics manufacturing. Other hubs have been identified in Gujarat, Maharashtra, Karnataka, Tamil Nadu and some other states.
To promote his state as an attractive destination for FDI, Uttar Pradesh Chief Minister Yogi Adityanath has promised carte blanche to foreign investors. At a recent meeting with 100 leading US corporations including Cisco, Lockheed Martin, Adobe Boston Scientific and others, he said his government was willing to provide tailor-made incentives and solutions required by individual companies. His government also announced a slew of far reaching labour reforms to address an important pain point of foreign investors.
Haryana steps up efforts to woo investors
Haryana, which is home to several industries and multinational companies, has offered incentives such as interest subsidies on term loans, a scheme to refund stamp duties paid on the registration of land, a generous investment subsidy on GST, exemption from electricity duties and incentives under the freight assistance scheme, among several others.
Related stories:
Computer vision is disrupting the Indian food supply chains
India will become a growth engine again, post-Covid
Away from the border, India targets China in the economic battlefield
India has a unique advantage in the digital manufacturing age
Indian manufacturing: The road worth taking
Gujarat unveils new industrial policy
Then, Gujarat, the Prime Minister's home province and India's second-most industrialised state, has announced a new Gujarat Industrial Policy 2020 to provide $5.33 billion as subsidies to industries over the next five years. "Gujarat is the first state to … de-link incentives from State GST and give capital subsidy to large industries," the state's Chief Minister Vijay Rupani told a leading Indian daily. "Other initiatives include…, relocation incentives, Promotion of MSMEs… use of rooftop solar power by MSMEs… promotion of thrust sectors, etc."
Karnataka sets up panel to attract foreign businesses
Not to be left behind, Karnataka, a leading industrial state in south India, has formed a 15-member panel headed by its Chief Secretary and comprising leading figures in industry including foreign industry. It's remit: Attract foreign companies that are planning to relocate from China.
Then, the state government also approved the New Industrial Policy 2020-25, which has set an ambitious target of attracting FDI worth $67 billion in sectors such as automobiles, auto components, electric vehicles, pharmaceuticals, medical industries and several others. This policy takes forward recent reforms such as the amendments to the Land Reforms Act, various labour laws and the Karnataka Industries (Facilitation) Act. Among other things, it offers investors interest subsidies on loans, concessions on stamp duties and tax exemptions on electricity bills to address the issue of higher costs associated with manufacturing in India.
Andhra Pradesh steps on the reforms pedal
Neighbouring Andhra Pradesh, another industrial powerhouse, is offering investors among other things, reimbursement of land assessment taxes for some categories of investors, full reimbursement of stamp duties on purchase or lease of land and reimbursement of power consumption charges for some sectors. Then, it is also offering capital and interest subsidy to new units, export incentives, and reimbursement of state GST for a period of 5-7 years.
Other states also join in
Other states like Maharashtra, Punjab, Tamil Nadu, Himachal Pradesh, Bihar, Odisha and Assam, among others, are also providing incentives to attract FDI. This intense competition among states to woo foreign investors is expected to further improve India's position on the World Bank's Ease of Doing Business Index, where it currently ranks 63rd among 189 countries.